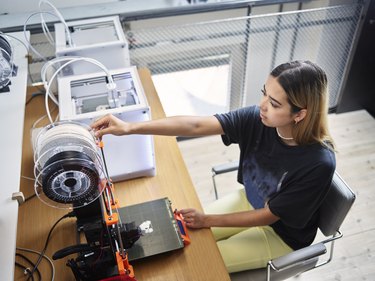 Technology has the ability to make all of our craft dreams come true. Thanks to 3D printers, designing products and manufacturing—errm, printing—them from home is more possible than ever before. 3D printers haven't always been the most accessible for at-home use. But, with more and more affordable options available, you don't have to invest thousands of dollars to transform your 2D designs into sculptural pieces. Whether you're looking to sell your crafts on marketplaces like Etsy and want to invest in a 3D printer to help you create prototypes and products, or have a DIY hobby—such as miniatures—that can benefit from an in-home printer, there are several fantastic options for crafters.
Up ahead, find out what to look for when shopping (including some answers to FAQs about 3D printing technology), plus check out our top picks for the best 3D printers for crafters and hobbyists alike.
What to Consider When Purchasing a 3D Printer for Crafting
Before investing in a 3D printer, there are a few things to consider from both a technical and creative standpoint. If you're looking at 3D printers for crafts, here's what to look out for.
‌Size:‌ As with traditional printers, 3D printers come in a variety of sizes. And, although you might envision extra-large machinery, you can actually find 3D printers on a ‌much‌ smaller scale—including ones that resemble pens and take up practically no space at all. When shopping for a 3D printer for crafting, look at the area where you plan to install it and make note of those dimensions, then use these insights to help you find the best 3D printer for your space. Also consider the types of 3D printing projects you might use the device for as printer size can influence how large your pieces turn out.
‌Build Area:‌ Also known as a print bed, this specification tells you the maximum scale of printed items for a 3D printer. While small 3D printers will have a smaller build area, large-scale pieces are still possible to achieve by piecing items together (this, of course, depends on the project, though).
‌Types of 3D Printers:‌ There are two different types of 3D printers to consider for your home—Fused Deposition Modeling (FDM) and Stereolithography (SLA) printers. The difference between an FDM and SLA 3D printer is an FDM creates 3D models by melting filament and an SLA printer uses a chemical treatment to create 3D models from liquid resin.
As far as crafting is concerned, an FDM printer is likely the best choice, especially if you're new to the 3D printing world, as it's easier to use and can you achieve a majority of hobby 3D printing. With that said, the FDM printers create products with a more rough finish that requires manual finishing. If you want something with a smoother print quality and a more elevated finish, an SLA printer is your best bet.
‌3D Printing Materials:‌ The type of 3D printer you choose will determine the types of 3D printing materials you need. When working with an FDM 3D printer, printable filament is required. For an SLA printer, you'll use resin printer materials. For the most part, 3D printing materials are sold separately, but some printers come with a small amount to help you get started.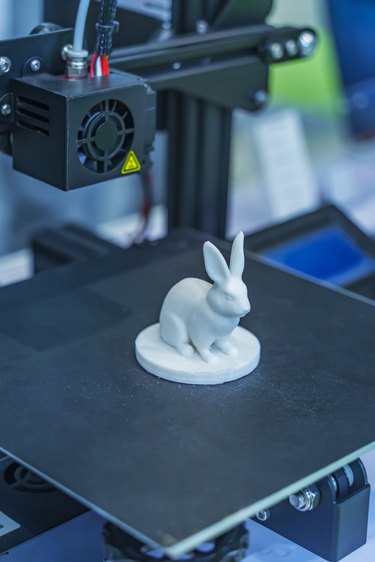 1. XYZprinting da Vinci Mini Wireless 3D Printer
From beginners to amateurs, the XYZprinting da Vinci Mini Wireless 3D Printer is one of the best printers for most skill levels. This high-quality printer comes pre-assembled so all you have to do is plug it in and get making. It also has a highly efficient print speed and heats up in just one minute so you can transform your designs into 3D masterpieces in minutes. Compatible with XYZPrinting 600G NFC filament, the printer allows you to craft sturdy objects—including ones you could add to an Etsy shop—with the utmost precision.
2. Toybox Deluxe 3D Printer
3D printers are fantastic for the imagination, making them a fun tool for crafty kids. However, not all 3D printers are kid-friendly. Excellent for beginners, the Toybox Deluxe 3D Printer teaches kids how to use 3D printers and make their own toys using 3D printing technology. This small 3D printer is easy to use, allowing kids (and beginner adults) to design projects in its compatible app and send them through Wi-Fi straight to the machine for printing. Plus, the printer works with nontoxic materials, comes with eight spools of filament in different colors, and includes a catalog with over 7,000 toy ideas.
3. Comgrow Official Creality Ender 3 3D Printer
Whether it's your first time using 3D printing in your work or you're looking for a high-quality option at a fair price point, consider the Comgrow Official Creality Ender 3 3D Printer from Amazon. This printer heats up in about five minutes and can easily transform your work into a sculptural object within minutes. Although it's beginner-friendly, the printer has a professional feel with an impressive print quality and the ability to create intricate 3D models, sculptures, structures and more from colorful filament.
4. WEEDO TINA2 Mini 3D Printer
Small but mighty, the WEEDO TINA2 Mini 3D Printer is another great choice for the best 3D printers for crafters—especially those with smaller workspaces or those who are looking for a low-cost solution. Perfect for kids or beginners, the printer uses filament to craft plastic objects using 3D printing technology, including miniatures, polymer clay cutters and other craft projects. It also comes pre-installed with an easy-to-follow, step-by-step manual to get you started.
If you don't have space for a 3D printer, that's no problem. You can create three-dimensional objects with the flick of a pen—the MYNT3D Super 3D Pen, to be exact. This affordable entry-level 3D printer from Amazon allows you (or your kids) to turn your artwork into 3D objects, create miniatures for dollhouses and more. The pen has surprisingly good build volume and is similar to an FDM printer as it uses filament material to print objects. It's compatible with polylactic acid, plastic, and acrylonitrile butadiene styrene printing materials and comes with ABS plastic filament in three different colors so you can get started right away and print 3D versions of your artwork with an easy-to-follow printing process.
6. Glowforge Plus 3D Laser Printer
Looking to upgrade your 3D printer? The Glowforge Plus 3D Laser Printer is worth the investment. This high-quality 3D printer is an excellent choice for serious crafters who make and sell their work. The coolest thing about this option is that the printer works with a variety of materials, so you can create things from wood, acrylic, glass, metal and cardboard. You can even work with more edible materials, including chocolate. It's also super easy to use—all you have to do is choose a design, load the material and allow it to work its magic. In addition to printing, the Glowforge Plus also engraves material for stunning finishing touches.