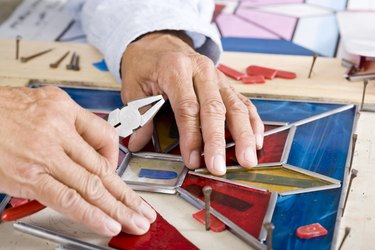 If you're looking for a colorful new hobby to explore on a rainy day, or else a way to brighten things up during gloomy weather, consider dabbling in DIY stained glass. Few things are more breathtaking than sunlight passing through multicolored stained glass, and with the right kit, you can reproduce the same aesthetic novelty of a beautiful stained glass window—just on a smaller (and more affordable) scale. In fact, if it's the stained glass look you care more about rather than nitpicking over the actual materials, there are DIY kits that mimic the look of stained glass that don't use real glass at all, but instead involve less fragile and less expensive alternatives like plexiglass, yet produce a similar end result.
Now, true stained glass can be a bit difficult to assemble into a finished product, at least at first. Professional stained glass artists and manufacturers often use tools like soldering irons and materials like copper foil to piece together intricate pieces of glass into an aesthetically pleasing whole. If you're inexperienced in this regard or don't even own a soldering iron, it can be tricky to get started.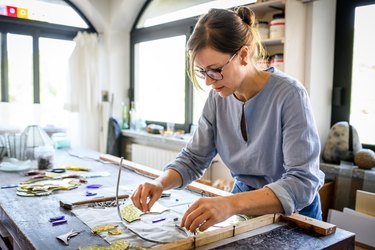 On the other hand, there are faux DIY stained glass kits (well, some are still real glass) that are beginner-friendly, with preselected patterns and all the materials and tools you'll need. These are perfect for creative people who love the look of stained glass but don't necessarily want to dive right into the true art of stained glass, and instead are interested in a colorful hobby that will take a couple of hours on a lazy afternoon. Luckily for you, we've rounded up a list of stained glass kits (both "real" and faux) for casual hobbyists looking for a simple, fun art project, as well as beginners who seek something a bit more authentic and challenging, who'd like an introduction to making real stained glass projects.
What to Consider When Purchasing a DIY Stained Glass Kit
‌Kit Type:‌ One thing to understand is that there isn't just one type of DIY stained glass kit. In fact, not all stained glass kits marketed as such will involve real glass at all, but will nevertheless reproduce the stained glass look on substitute materials like plexiglass (which is generally safer, especially for children). For instance, some stained glass kits mainly involve painting inside of a pattern. Other kits may use stickers or colored paper (kid- and mess-friendly) instead of paints. Still, other kits may instead come with pre-stained glass pieces with instructions on how to assemble them to form a complete picture or object. The type of kit you get really depends on your creative needs and skill level. For example, are you simply looking for a relaxing, colorful hobby—in which case, a faux stained glass kit may be ideal—or do you want to try your hand at authentic stained glass artwork?
‌Materials Included:‌ Some kits include nearly everything you'll need, such as glass or plexiglass panes, stencils, paints, markers, paintbrushes and a way to display the finished work. However, kits for more advanced works may require materials like copper foil and a soldering iron—the latter of which isn't often included—and already have some experience using them. On the other hand, kits geared towards kids tend to use safe, simple materials and include everything you need, plus straightforward instructions. We've striven to create a list of kits that don't require additional materials or expertise, but it's something to keep in mind, especially if you realize you have some of the supplies already.
‌Difficulty Level:‌ As with many hobby kits, there are those geared towards beginners and experienced crafters. Generally, faux DIY kits that mimic the look of stained glass without using actual glass will be more suitable for all skill levels because they use less fragile materials and normally don't require any soldering. Kits using real glass that needs to be assembled tend to require more experience and patience. However, again, we've tried to include kits that come with all the materials and instructions you'll need, regardless of experience level.
‌Creativity Involved:‌ Not all stained glass kits offer the same level of creativity or artistic freedom. Some kits come with blank panes of glass (or plastic) and a number of stencils, allowing the user to choose shapes and patterns or otherwise combine varied elements. Other kits may provide only a single image to be painted or colored in, or else be designed with only one finished look in mind. For some people, a step-by-step kit with one end result is preferable and can be a relaxing hobby on a rainy day. Others may prefer a kit that comes with the materials they need but allows for a variety of options in terms of color, shape, style or assembly.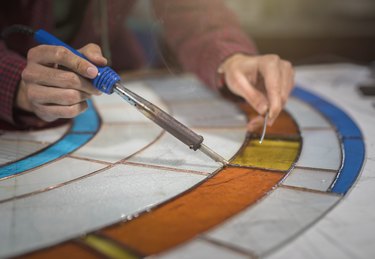 1. Craftsman-Style Stained Glass Kit
This stained glass kit from professional crafter Lauren Earl is an excellent choice for those who are already a bit familiar with how stained glass works, as it's intended to be a follow-up kit to Earl's Modern Stained Glass Premium Workshop at Crafter. If you're new to DIY stained glass but want to give it a real try, the workshop is a great creative investment (going for $360 at the time of writing) because it includes not only a detailed video workshop with Earl herself, as well as a live, recorded Maker Chat Q&A session, but also an all-inclusive kit with everything you need to create a stunning piece of stained glass art you can hang from a chain. Yes, the workshop kit even includes a soldering iron!
This kit, on the other hand, includes nearly everything you'll need to create a second custom piece of hangable stained glass art—but it does not come with a soldering iron or detailed instructions like the workshop package. It does come with a custom Craftsman-style pattern designed by Earl herself, clear Vecchio stained glass, gray rough rolled stained glass, sea green rough rolled stained glass, dark amber rough rolled stained glass, 60/40 solder and more.
If you've already got some knowledge of stained glass or have a book with instructions already and just need a soldering iron to go along with this kit, the good news is that they're not expensive and you can find several good options for under $25.
2. Stained Glass Beginner Tool Kit
If you're new to DIY stained glass but want to give it a real try, this all-inclusive kit from lindasutterer on Etsy is one of the most straightforward ways to get started. It's geared towards beginners and comes with all the tools, supplies and instructions you'll need to begin creating art on your first day.
The comprehensive package includes nine pieces of hand-picked, easy-to-cut glass; a palm grip glass cutter; foil copper; flux; a Hakko soldering iron and iron rest with sponge; grozing pliers; running pliers; miscellaneous rings, wires, pins and glass knobs; and a detailed introductory book full of color photos that's perfect for beginners and advanced crafters alike.
One of the best things about the kit is that it allows for lots of creativity, as there's no set pattern or design you must adhere to, giving you the opportunity to experiment and potentially make more than one piece of art as you learn.
3. Jennifer's Mosaics Stained Glass Tool Pack
Here's another comprehensive stained glass kit that comes with ‌nearly‌ everything you'll need to get started—except for the glass itself. For ready-to-cut glass, we recommend trying BrooksMosaicAndGlass, SunMoonStainedGlass or StainedGlassArt on Etsy, among other shops.
But back to this kit: Even though it doesn't come with glass, it includes quite a lot, such as a 100-watt soldering iron, soldering paste, 1 pound of 60/40 solder, 36 yards of copper stained glass foil, a dry wheeled glass cutter, 3/8-inch breaker/grozer pliers, 1-inch running pliers, a stained glass scythe stone, a 1/4-inch brush, and perhaps most valuable of all, a "Memories in Glass" instruction book that can help you create specific patterns or pictures.
4. DIYPlexiCraft Faux 227-Piece Pre-Cut Stained Glass Kit for Adults
This stained glass kit from DIYPlexiCraft on Etsy is best for crafters with fairly advanced stained glass experience, but it does get one of the most difficult tasks out of the way for you: no cutting required! In fact, this kit uses plexiglass instead of real glass, making it safer to handle and more durable. The complex kit includes 227 pieces of laser pre-cut plexiglass, each with a number (refer to the pattern sheet for perfect placement).
While the kit provides the intricate pieces you'll need, it leaves the fun stuff like foiling and soldering up to you—again, which is why it's definitely not for beginners. The kit is ideal for skilled crafters who want more than just eight or so pieces to solder together, and instead crave more of a challenge.
The result is a stunning Deco peaks-inspired piece of art with a more complex geometric shape that can serve as an upscale suncatcher. One perk of purchasing this kit is that it includes an access code to a free online DIY PlexiCraft course (a $250 value), in addition to the provided step-by-step instructions. While the kit doesn't provide foil or a soldering iron, it does come with helpful things like jump rings, split rings and a 12-inch nickel curb chain for hanging, and an adhesive hook for displaying in a window.
5. American Crafts Stained Glass Butterfly Kit
This stained glass butterfly kit includes easy-to-follow instructions, so you don't need to be a stained glass pro to get the results you want. However, while it includes nearly everything you'll need, including pre-cut stained glass, copper foil tape, solder wire, a flux brush, a sanding tool, jump rings and a chain, it doesn't include a soldering iron.
Nevertheless, it's intended to be accessible to creators of most skill levels, and the finished product is an elegant stained glass butterfly in varying shades of blue that you can hang or use as a suncatcher. If you're not partial to the butterfly design, don't fret; American Crafts offers a whole line of DIY stained glass kits in various designs and catered to three different skill levels, so you can find an image that better fits your vibe or home decor.
6. ArtLeMotif Glass Painting Kit for Beginners
As we get further down the list, the kits transition a bit away from full-on, authentic stained glass that requires more knowledge or skill towards more user-friendly, even faux stained glass kits that achieve the beautiful look you're after—without as much hassle. This glass painting kit from ArtLeMotif on Etsy is a wonderful bridge between true stained glass kits and easy faux kits. Instead of using pre-stained glass, this kit is all about choosing your own colors and painting on glass to replicate the look of real stained glass.
The kit includes a 7.9-inch square glass pane with polished edges and a hole in one corner (for hanging); an outliner in silver, black or gold; a set of French-made solvent-based paints; a paintbrush; 10 milliliters of Acetone; a mixing tray; a training sheet; a step-by-step guide and more.
For the best results, you may want to purchase separately ArtLeMotif's video tutorial, which is a prerecorded master class in glass painting that offers over 100 minutes of valuable instruction, plus comes with a downloadable PDF file of 10 digital stencils to help you recreate some of the beautiful images seen in the product photos.
Overall, this kit is a great way to mimic the look of stained glass without having to worry about cutting glass or using a soldering iron, and is perfectly suitable as a rainy day art project. The Etsy seller also offers a similar Christmas glass painting kit that happens to include some of the stencils the video tutorial offers.
7. Gallery Glass Stained Glass Painting Starter Kit
Here's another stained glass painting kit that's perfect for emulating the look of real stained glass windows. The paint colors provided look so authentic! You get black liquid leading, plus six traditional colors: crystal clear, rosy pink, sunny yellow, emerald green, royal blue and lavender.
The kit doesn't use real glass, but instead transparent plastic (so it's safer for kids to handle), and includes two painting surfaces: one 10-inch circle and one 10-inch oval. Each painting surface comes with pre-drilled holes and a gold display chain for hanging once you're finished.
The kit also includes a pattern pack of 20 different molds so you can choose your own designs to trace and paint inside. One thing you'll have to provide yourself is a paintbrush or paintbrush set. Besides that, this kit is accessible to all skill levels and involves simple cleanup.
8. BuildYourOwnKits DIY Stained Glass-Style Lamp Kit for Kids
This kid-friendly faux stained glass craft mimics the look of a stained glass window without requiring nearly as much hassle or skill. Better yet, it functions as a comforting nightlight for kids. The result is essentially achieved by using markers (included) to color in a sunflower and butterfly pattern on an acetate sheet that wraps around a four-color-changing LED light.
The kit includes everything your kid needs to make a faux stained glass lamp (except for two AA batteries). The finished product stands approximately 8 inches tall. It would make a great birthday present for an artistically-inclined child or a fun activity and take-home party favor at a small birthday party.
9. Melissa & Doug Stained Glass Dolphins Kit for Kids
Another kid-friendly faux stained glass craft, this one from kid craft pros Melissa & Doug features an adorable seaside pattern with seashells, a rainbow, and two dolphins jumping out of the ocean and kissing. The most unique thing about this DIY kit? No markers or messy paints required! Instead, the kit involves pressing hundreds of multicolored stickers into the proper places onto the kit's grooved frame which, when viewed from the other side, looks as if the picture has been painted in.
For parents worried about kids creating a mess that's hard to clean, this craft will satisfy both them and their kids. Since it doesn't create any real mess (at least, nothing you have to spot-clean), kids can even pack it to bring on road trips or vacations, and the finished product can even be displayed on a car or hotel room window safely. We consider this a step up from most suncatcher kits geared towards kids, as this one avoids looking cheap.