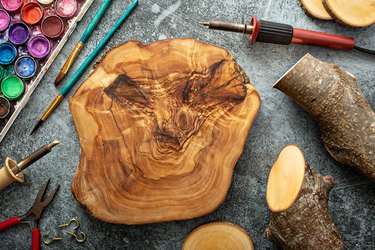 Looking for a unique art project or creative hobby? Pyrography, or the practice of artistically burning wood, may just become your new favorite DIY pastime. The word ‌pyrography‌ has a Greek etymology meaning "writing with fire" and refers to an ancient art form that involves carefully making burn marks on wood to create text or art. Our forebears used tools like hot pokers to create the marks, but nowadays, modern tools like wood-burning pens with hot metal tips are the norm. You could think of pyrography as tattooing a piece of wood, but using heat instead of ink.
The results can be quite stunning, and wood-burned art would look fantastic in any Craftsman-style house or home with rustic decor. But really, whether you're creating pyrography art for yourself or as a thoughtful, custom gift, it will look impressive anywhere!
There are a number of products to help you get started in pyrography, ranging from standalone tools to well-equipped wood burning kits. If you don't know where to begin or are worried about safety, there are pyrography workshops and video tutorials available from DIY marketplaces like Crafter. We've laid out some shopping considerations and rounded up a list of essential tools and must-try pyrography kits to help you get started.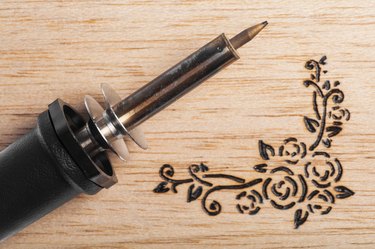 What to Consider When Purchasing Pyrography Tools and Kits
‌Types of Wood Burning Tools:‌ There are two main types of wood-burning tools, and they cater to different skill levels and levels of detail.
‌Craft-style‌ ‌pens‌ (also known as solid-tip pens) are a lot like soldering irons, but with a solid brass tip. They retain their temperature well, making them more user-friendly for beginners. The downside to craft-style pens is that they take longer to heat up and cool down, which can make your work take longer, and they don't allow for the same level of detail as some finer tools.
‌Wire-nib‌ wood-burning tools offer more professional results. These wire pieces work similarly to the brass tips on solid-tip pens, but with additional benefits. Since they contain less mass, they heat up much more quickly. They can also achieve a greater level of detail, which is ideal for making more intricate artwork.
‌Types of Tips:‌ You can swap out the tips on both types of wood-burning tools for a wider range of results. Universal tips are general-purpose and work fairly well for outlining, shading, some lettering and some detailing. Rounded flow tips work well for smooth curves and outlines, and calligraphy tips are optimal for lettering. There are even more types of tips, but you typically won't need them until you reach a more advanced level of pyrography, so we won't get into them here.
‌Wood Type:‌ Not all wood species and types are suitable for pyrography, so if you want to ensure a cleaner, clearer final product, it's important to select wood with the right grain and texture. Wood with small, tight pores and a smooth surface will produce the best results. Woods like balsa wood, beechwood, birch, alder, mahogany and pine all work well for pyrography.
On the other hand, woods like walnut, oak and hickory can be too hard and grainy. If the softer, smoother woods aren't easily available to you, make sure you use a wire-nib wood-burning tool if you end up having to use a harder or rougher wood like oak, since they allow you to control the temperature more easily.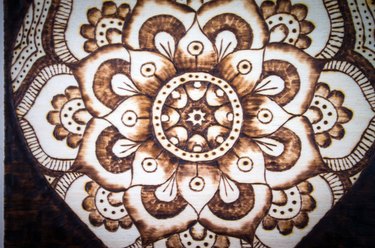 ‌Power and Temperature Range:‌ Speaking of temperature, when shopping for a wood-burning tool, you'll want to consider its wattage rating, which can affect the temperature the pen can reach. The more advanced wood-burning tools will have power ratings around 60 watts, but for beginners, 30 watts is enough to start with.
When it comes to temperature, most wood-burning tools offer maximum temperatures ranging from 500 to 900 degrees Fahrenheit. Higher-wattage tools will be able to reach higher temperatures, but keep in mind that not all tools need 900 degrees at the tip in order to burn effectively. And if you're still testing the waters, you needn't purchase the best or most expensive tool you can afford if you're not sure how long you'll continue with this hobby.
‌Heating Time:‌ Though not a dealbreaker, a slower heating time will make your work take longer, and if you prize efficiency, look for a wood-burning tool that heats up quickly. Generally, craft-style tools with brass tips take longer to heat (about 5 to 8 minutes), whereas wire-nib tools can be ready to go in a minute or less. Wire-nibs take less time to cool off as well.
‌Comfort/Ergonomics:‌ Some wood-burning tools have large, thick grips with rubber padding that's designed to reduce cramping; these tend to be more comfortable for beginners. However, as you progress in your skill level, you may find what feels right changes and later opt for a thinner tool, which will allow for a greater degree of control that's necessary for more detailed projects.
‌Skill Level‌: Chances are, if you're reading this, you're new to pyrography, but that doesn't necessarily mean you're a beginner-level crafter. If you've got years of experience using a soldering iron, for example, you may adjust more easily to using a wood-burning pen than someone who's never even heard of soldering. And, while it's no guarantee, if you're a fine artist skilled at creating miniscule details with different types of paintbrushes and pencils, those fine motor functions may translate well to pyrography. Still, if you're a beginner, a workshop, video tutorial or kit with detailed instructions will almost certainly come in handy.
With these considerations in mind, we've rounded up a list of pyrography products, from tools to full kits, to get you started: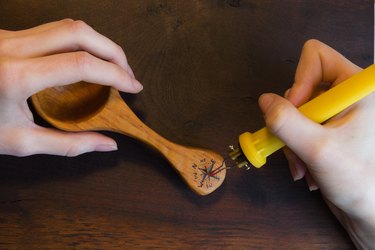 1. Plaid Wood-Burning and Stencil-Cutting Tool
Perfect for beginners, this wood-burning tool from Plaid is affordable and straightforward to use. It's a simple craft-style wood-burning pen that offers 25 watts of power and can reach temperatures up to 750 degrees Fahrenheit. It includes a basic on/off switch and has a rubber handle to facilitate a sturdy, comfortable grip.
The tool comes with two tips for cutting stencils, four tips for pyrography, and a metal stand for storing your pen. Because there's only one temperature setting, you don't have as much control as a more advanced tool—but don't have to fuss about temperature as a beginner, either. Another caveat is that the power cord is fairly short. Still, it's a good entry point for those just getting into pyrography, both for its affordability and simplicity.
2. Walnut Hollow Creative Wire-Tip Wood-Burner Tool
Though you may want to avoid using walnut wood in your pyrography project, this wire-tip wood-burning tool from the pleasantly-named brand, Walnut Hollow, is also a great choice for beginners. It's significantly more expensive than the Plaid tool, but it offers more flexibility. The tool's power converter has a built-in stand and an adjustable temperature range of 600 to 1,000 degrees Fahrenheit—despite a relatively low power rating of 12 watts.
The tool comes with a drawing point, a universal shading point, a ball point and a rounded shading point to cover your bases quite nicely. You can swap out the wire nibs quickly and easily and, using the pair of tweezers that's included, you can pull hot points out of the tool and replace them with cool ones without having to fumble with any adjustments. One downside is that, because the tool runs on just 12 watts of power, the tips don't stay hot for long periods of time, so you may have to take several breaks during your work.
3. ArtSkills Project Craft Wood-Burning Tool Pen With 5 Tips
Another quality affordable option, this wood-burning tool pen from ArtSkills plugs directly into an outlet using a generously-sized 46-inch power cord. It comes with five different metal tips: a universal tip, a detail tip, a stripe tip, an angled tip and a shading tip. The variety of tips gives you a fair amount of artistic control over your work without having to spend top-dollar for a professional-level tool.
The wood-burning pen features a built-in guard grip to protect your fingers from accidentally coming into contact with the hot metal, and the tool's safe, polarized plug is compatible with standard U.S. electrical outlets. The small kit includes a metal stand for storing your tool that keeps the hot tip from touching your workstation while cooling off.
4. TRUArt Stage 1 Wood Pyrography Pen Set
This comprehensive pyrography pen kit gives you the most bang for your buck if you plan on sticking with your new hobby for a while. In addition to its 30-watt solid-tip pen, it boasts 21 interchangeable tips, including universal, hot knife, dot, groove and calligraphy tips, to give you a wide range of levels of detail, despite not being a wire-nib tool that most professionals use. The set also includes a steel letter and number stencil, a tool stand and a plastic carrying case for convenient storage.
While it's not as adjustable as professional tools, the Stage 1 tool offers two temperature settings—or, more precisely—two power level settings: 15 watts and 30 watts. You can choose the lower setting when working on softer materials, and the higher setting for tackling heavier or harder woods like walnut and oak. The lightweight tool also features a comfortable, nonslip rubber handle so you can work for longer periods of time without cramping.
5. Art Class by Kim Wood-Burning Kit
If you're anxious to get your hands on a complete kit that includes wood pieces so you can get started right away, this full kit from Art Class by Kim is a ready-to-go option that's appropriate for adults and supervised children ages 12 and up. The wood-burning pen itself is fairly minimalist (it markets its three included metal tips as the only three you need), but the kit also comes with a variety of helpful tools and materials that may come in handy, including: a pencil, a stylus, a sand eraser, tracing paper, sanding paper, an alphabet stencil set and four sea creature stencils.
Oh, did we mention the wood? While it's not a ton of wood, the kit also includes four square, wooden coasters made from solid basswood, which you can design using either the provided sea creature stencils (a safe choice for beginners) or whatever picture you come up with. The kit also includes mobile digital instructions via a QR code, a physical instruction manual and access to four video tutorials. All of the physical materials come in a cute and convenient storage box/treasure chest, also made from basswood. Even if you quickly run out of wood to burn, the kit comes with enough long-lasting tools and useful instructions to make this a worthwhile purchase for long-term hobbyists.
6. ArtSkills 48-Piece Deluxe Wood Burning Design Studio Kit
Another comprehensive pyrography kit for kids and adults alike, this 48-piece DIY kit from ArtSkills allows you to create designs on five wooden plaques of different shapes. You could probably use them as beverage coasters if you wanted to, but they're slightly oversized and unusually shaped, so they might look better displayed on small stands or clustered in a gallery wall.
The list of materials includes: one solid-tip wood-burning tool, five wood-burning tips, five decorative wood plaques, five carbon paper sheets, five traceable designs, one stencil sheet, two graphite pencils, two paintbrushes and 20 watercolor paints. Yes, you can paint your artwork, too! However, adding color may make it harder to tell that it's a wood-burned image from a distance. The only things the kit doesn't include that might be helpful are a tool stand and accessories to help display your work.
7. Crafter Wood Burning Workshop and Kit
‌Note:‌ At the time of writing, this workshop and kit are sold out (join the waitlist here), but the Wood Burning Digital Class (kit/materials not included) is available for $30.
This pyrography kit and workshop bundle is a great deal—here's hoping it comes back in stock soon. And the pros at Crafter certainly know their stuff! The workshop includes an in-depth digital workshop by Rachel Strauss, a live and recorded Maker Chat Q&A with Rachel, and tools and supplies from artisan suppliers, curated for you by Rachel. The workshop focuses on three key areas of pyrography: transferring techniques to move art to a surface; burning techniques to work with different tooltips and how to outline, shade and detail; and finishing techniques to protect your work.
The kit includes a Walnut Hollow Versatool pen equipped for temperature variations, a range of burning tips, an artisan basswood cheeseboard for decorating, a Versatool transfer point, a small piece of practice wood, graphite paper, an embossing stylus, 2 ounces of food-grade mineral oil, a Tombow sand eraser, a roll of tape, and custom design templates by Rachel. If you've already purchased tools and materials but want some expert guidance on how to use them (or if the workshop-kit bundle is still sold out), you can purchase the digital workshop class-only for $30.