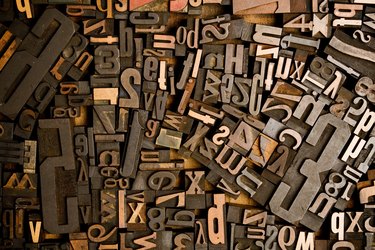 There's nothing quite like receiving a card in the mail with a handwritten note from a friend or relative. What's even better is when the note arrives on unique letterpress stationery and you can feel the intended love jumping off the paper. If you're a big fan of personalized letters but want to level up your stationery, a great way to do that is with custom letterpress stationery.
But what makes letterpress, well, letterpress? Letterpress refers to the printing method that results in a deep impression, typically on soft cotton paper or uncoated paper stock, AKA paper without any gloss or shine. Ink is transferred from a raised surface to paper using pressure. It works best when only printing one, or at most, a few colors. It makes for beautiful and elegant stationery and wedding invitations, as well as business cards that'll stand out from the crowd.
A good reason to use letterpress stationery is to make as strong of an impression in your letter as you would in person. Letterpress invites the recipient to not only read your writing but to get a hands-on experience by touching and feeling the printed words.
I scoured Etsy for the very best shops that offer not just personalized letterpress stationery, but wedding invitations, business cards, thank you notes and more. Check out the Etsy shops below for letterpress stationery of all kinds, ranging from formal to traditional to modern.
Penelopespress incorporates letterpress printing into notecards, thank you notes, greeting cards and more. The options are simple with limited colors for a clean, yet pretty look. Take a peek at this monogrammed stationery that features whichever initial you'd like printed. The initial appears in black ink in the bottom right corner of the note card. The cards come in a set of 20 on fluorescent white cotton paper. You can choose from white, cement or gravel-colored envelopes. Each card measures 3.5 inches long and 4.875 inches wide.
Letterpress stationery, wedding invitations and save the dates
When personalizing stationery, it's nice to have options when it comes to the font and color of the ink. TheFlywheelPress allows you to select from nine unique fonts and 11 ink colors. So, whether you're looking for personalized notecards, folded stationery cards, modern letterpress wedding invitations or save the dates, there are plenty of options to choose from. You can order cards in incriminates of 25 all the way through 200. Just include the name you want to be monogrammed, your font choice and the ink color. Each card measures 4.25 inches long and 5.5 inches wide.
Letterpress stationery, paint-by-numbers kits, gold foil prints, love notes and more
CatePaperCo offers a wide variety of art kits, decorative prints and one letterpress notecard that's totally worth checking out. You're going to love the simplicity of these custom cards featuring your name of choice pressed into the top. Each piece is handprinted on pillowy cotton paper using a vintage letterpress machine in a blind deboss style, which means no ink is used, just an impression. Coordinating cotton envelopes with square flaps are included. Choose from a set of 10 cards all the way to a set of 500 cards. Each card measures 4.5 inches long and 6.25 inches wide.
For elegant letterpress wedding invitations that you won't find on larger, big-brand websites, you've come to the right spot. BrownFoxCreative offers several gorgeous letterpress wedding invitations along with plenty of non-letterpress options. This taupe letterpress invitation can be fully customized with your information, and it comes with an ivory satin bow wrapped around each piece. If you want to make it even fancier, it can come with a wax seal. The price per invitation varies based on the addressing and add-ons you choose, like an envelope liner, additional inserts, deckled edges, or band and wax seal. Up to three rounds of digital proofing are included. Each invitation measures 5 inches by 7 inches.
Letterpress stationery, invitations and business cards
There's a big selection of letterpress stationery, invitations and business cards at BayouLetterpressShop. The Etsy maker even sells a custom coaster, which can be a fun party favor for a wedding, high school reunion or another special occasion. Something that might stand out to you is this letterpress photo card. If you want to send a unique holiday card, a baby announcement or a photo card for any reason, this custom letterpress printed note is a great option. Personalize the card with a photo and the information you want to include. You can select as few as 50 notecards with envelopes all the way up to 500 cards. The price varies depending on the type of paper you choose. The card pictured here measures 7 inches long and 5 inches wide.
Letterpress wedding invitations and wax seals
GreenHouseWaxSeals is the place to come for wax seals, an elegant and old-timey way to verify the envelope hasn't been opened—but really, it just looks cool. The wax seals can be personalized with initials, numbers or an image. The shop is also the spot to come to if you want to create completely custom and unique wedding invitations. To receive a quote and more information about what is offered in the wedding invitation bundle, send a message to the shop's designer.
Letterpress stationery, greeting cards, business cards and more
For brightly colored letterpress greeting cards, custom stationery sets, birth announcements and more, scoot on over to Dearlolaletterpress. Not only can you customize this set of letterpress cards with the name of your choosing, but you can have the name printed in your handwriting (or your child's, which is an adorable way to teach them the art of writing thank you notes). The notecards come in a set of 40 and you can choose the text and ink color you'd like. You can also opt for return addressing and the envelope options are white, light gray or kraft. Each card measures 4.25 inches long and 5.5 inches wide.
The invitations, save the dates and business cards offered by DinglewoodDesign are elegant and simplistic. They're clean and get right to the point, so if that's the look you're going for, you're bound to find something you like within the shop. This letterpress business card in particular includes only what people need to know — your name, business, phone number and email. Anything else might detract from the pertinent information.
Letterpress greeting cards and more
The Paperwheel Etsy shop can be a go-to place to find adorable, handmade greeting cards to send to your friends and family. Featuring a small image along with clever words, the greeting cards are sure to make the recipient smile. A cute way to thank someone is to send this sweet card that has a bunch of carrots and the words "Thanks a bunch" on the front. The folded card is blank inside and included is a matching envelope. Each thank you note measures 4.25 inches long and 5.5 inches wide.
Letterpress thank you cards and business cards
While the Dollarpress shop mostly prints custom business cards, you can also land yourself this elegant letterpress thank you card. The handmade card is printed on thick paper of your choice, either fluorescent white, pearl or ecru. The card, which measures 4.25 inches long and 5.5. inches wide, comes with a matching envelope.
Letterpress stationery, business cards, greeting cards and more
MIDOREO offers everything from holiday photo cards to notecards to business cards. Everything is so unique, it's definitely worth checking out the whole shop. If you're in the market for a business card and want it to stand out from the crowd, consider this one. The front holds your name, email and title, while the back features a small illustration in black ink of your face or whatever you choose. You can also select the number of cards you need and the number of colors you want to be used.