If you're looking for a creative activity that'll help you unwind and relax with the potential of adding a fun piece of art to your home decor, paint by numbers is something to consider. Even though you probably remember it from childhood, you don't have to be a kid to enjoy a paint by numbers kit. In fact, while there are plenty of kits available for kids, there are just as many kits for adults—and don't tell the kids, but the adult versions are way cooler.
Paint by numbers art kits typically include a template printed canvas, paint brushes and small containers of numbered acrylic paints. The canvas comes with an outline of a design along with numbers in each section that correspond to the numbered paints. Not all kits are the same, so there are a few things to consider.
What to Consider When Purchasing a Paint By Numbers Kit
‌Size:‌ The majority of kits come with a 16-by-20-inch paper, cotton or linen canvas, although some canvases are wooden. You can also find paint by number canvases that are smaller or larger, so be sure to look at the dimensions before making your purchase. Some canvases are circular or have more of a unique shape. While some come with a frame, most don't.
‌Difficulty:‌ It's important to find a DIY kit that matches your skill level. If you're new to painting or prefer easy painting, you might want to select a kit for beginners. If you have some skills, something more challenging will probably be more exciting for you.
‌Designs:‌ There are so many designs to choose from, so I did some digging around to find a variety of options I think you'll love, from scenic views to animal paintings to famous works of art to fruit to custom paint by numbers kits. There's truly something for everyone! You can find designs that are cute, unique, pretty, modern or whatever type of aesthetic you're going for.
‌Cost:‌ If you don't want to spend a lot on a paint by numbers kit, you can get one for as low as $10 or so, but you can expect that kit might not have high-quality paints and the paint brushes and canvas might not have as long of a life span as the more expensive kits. The better quality kits tend to offer a sturdier canvas that's made of cotton or linen as opposed to paper.
Scroll on for the best paint by number kits for adults that also happen to be fun and a surprisingly chic addition to your home decor.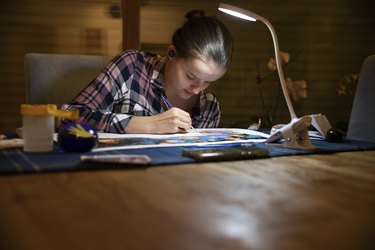 1. Petrala Paint by Numbers Acrylic Kit
Paint a tree of life on a 16-by-20-inch canvas that looks like the perfect mix between a colorful mosaic and a sun catcher. Great for beginners and beyond, the paint set full of bright colors includes one linen canvas, three nylon brushes in various sizes, enough acrylic paint for each color, and metal pegs and hooks for hanging. The numbers on the canvas can be a little challenging to read, but an extra sheet indicating the numbers is included.
2. emberpearlco Golden Hour Paint by Numbers Kit
Here's a modern paint by numbers design you're going to want to hang on a wall. The project is designed for beginners, as there really aren't many numbers to paint, but the sunset results are super pretty. The kit comes with one wooden circle with a pre-drawn numbered image, two paint brushes, six textured paint colors, an image of the completed painting for reference, a set of instructions, a command strip for damage-free hanging and a canvas bag that holds the kit. The textured paints will feel thick, but they're chosen specifically to glide smoothly along the wood surface for a textured and matte finished look.
3. ApplePiePainting1 Paint Your Pet Kit
If you've been wanting to commission an artist to paint your pet in a beautiful masterpiece, you might as well do it yourself using this adorable custom paint by numbers kit. Once you place your order, you'll upload your pet's photo (the price varies depending on how many pets are in the photo). The stretched canvas comes in three size options: 8 by 10 inches, 11 by 14 inches, or 16 by 20 inches. In addition to the canvas, inside the kit, you'll find all the paint colors you need, three high-quality brushes, a color key and easy-to-follow instructions. The project takes about four hours to complete.
4. Artist's Loft Necessities Van Gogh Starry Night Kit
Have you ever wanted to paint like Vincent Van Gogh? Well, now you can—even with little to no painting skills. This paint by numbers kit lets you recreate Van Gogh's masterpiece "Starry Night." It comes with everything needed, including a cotton canvas, 25 acrylic paints, four bristle brushes in various sizes, a wooden display hanger, an instruction sheet and a reference sheet. The wooden display hanger makes it easy for you to display your artwork. This project is best for intermediate painters.
5. Wizardi Monochrome NYC Ballerina Paint by Numbers Kit
Give yourself a break from your computer, social media, work, your kids, cooking, cleaning, etc. while creating something beautiful to hang. This black-and-white photo of a ballerina in New York City is intended for intermediate painters. It comes with a stretched numbered canvas, acrylic paints, brushes and instructions. It's a great design to do with a friend or a partner—whether you work on the same piece together or you each have your own.
6. Lauren Sadler Birth Month Flower Paint by Numbers Kit
This paint by numbers kit makes an extra special gift (whether it's for yourself or someone you love). You get to choose the flower you prefer based on your birth month—although, there's no rule saying you can't choose the flower based on the design you like best, so that's totally up to you. Included in the kit is an artist-quality canvas; nontoxic, water-based acrylic premium paint; two brushes; instructions and helpful tips. You'll be able to finish the flower in about three hours, unless of course, you take breaks to refill your wine, snacks, etc. Then it'll take a bit longer.
7. TextureOfDreams Floral Owl Paint by Numbers Kit
Whether you want something to do to pass the time or you're just looking for a creative way to relax after a long day, this lovely owl paint by numbers kit is a great way to do it. This kit comes with 22 acrylic paints, a set of brushes and a pre-printed stretched canvas that measures 16 by 20 inches. This project is meant for beginners and, once completed, is easy to mount on your gallery wall thanks to the sawtooth hangers on the back.
8. CraftBarn Fruit Paint by Numbers Kit, Set of 2
Grab a friend and a couple of beverages and settle in for a fantastic night of painting. This kit comes with two canvases—either a pineapple and lemons, violets and a rose, or a hydrangea and lily. The canvases are each 10 inches square, and one is easier than the other skill-wise. In addition to the two framed canvases, you'll find acrylic paints and four brushes.
9. Tumovo Moonlit Garden Paint by Numbers Kit
You'll notice that this kit is pretty inexpensive, and as a result, the linen canvas is thin. But the finished product can still be hung on a wall and the design is pretty, so that's always nice. This kit comes with a 16-by-20-inch canvas, a set of acrylic paints and three different-sized brushes. The company offers nine unique designs in both frameless and framed options—so you have the option to purchase a thicker canvas for a bit more money.
10. letspaintanywhere Central Park Winter New York City by Joy Laforme
Just like some people leave their Christmas lights up way past the holiday season, you can paint a wintery holiday scene way past Christmas time. This DIY kit will also make an excellent holiday gift for next season. The kit includes a 16-by-20-inch canvas, a set of four brushes and 30 tiny containers of acrylic paint. The project takes about 12 total hours to complete.