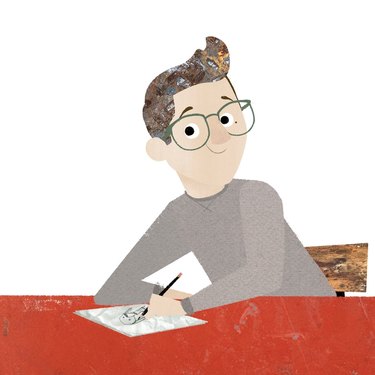 As a kid, Rob Sayegh Jr. had no idea that a career in drawing was, well, a thing. He grew up in Staten Island, New York, and didn't have much access to the art world. "I didn't take art classes, and I wasn't surrounded by artists—my dad was a truck driver, my mom was a school secretary," says Rob, who now resides in San Francisco with his wife and two dogs. But he did have a very important secret weapon: "I lived around the corner from a library!"
Every week he'd take out drawing books on how to draw cars or characters, and pretty soon a world opened up. "I never thought about ‌who‌ draws the pictures in picture books," he says. "It wasn't really until I was applying for colleges that I realized drawing is something that could be studied, like dentistry!"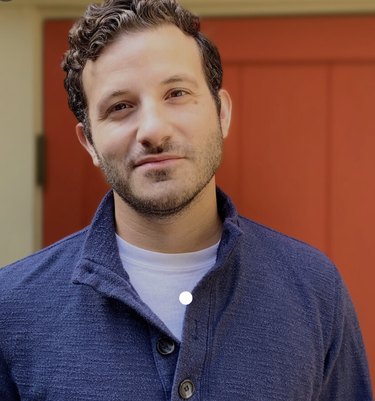 And study he did, first at the Fashion Institute of Technology and then at the Pratt Institute, which was followed by years as a toy designer and now as a children's books illustrator. Just like when he was a kid, drawing is still Rob's refuge. Only these days it's Rob's books and whimsical illustration style that are captivating a whole new generation of readers. He is the illustrator of not one but seven children's books, including the humorous picture book ‌I'm Not Scared, You're Scared!‌ by Seth Meyers and the holiday kids' book ‌Happy All-IDAYS!‌ by Cindy Jin. He is also the author and illustrator of ‌Love Tails‌, a picture book about dog tails and their—yes!—tales.
We sat down with Rob to talk about his inspiration and how he makes stories come to life on the page.
How did you go from being a fan of picture books to illustrating them professionally?
‌ROB:‌ As a kid, I was constantly drawing. That led me to the Fashion Institute of Technology, and then the Pratt Institute, and I got a job working as a toy designer shortly after. When I was designing toys for preschoolers, I really got a chance to understand what younger kids are curious about and what's funny to them. I also worked with brands like Disney, Nickelodeon and Sesame Workshop, who create content for kids who are not yet at reading level, and that helped me communicate with kids visually, in a way that helps them understand complex things without oversimplifying them. That all led to illustrating books for kids full-time.
‌ROB:‌ I usually work for the publisher, who acquires the manuscript from the author and passes it on to me. I'll do a rough thumbnail sketch first, which is basically a doodle of what I want to do—almost like a quick drawing or sketch of stick figures. After that, I'll create a cleaner sketch and present it to the publisher, who then shares it with the author to make sure it aligns with their vision. I use a mix of hand-drawn and digital sketches. My early sketches or thumbnails are by hand because there is something very organic and calming about that, and it allows me to figure out a story much quicker.
A Few of Rob Sayegh Jr.'s Favorite Children's Books
Rob's favorite children's book are a fun mix of old classics and new adventures!
1. ‌Lyle, Lyle, Crocodile ‌by Bernard Waber
2. ‌Bunnicula‌ by Debra Howe and James Howe
3. ‌Paddington Bear ‌series by Michael Bond
4. ‌The‌ ‌Snowy Day‌ by Ezra Jack Keats
5. ‌The Adventures of Beekle: The Unimaginary Friend‌ by Dan Santat
6. ‌The Wild Robot‌ by Peter Brown
7. ‌Have You Ever Seen a Flower? ‌by Shawn Harris
8. ‌Mother Bruce/The Bruce‌ series by Ryan T. Higgins
How is hand-sketching calming?
‌ROB:‌ There's healing in doodling—drawing for me is very therapeutic and helps me with anxiety. Like exercise, or any activity someone loves and does every day, drawing is something that de-stresses and provides a space where I feel like I belong. I love that, no matter what's going on, I can go and draw and really express myself. I see it as an escape, and I keep a sketchbook with me all the time so if I'm stressed, I can just create something personal. It helps me get outside of everyday life.
During the pandemic, how did you lean on your art?
‌ROB:‌ My wife and I had just moved to San Francisco, and then suddenly, four or five months later, the pandemic hit. We had to figure out how to communicate with our new neighbors during a time when it was unclear how to communicate. In San Francisco, a lot of people have these big bay windows. So we used our windows—which didn't even have curtains yet!—to share a joke or funny illustration of the day. We'd draw images, print them out and display them on the windows, just as a way to cheer people up during the pandemic.
Like a lot of people, I also had maybe too much time to try different art forms. I learned to knit. I also started to paint these abstract paintings on large canvases for a while and tried a technique called paper marbling, where you paint on water.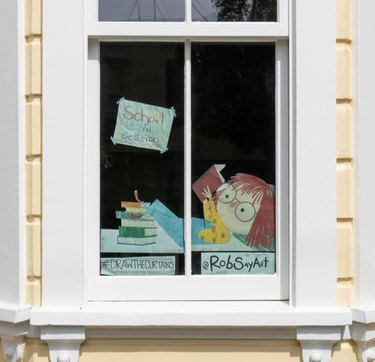 Where do you find inspiration? Do you create what you see, or does your sketch take on a life of its own?
‌ROB:‌ It's a little bit of both. I was on the subway in New York City the other week, and I drew what I saw there and was absorbed in the moment. It's kind of like journaling. I draw what I see in my art style, but when I'm home, I'll sketch something fun like a pig! Sometimes I'll even do a little scribble on the page and try to turn that into something. It depends where I am and where my head is, but I never force it and say, "This is what I'm going to draw today." It's very organic.
My environment inspires me too. My color palette changed when I moved from New York to San Francisco. The architecture is different, and the houses are all a different color. I walk around and take photos of different textures around the city and use them in my illustrations.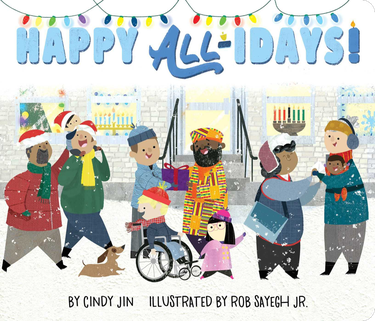 An illustrator is as much of a storyteller as the author, and I wanted to start sharing some of my own stories. I'm a huge dog person, and one of the best pieces of advice I received early in my career was "Write what you know, and write about what you love." Well, I love dogs! And I love the way dogs love me and how they're always happy to see me. It's something we should all have more of. So I wrote a simple story that looks at the humorous part of a dog's tail—how it wiggles and shakes—and turned that into a book, ‌Love Tails‌. It's a very simple, lyrical story about what a dog's tail means and how, no matter what we have going on or how different we are, our dogs will always love us.

"What's interesting about picture books is that kids will question ‌everything‌! Every sentence and every word has to matter because kids will question it. They're tough critics, but also curious and open to the possibility that anything can happen, which makes for a fun subject matter." —Rob Sayegh Jr.
How can someone who isn't inherently artsy flex their creative muscles?
‌ROB:‌ I believe everyone has that creative spirit, and it shows up in very different ways. You have to think about what you love—whether it's dogs or cars—and find ways to be creative with your favorite things. But it's all about how we foster our creativity. And the way to do that is to be consistent because that's what helps grow our passions. That could mean you work on your creativity once a week or once a month—anything you feel gives you the time and space to be creative.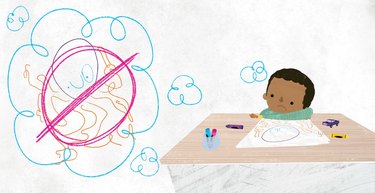 What's your secret to carving out time to be creative?
‌ROB:‌ I'm a fan of scheduling and sharing that schedule. For example, my wife and I share a calendar online so if it anything pops up while I'm working on something, we work around it. I like the idea of knowing that your time is there as opposed to stressing out and wondering, ‌When am I going to have the time?‌ Carving out time—and sticking to it—is the first step toward making it a habit. That scheduled time doesn't have to be explicitly creating, either! You can even use it to learn—to research or look at things that inspire you.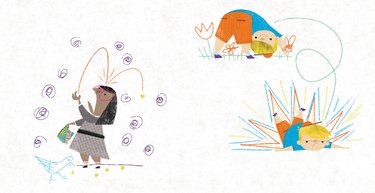 Any advice for people hoping to be an artist or creative?
‌ROB:‌ An important part of learning is making mistakes too, which I call "learning moments." Don't be afraid to fail, especially in the creative industry, because you're learning on the go. When you're open about making mistakes and learning, you put your best foot forward in becoming a creative person. Betting on yourself is always the hardest thing to do, but it's the biggest thing I'm thankful for in my career. Take a chance on your dream, even if it scares you. When you bet on yourself, you get a different perspective of what you need to do and how to do it. There's an urgency because you understand what's at stake.
3 Ways to Fuel Creativity
Looking to take your craft to the next level? Here are Rob Sayegh Jr.'s tips for nurturing creativity.
‌1. Schedule creativity. ‌"Don't wait for inspiration to strike—scheduling time to work on your craft, whether it's hands-on creating or researching and learning about your art, will fuel inspiration."
‌2. Find a community. ‌"Connect with people who share your creative interests. Joining professional organizations and going to local events will help you interact with other artists and provide support as you learn the ropes."
‌3. Bet on yourself. ‌"Take a chance on your dream, even if it scares you. I think when you bet on yourself it changes your whole mindset. It's a reminder to believe in yourself and be confident in achieving your goal while holding yourself accountable to putting in the work to get there. It's also a realization of what's at stake for you, which brings a new sense of drive and encouragement.