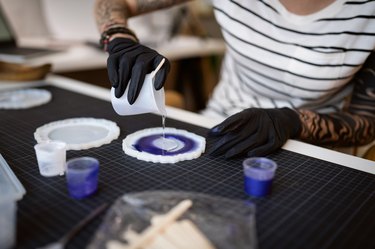 Resin is one of the most popular craft projects out there but with its sticky epoxy formula and seemingly messy pigments and glitters, resin crafts can be a little intimidating—especially for beginners. With that said, the best way to learn resin art (and prevent a massive mess) is through a curated and beginner-friendly epoxy resin kit. Whether you're looking to try a specific project, such as drink coasters or jewelry-making, or want to invest in a kit that will spark your creativity with its endless possibilities, there are tons of great resin kits for beginners to choose from.
We researched dozens of resin kits, carefully considering the resin type, curing time, supplies, and other important factors when purchasing a resin kit to narrow down the best options for beginner crafters. From a kid-friendly craft project to jewelry-making craft supplies, here are the best resin kits for beginners.
What to Consider When Purchasing a Resin Kit
‌Resin Type:‌ Look for epoxy resin in your starter kit, as it's the easiest to work with and the least toxic. Most resin kits will come with epoxy resin and a curing agent (or hardener). However, there are two types of epoxy resin to look for—doming and casting. If you're working on smaller projects or using molds, casting resin is most likely the best option, as it is more liquid and easier to use for these types of resin crafts. Doming resin is a lot thicker and used for creating high-gloss surfaces such as tabletops or even resin-dipped cutting boards.
‌Curing Time:‌ The time it takes for the resin to cure is another necessary thing to consider when purchasing a resin kit. Since some types of resin—especially the ones in resin starter kits—air dry, you want to ensure you have enough time to make your creations before the resin cures. For beginner crafters, a longer curing time might be the better choice as it will allow you the space to work on your project without rushing. If you're a more seasoned crafter, curing time might not be as make-or-break.
‌Supplies:‌ When shopping for a resin kit for beginners, it's essential to make note of the supplies in the kit. Some resin kits will be more project-based and feature supplies—such as pigments, molds, and additives like glitter—specific for each resin craft while others contain more general resin supplies for a variety of DIY projects, including home decor (hello, resin coasters!), jewelry making and more. If you're shopping for a resin kit that will help you get started on various projects, look for a kit with various supplies to match. And, if you have something a little more specific in mind, keep an eye out for resin kits designed for certain DIY resin crafts.
‌Skill Level:‌ Beginner-friendly resin kits are abundant, however, not all are created equal. Before purchasing a resin kit, it's important to consider your craft skill level, as "beginner" can range. If you're someone who considers themselves very crafty and has experience trying a variety of mediums, most (if not, all) resin kits for beginners are a good starting point for you. For crafters with less DIY practice, consider looking for a resin craft kit that is dedicated to a specific project (and has detailed instructions to match). By choosing a project-based kit, ultra-beginners will have an easier time learning how to use resin and create resin art.
‌Project:‌ If you have a specific project in mind and are looking for a resin art kit to get you started, look for one through the lens of your project. Those looking to create resin coasters might choose a coaster-making kit, or a collection of materials that includes important components like coaster-shaped silicone molds, pigments, foil flakes and other decorative supplies. If you want to use your resin kit for jewelry-making, look for starter kits that include small silicone molds for resin jewelry and maybe even some fabrication components like rings and clasps.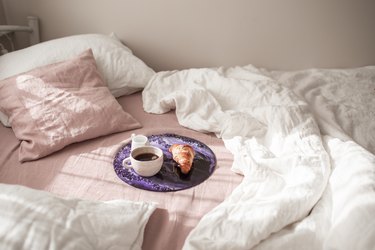 The Best Overall Resin Kit
If you're looking for a resin kit that will allow you to explore the art of resin crafts—and make a few fun projects—the Thrilez Resin Mold Kit on Amazon is our top pick. This resin starter kit comes with everything you need to practice the art of resin, including resin jewelry-making supplies, molds for keychains, and decorative additives like glitter, foil flakes and dried flowers to make your pieces stand out. The beginner craft kit also comes with hand drills for creating holes in your pieces and notions like earring hooks, jump rings, and necklace cord, plus 15 silicone molds to experiment with. This kit also includes epoxy resin and a curing agent that requires a 1:1 ratio, making the formulation easy to follow for beginners.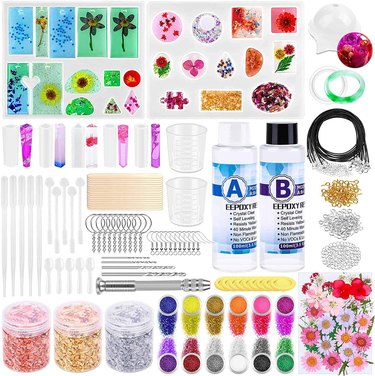 The Best Project-Based Resin Kit
Leisure Arts Resin Pour Kit Blush
Project-based resin kits are a great place to start because they give you a clear goal while also teaching you how to use resin. The Leisure Arts Resin Pour Kit Blush is our top pick for the best resin project kit because it comes with a curated collection of pigments and a 24-page step-by-step booklet filled with projects you can use a paint pouring technique on, including a resin cutting board and coasters. We love it because, while it offers guidance for specific projects, it also gives you the freedom and flexibility to explore the art of resin. The kit comes with epoxy resin and hardener, mixing cups, gloves, craft sticks, and a plastic sheet to protect your workspace while you create.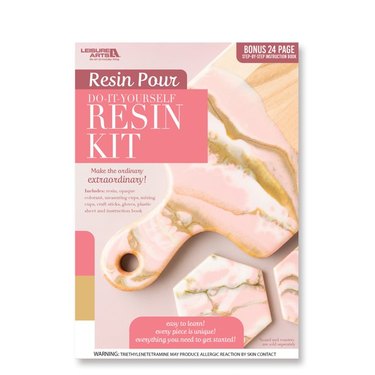 The Best Resin Kit With UV Light
Blue Moon Studio™ UV Resin Craft Deluxe Starter Kit
If you want to try your hand at UV resin, you want a kit that fits the mold. This beginner-friendly resin kit from Michaels is centered around resin jewelry-making and comes with UV resin and a UV lamp for curing, plus a faceted silicone gem mold so you can create your own resin gemstones for jewelry-making. The kit also has fixings like open bezels for stone-setting, dried flowers, jump rings, glitter, suede necklace cording, and some essentials like scissors, tweezers and a mat so you can get started right away.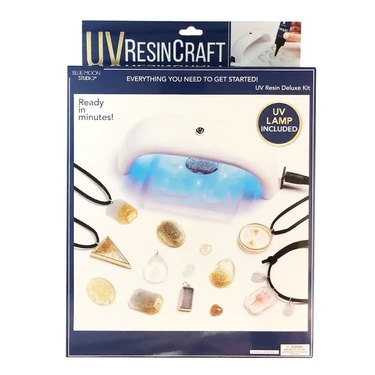 The Best Resin Kit for Kids
Creativity for Kids® Resin Fidget Shakers
The best resin kit for kids is the Creativity for Kids® Resin Fidget Shakers from Michaels. This craft kit is designed for ages 8 and up and features everything you need to create a personalized sensory toy, including silicone molds, measuring cups, resin, keychains, plus all sorts of embellishments like glitter, beads, charms and more. The resin craft kit is beginner-friendly and teaches kids the art of making their own objects from resin, through the creation of a cute keychain that moonlights as a fidget toy for their backpack.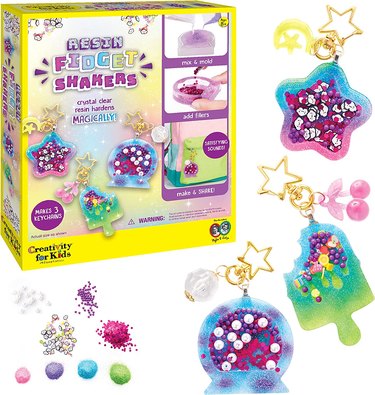 The Best Resin Jewelry-Making Kit
GoodyKing Resin Jewelry Making Starter Kit
Resin jewelry is a super fun and easy resin craft for beginners. For the best jewelry kit, we turn to the GoodyKing Resin Jewelry Making Starter Kit from Amazon. The high-quality beginner kit comes with epoxy resin and hardener with an easy-to-follow 1:1 ratio and has a 20-minute curing time, so you have enough working time without a time crunch. Plus, it has everything you need to create necklaces, charm bracelets, earrings and other jewelry items with its inclusion of silicone molds, two different glitter types, jump rings, earring hooks and foil flakes. The kit also has a 30-day guarantee.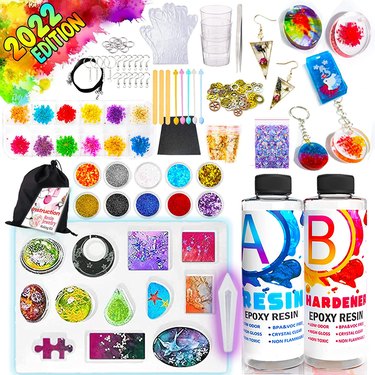 The Best Resin Kit With Pigment
SUMERBOX Clear Cast Epoxy Resin Kit
While many resin kits include glitter, not all beginner-friendly options have pigment. For the best resin kit with pigment, we recommend the SUMERBOX Clear Cast Epoxy Resin Kit. With 32 assorted mica powder colors to choose from, you can truly customize your resin art with few limitations. On top of its pigments, the kit also comes with an epoxy resin that has a longer curing time of 40 minutes, making it easier for beginners to work on their creations before things start to set. The resin is also UV-resistant and doesn't experience any yellowing with wear, making it a high-quality choice, too.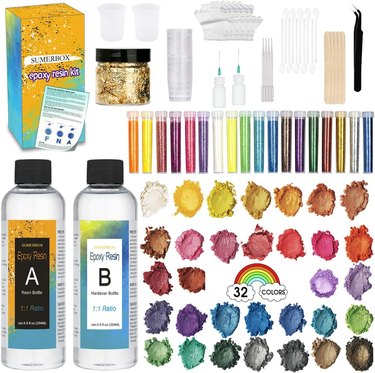 The Best Resin Kit With Molds
LET'S Resin Resin Coaster Molds Kit
For the best resin kit with molds, look no further than the LET'S Resin Resin Coaster Molds Kit. This kit is an excellent choice for beginners looking to try their hand at resin molds, as coasters are an easy entry-level project. With four different shapes to choose from, plus mica powder color pigments, foil flakes, and a 1:1 ratio of epoxy resin and hardener, beginners can create their own resin home decor items (which also make for great gifts). Once cured, these resin coasters are durable, UV-resistant, and not susceptible to yellowing, making them a high-quality project.