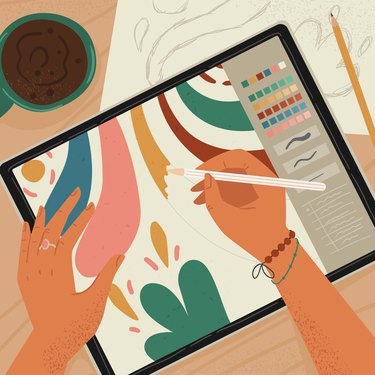 Whether you make traditional art, doodle in a sketchbook or are new to illustration and digital art, there are tons of tools and apps to boost your creativity and streamline your work process.
To help you navigate the endless drawing apps out there, we're sharing our tried-and-true favorites with a focus on apps that have the lowest learning curve but will still help you create professional-level work.
Things to Keep in Mind...
In most cases, a computer or laptop with a drawing tablet or mouse will do just fine when using these digital art applications. However, a graphics tablet and stylus, like an Apple iPad and Apple Pencil, are also helpful. Of course, be sure to consider the screen display and size, the types of cable connection ports and the operating system before purchasing any of these tools.
Tip
When comparing screen display, the MacBook Pro has a Retina display, which helps enhance the color spectrum on most Apple computers. This is not available on some Windows PCs.
Before downloading an app (especially ones with fees), also think about:
‌1. Online support:‌ When you're struggling to draw hair on an illustration at 2 o'clock in the morning, you want to be sure you'll be able to find support! Luckily, the companies behind an app and its community of digital artists typically provide many step-by-step tutorials. These guides are an excellent resource, but some are better (i.e., more user-friendly) than others. So before investing in an app, peruse what kind of support is available online.
‌2. Compatibility with a stylus:‌ Many apps will help you create digital illustrations, concept art, unique graphics, logos, brand designs, web mock-ups and more. Most work well with a stylus and offer varying pressure sensitivity. But choose the app that is most compatible with the software and tools you already have on hand.
‌3. Fees:‌ Many digital design apps have a fee structure, and you can choose the option that best suits your budget, whether it's a onetime fee, monthly fee or annual subscription fee.
‌4. Usability:‌ When choosing the right drawing app, consider which you find easiest to use. If you feel intimidated by advanced design features, start with a program with an easier, more beginner-friendly interface. You can always upgrade to a more complex app later.
Best Illustration Apps for Beginners
Now that we've gone over the basics, here are the digital drawing apps we consider most helpful for beginner artists.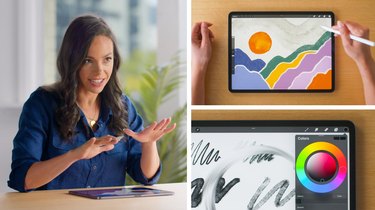 Procreate, an iOS-only pixel-based app, is a favorite drawing app for many beginners and professionals because of its accessibility, low onetime cost and powerful tools, including the ability to use layers, create custom brushes and color palettes, and even paint imported 3D models. There are tons of brush and stamp options, including ones designed to mimic the look of traditional paintings, comic book panels and concept art graphic design. You can even animate your art with Procreate's animation assist.
Tip
When using Procreate, canvas size and layer count depend on your iPad size.
The app makes it easy to import a color palette and save your favorite colors as swatches. You can even import your favorite palette from Adobe. You'll also find advanced features such as blending modes, texturing options and time-lapse recordings that you can easily share on social media.
Lastly, Procreate is a community-driven platform that facilitates sharing artwork, brushes and step-by-step tutorials, so there are ‌plenty‌ of helpful resources online. Not to mention a vibrant creative community with everyone from beginners to professionals.
Tip
Procreate is compatible with iOS devices only. You can check the Procreate website for more specific information on which iPad and compatible Apple Pencil is right for you.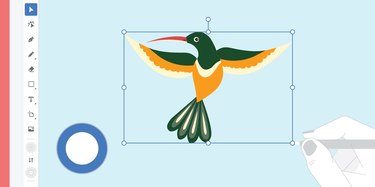 Next up on our list is none other than Adobe Illustrator, one of the go-to art tools for digital painting. Adobe offers a beginner's guide with step-by-step tutorials that teach the fundamentals so you can begin to create digital artwork using your favorite drawing tablet, iPad or Wacom and stylus.
What sets Adobe Illustrator apart? For one thing, it's a powerful tool with features like a shape builder and live paint. It offers accuracy and scalability, making creating art for any medium fun and painless. And if you're already using Adobe Photoshop or InDesign, Illustrator will easily integrate through Adobe's Creative Cloud.
Tip
Have your eye on a digital art app but want a discount? Sign up for the app's emails to stay up to speed on all their discounts and promotions, from summer sales to new subscriber offers.
The drawbacks of Adobe Illustrator? It can be challenging to learn for beginners and even longtime users, and the monthly or annual subscription fee can also be an issue. Adobe Illustrator's interface is also more minimal than Procreate or Affinity Designer; however, there are many shortcuts available to help digital artists streamline their process. And its many, many users ensure you'll find a lot of support online.
Tip
Vector graphics are digital art rendered by a computer using a mathematical formula. Raster images comprise tiny pixels, making them resolution-dependent and best used for creating photos.
Affinity Designer has a less intimidating interface for beginners, compared to Adobe Illustrator, and it offers a comprehensive set of tools and an affordable price tag. Affinity Designer boasts robust vector editing capabilities, precise stylus controls, shortcuts, plus an extensive range of brushes, allowing artists to create intricate illustrations.
Its real-time preview feature and nondestructive editing make experimentation easy, allowing artists to explore their creative ideas without limitations. Affinity Designer's compatibility with popular file formats and seamless integration with other Affinity apps make it an excellent choice for artists seeking a versatile and affordable illustration solution.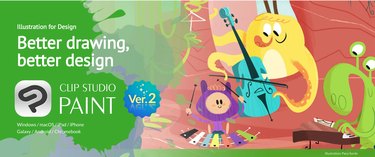 Clip Studio Paint is a favorite digital painting and digital art software that many professionals swear by. It boasts more than 40,000 customizable brushes, and you can import and customize Photoshop brushes. It also offers advanced animations, concept art, comics, manga and 3D art solutions. Clip Studio Paint has a low monthly or annual fee to access the PRO version of the program.
Tip
There are two versions of Clip Studio Paint: EX and PRO. The PRO version is ideal for single-page comics and illustrations and is more affordable than EX. The EX version has all the features of PRO, plus extra features helpful in creating multipage projects.
You can also use Clip Studio Paint's tools to render images and ink. The software is simple and comes with various custom brushes and image-creation tools. You can also edit 3D models and backgrounds and create digital artwork from photographs and comic books. Clip Studio Paint stands out because its advanced pen pressure sensitivity helps artists draw precise and nuanced lines. (Because Procreate is a pixel-based program, getting a clean line can be challenging without the right brush settings or canvas size.)
So which digital illustration app should you pick?
We get it—it's a hard decision. After all, the world of illustration and drawing apps is bursting with outstanding options, each offering unique features and tools to enhance your artistic journey and goals.
Our advice: Test them ‌all‌ out! Sign up for the free trials, watch video reviews, check out the tutorials and the app's social media (often with user-friendly content). Then pick the one that will best empower you to unlock your creative potential and produce awe-inspiring digital artwork.
You got this. Happy creating!