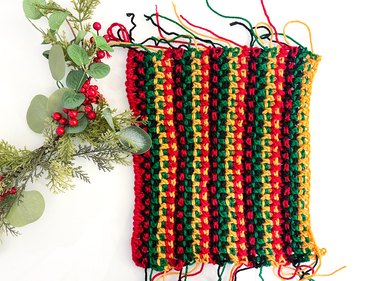 Kwanzaa might feel unfamiliar if it's not part of your family heritage—but the holiday is more accessible than you might think. Today I'll break down the principles of Kwanzaa so you can incorporate some of its traditions and takeaways into your own seasonal pastimes. The holiday is not directly tied to any one religion, so while traditionally acknowledged in African American communities, it can inspire anyone to embrace unity and purpose for the New Year.
If you're looking for a crafty way to celebrate Kwanzaa, I've created a vibrant and meaningful crochet Kwanzaa mat (‌mkeka‌) to get you started. Before we jump into to the DIY, though, it's important to understand what the holiday is all about.
Let's start with the basics: The word ‌Kwanzaa‌ (and its seven accompanying principles) comes from Swahili and means "first fruits." Kwanzaa pays homage to harvest festivals found throughout Africa and was created during the Black Power Movement of the 1960s as a way for African-Americans to reclaim and explore their heritage. On a personal level, Kwanzaa reminds me that we can celebrate and give power to the many positive aspects of being Black.
When we celebrate, we move beyond painful statistics and stereotypes reflected upon us by media platforms and racist systems. And for one moment, during Kwanzaa, we unite to remind ourselves and others how beautiful, resilient and dedicated we are to creating a better future for our community.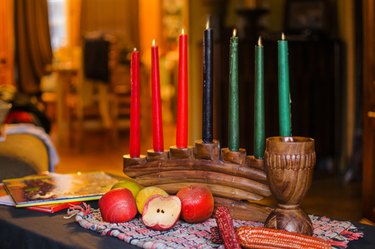 Much like Hanukkah, Kwanzaa calls for the lighting of seven candles in a kinara (candleholder)—one each day to honor the seven principles of Kwanzaa. The kinara is displayed on a mkeka (mat), which represents the strong foundation of African heritage upon which these principles are based.
Honoring the Seven Principles of Kwanzaa
During each day of Kwanzaa, I journal as a way to reflect and create personal ownership of each principle. I have found that it makes brainstorming New Year's resolutions more attainable and allows me to focus on where I see myself during the upcoming year. I love having prompts for my goals, and Kwanzaa is the perfect time to encourage myself and others to look beyond surface-level resolutions. Each of the seven principles comes with its own questions, considerations and reflections.
‌Day 1: Unity (‌Umoja‌)‌
The first day of Kwanzaa traditionally honors unity in family, community and race. I ask myself how I can build connection with family (close or distant) and what I want to learn more about regarding my Black heritage. In doing so, I feel more connected to both past and present.
‌Day 2: Self-Determination (‌Kujichagulia‌)‌
This principle has become more important to me as I enter my late twenties. It asks us to define ourselves and write our own stories. I believe everyone deserves autonomy in telling their story so that our histories are not lost.
‌Day 3: Collective Work and Responsibility (‌Ujima‌)‌
This principle places value in seeing others' problems as your own and in turn asks for a collective solution to problems in the Black community. I'm reminded to fight for people who might have grown tired of fighting for themselves and not to turn a blind eye to issues that don't directly affect me.
‌Day 4: Cooperative Economics (‌Ujamaa‌)‌
Ujamaa empowers us to invest in ourselves (quite literally) with our finances. Operating or supporting Black-owned businesses is a wonderful way to embrace the meaning! As an online shop owner myself, this one is especially meaningful. I value owning my small business and "shopping small" as often as possible.
‌Day 5: Purpose (‌‌‌Nia‌‌‌)‌
Purpose sounds like a pretty simple principle, but this day is traditionally spent encouraging us to restore our people to greatness. The only amendment I add is writing a list of things I'm proud of myself for. We as African Americans are ‌still ‌great for what we can do, despite our history being riddled with so much blood and injustice. It does not mean we are less than we were when we belonged only to our home continent. Our present purpose can be just as important.
‌Day 6: Creativity (‌‌‌Kuumba‌‌‌)‌
As a creative, this is my favorite principle. I enjoy reflecting on how I can use my talents to inspire, teach and express myself. At the same time, I give thought to the fact that it's truly a skill and gift to create on a daily basis. This day offers an ideal time to consider the importance of helping creativity flourish across the earth, giving life to future generations.
‌Day 7: Faith (‌‌‌Imani‌‌‌)‌
This day asks us to believe with all of our hearts in our people and in victory from our struggle. We are free to love, laugh, sing and—most important—exist. I know all too well that daily life demands we continue speaking up for our lives and safety, but this unified effort to create family and flourish is well worth the work.
Creating a DIY "woven" Kwanzaa mat with crochet techniques can be done using a mini basket weave stitch. For a meaningful mkeka, incorporate symbolic colors that stand for the people (black), the bloodshed of the past (red) and the abundance of our future on Earth (green). I also incorporated yellow in this craft because ears of corn are traditionally placed on the mkeka to honor the prosperity of children and their future in a household.
A Mini Guide to Crochet
If you're a beginner (or just a little rusty), be sure you're up to speed on standard crochet terminology—otherwise, you might find yourself lost as you dive into this mkeka project. For a list of stitches and terms to know, check out our Crochet 101 Guide and List of Crochet Stitches.
Your mkeka should measure 12 in x 18 in. to serve as a place mat, but feel free to make it as long as a table runner if you wish! This project requires a "Front Post Double Crochet" and "Back Post Double Crochet," both of which will become second nature with practice. A set of two stitches creates the mini basket weave stitch.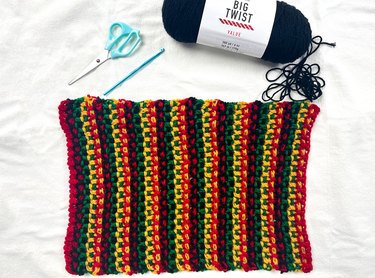 Things You'll Need
5.0 mm crochet hook

Yarn needle for weaving in ends

Scissors

Measuring tape

Big Twist yarn in Varsity Red, Varsity Green, Mustard and Black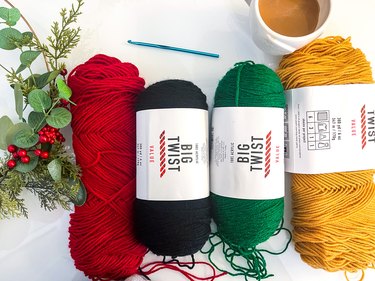 To start your mkeka, chain 30 loops with the first color (red), skip two and turn. Next, double-crochet the first row across, creating 28 stitches.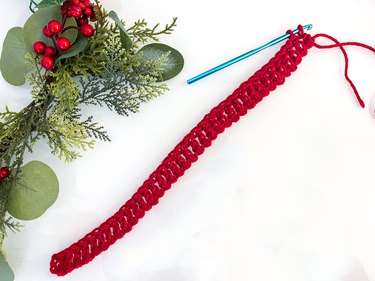 After creating a red base, it's time to add other colors to your crochet mkeka. Chain two loops and turn, "Front Post Double Crochet," then "Back Post Double Crochet" across. "Double Crochet" in last chain two; "14 Front Post Double Crochet"; "13 Back Post Double Crochet" and "1 Double Crochet" total (green).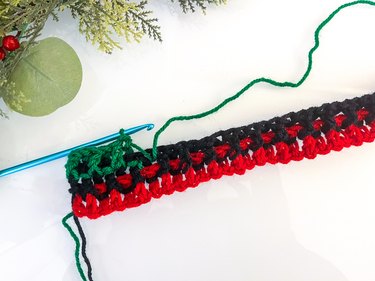 Tip
Make sure to alternate each stitch to create a "woven" effect!
3. Repeat pattern to complete
Chain two loops and turn, "Back Post Double Crochet," then "Front Post Double Crochet" across. Repeat from the first step. Start with opposite stitch from previous row—if using "Back Post Double Crochet," opt for "Front Post Double Crochet" in the next row. You'll have a mkeka mat in no time!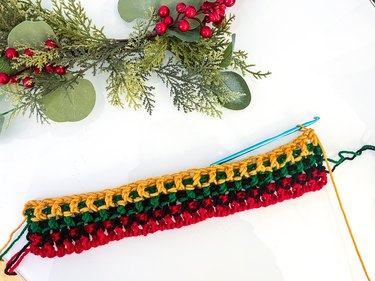 Continue with red, black, green and yellow until your mat measures 12 in x 18 in.—or until your heart is content! The mkeka is still a craft, and there's truly no wrong way to measure art.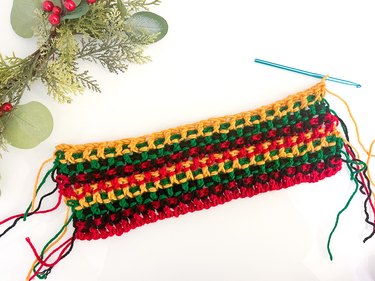 Tip
The mini basket weave stitch is also known as the rice stitch, which I believe fits perfectly with Kwanzaa's harvest theme.
If you're a beginner, don't forget to weave in your ends. If you're an experienced crochet artist, you know it will be worth it to do this now instead of putting it off until later. With the ends woven in, your mkeka is complete and ready to serve as the foundation for a lovely and meaningful Kwanzaa display.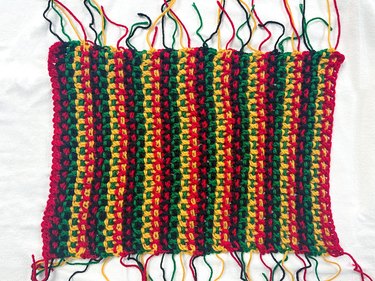 Don't be afraid create a Kwanzaa celebration of your own for the first time this year. After all, the holiday is all about claiming your heritage, honoring the past and embracing opportunities to build a better future. Happy Kwanzaa, happy holidays and—as always—happy crafting!