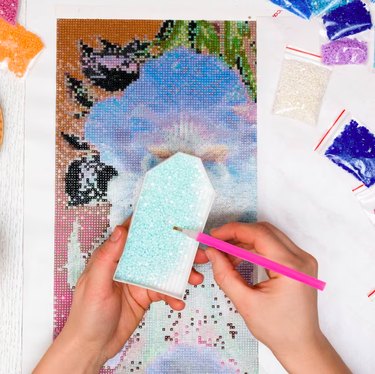 Flexing your creativity on canvas doesn't necessarily mean dipping your brush into a jar of paint—and it certainly doesn't mean you have to even have the skill set to paint or draw in the first place. If you've always wanted to make a piece of art you can frame and hang on the wall but are intimidated by the medium (or want something with a little more shimmer), diamond art is the DIY craft for you, and diamond painting kits exist to help you get started with all of the necessary tools, supplies and guidance.
What Is Diamond Painting?
If you love to cross stitch and paint by numbers, you'll love diamond painting. Similar to paint by numbers, diamond art features a canvas with numbers that correspond to a color—only, instead of paint, the project calls for rhinestones. Typically, the canvas has a sticky surface and you use an applicator to press each rhinestone in place over the corresponding numbers. Up close, these works of art look pixelated (like a cross stitch) but, when you take a step back, they all blend together to create a shimmering masterpiece.
Diamond art is a fun mindful craft to try for those looking for something that requires a meditative focus, isn't messy, and results in a unique piece of artwork. It's also great for those who prefer slow, ongoing projects since individually placing diamonds onto an adhesive canvas can take time.
What to Consider When Shopping for Diamond Painting Kits
‌Artwork:‌ When shopping for diamond art kits, the first thing to consider is the artwork. Whether shopping on Amazon, Etsy, JOANN or Michaels, there are so many different artworks to choose from, some of which are even from famous artists like Van Gogh and Thomas Kinkade. From realistic still life to trendy pop art, the artwork options are seemingly endless when shopping for diamond painting kits.
‌Skill Level:‌ In addition to artwork, it's also important to keep skill level in mind, since some diamond art pieces are more intermediate and advanced than others. For the most part, diamond painting kits will make a note of the skill level required to complete the project. That being said, if you have never tried diamond art before but have some experience with paint by numbers, the method is similar, so more advanced projects might not be as challenging as those who are new to the concept.
‌Supplies and Tools:‌ Most diamond painting kits will come with everything needed to complete a project, including the rhinestones (AKA diamond drills) which typically come in either a round drill or square drill shape, a diamond painting pen or applicator, and tweezers. The kits should also include some form of glue, whether it's an adhesive canvas or double-sided tape. Similar to a paint-by-numbers kit, the diamond art should also feature all of the rhinestones separated by color, making it easier to find the color you need for each area.
‌Custom Diamond Painting Kits:‌ One of the coolest things about diamond art kits is that you can purchase a custom one and make your own DIY version of a favorite painting or logo. Etsy is home to lots of custom options that allow you to upload your photo, choose a canvas size, and then wait for your own custom diamond art painting kit to arrive. This is a popular feature for pet portraits or favorite landscape photos taken on a memorable vacation, however, we've also seen crafters use this to create custom rhinestone designs for clothing (like this amazing Taylor Swift Eras Tour jacket).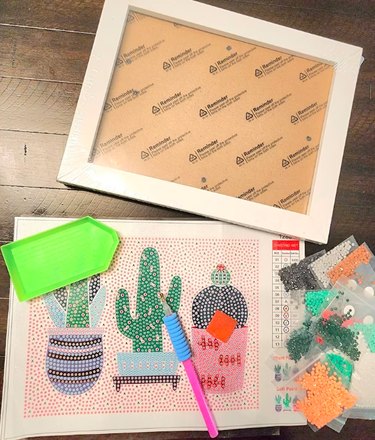 1. FRAMEANDDIAMONDART Hideaway DIY 5D Diamond Painting Kit
The Frame and Diamond Art Hideaway DIY 5D Diamond Painting Kit features a log cabin scene that, once finished, would look stunning as a framed piece of art. This 5D diamond painting kit comes with everything you need to complete the masterpiece, including all of the necessary rhinestones (in round drill), a drill tray, wax and tweezers, plus the adhesive canvas, which is made from fabric for flexibility.
2. Diamond Art Club Winter Solace
Diamond Art Club is one of our favorite places to shop for gorgeous, masterpiece-worthy diamond art kits. For a stunning scenery image, we love the Winter Solace kit, which comes in a large 34.7-by-27.6-inch canvas and features over 35 different rhinestone colors. The high-quality diamond art kit comes with everything needed to finish the work of art, including the diamonds, a tray, an applicator and grip, wax, and tweezers.
3. Shining Gift Design Custom Diamond Painting Kit
If you have your eye on a custom diamond painting kit, you can easily order one on Etsy. We love this option from Shining Gift Design because it's available in over 20 different sizes and you can choose between round or square diamonds for added customization. Plus, the steps for uploading your image for a custom diamond painting kit are super easy and it comes with everything needed to complete the project, including a high-definition canvas, diamonds, a point diamond painting pen, a tray and adhesive.
4. Diamond Dotz Kit Starry Night Van Gogh
This diamond art kit from Diamond Dotz is another top pick because you can create the iconic Starry Night by Van Gogh by the numbers. The dazzling craft kit might look intimidating at first — it is a masterpiece after all — but it's actually quite easy to follow for intermediate skill levels, thanks to the excellent instructions and all of the included supplies and tools needed to complete the project.
5. Diamond Dotz Intermediate Vintage Roses Diamond Art Painting Kit
If you love still life, this intermediate diamond art kit from Diamond Dotz is another fun project worth trying. Featuring a scene of pink vintage roses, the DIY kit includes a high-quality printed fabric canvas that is easy to follow, square diamonds in a variety of corresponding colors, a craft trap, a stylus, a wax caddy and easy-to-follow instructions. Once complete, the 16.93-inch long by 12.2-inch wide artwork can easily be framed and hung in your home as home decor.
6. Temlum Diamond Painting Coasters with Holder
Diamond art isn't just for creating artwork on canvas—you can also create other dazzling items, including coasters. If you're looking for a coaster craft kit to try, consider the Temlum Diamond Painting Coasters with Holder from Amazon. These coasters come in four different designs, including an eye-catching flower color, desert landscape, boho rugs and mandala designs, and come with everything you need to create six coasters, plus a coaster holder so that they're a fully functional piece of home decor once complete.
7. Stalente Mushroom Diamond Painting Kit
Mushrooms are one of the trendiest home decor items of the moment, especially when it comes to DIY decor. With the Stalente Mushroom Diamond Painting Kit, you can give this trend some sparkle and create a framable work of art for your gallery wall. The kit comes with everything you need to complete the project, including 5D diamonds that cover the whole image for a seamless finish. Perfect for beginner and intermediate skill levels alike, the kit is also a more budget-friendly option as it's currently priced at under $10.
8. Diamond Dotz Intermediate Level Thomas Kinkade A Walk Down Autumn Lane Diamond Painting Kit
Thomas Kinkade fans can create their own diamond masterpieces with this sparkling diamond art kit from Diamond Dotz. The kit—which is a replica of Kinkade's A Walk Down Autumn Lane painting—comes with all of the necessary supplies and tools to finish this gorgeous work of art, including the diamonds, an application pen, a wax caddy, and a high-quality fabric canvas, plus easy-to-follow and illustrated instructions.
9. GemCitySticky Cactus Succulent Diamond Painting Art Kit With Frame
If you're new to diamond art and don't have paint-by-numbers or cross-stitch experience, a simple project like the Gem City Sticky Cactus Succulent Diamond Painting Art Kit from Etsy is a fantastic place to start. This kit features an adorable cactus and succulent scene on a small 9-by-7-inch canvas and comes with everything you need—including an adhesive canvas, diamonds, an applicator pen, and a frame—to complete this piece of wall art.