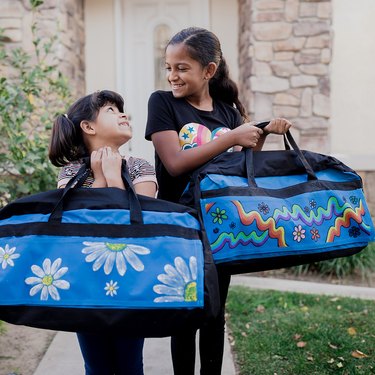 We're enthusiastic proponents of crafting and creating for the sole purpose of personal enrichment, but the power of creativity extends far beyond for-fun projects. At its very core, crafting is about making something new or improving upon existing materials—and this same concept applies to crafting for a cause. When we put our artistic abilities (imperfect as they might be!) toward a greater purpose, the outcomes are inspiring.
That sentiment is especially applicable to today's Crafts That Give Back feature: Foster Love, a nonprofit organization based in California that focuses on improving the experiences of young people navigating the United States foster care system. In this spotlight, we'll share what you need to know about the nonprofit's mission and highlight ways to use your creativity for good by getting involved with Foster Love.
For many children in foster care, trash bags are provided to carry personal belongings while moving from place to place or house to house, adding another layer of impermanence to the experiences of young people who have already lived through complex trauma.
That's where Foster Love (formerly known as Together We Rise) comes in. With the aid of volunteers and service projects, Foster Love provides foster care youth with hand-decorated duffel bags, themed boxes, birthday cards, bicycles, comfort items and more to drive home the idea that everyone is entitled to a sense of security, value and respect—far beyond what a plastic trash bag can offer.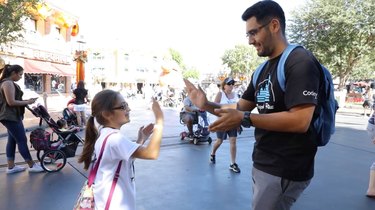 Foster Love, which has aided more than 650,000 young people in foster care since its 2008 inception, began when founder Danny Mendoza learned that his cousin had entered the foster care system. Danny, a college student at the time, simply didn't have the resources to serve as a foster parent—but he felt a pull to learn more about the complicated system his cousin had entered.
In response, Danny founded an on-campus club centered around fundraising and garnering support for local youth in foster care. What began as a deeply personal calling eventually transformed into a nationwide nonprofit supported by artists, former foster care youth and everyday volunteers alike.
Today, Foster Love's reach is vast and varied. In addition to its mission of eliminating plastic trash bags among foster youth on the move, the organization encourages young people in the foster care system to pursue STEM learning with its STEM boxes, provides educational resources for potential foster families, sells merchandise to support the cause and even aids youth aging out of the foster system with a college scholarship known as the Family Fellowship.
If you're looking for a way to use your creative energy for good, Foster Love offers multiple avenues for involvement. In fact, you don't have to be a bona fide crafter or even particularly artistic to make a difference for foster care youth.
Foster Love projects are often arranged as team-building activities for workplaces, families, church groups and other charitable organizations looking to make a difference. Not in the same city as your coworkers or loved ones? You can still get involved. Foster Love offers virtual service programs so participants can collaborate remotely to create duffel bags, educational kits and other items for youth in foster care.
Ready to help? From straightforward donations to bike-building opportunities, there are multiple service avenues for kick-starting your involvement with youth navigating the foster care system. Here are a few of the most popular service programs to consider:
Perhaps the most well-known cause at Foster Love, Sweet Cases allows participants to hand-decorate duffel bags for children in foster care to use in place of plastic trash bags. To participate, simply assemble a team of decorators and place an order through the Foster Love website for materials—via immediate payment or through a fundraiser. Foster Love will mail you everything you need to decorate and assemble duffel bags. When you've beautified your bags, drop them off with a local coordinator or participating foster care organization.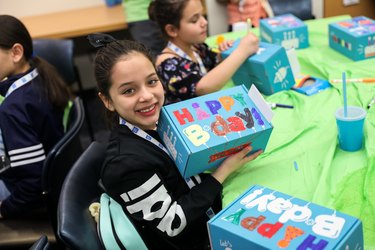 For many youth in the foster care system, birthdays aren't adequately celebrated and might even trigger memories of difficult experiences. Foster Love's Birthday Boxes project allows groups to decorate celebratory boxes, write uplifting birthday cards and package party items for young people in foster care. The process for this service activity is much like Sweet Cases: You'll start a fundraiser or directly contribute, receive box materials in the mail and drop off completed Birthday Boxes at a designated site.
3. Bike and Skateboard Builds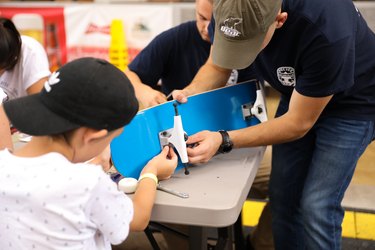 Want to get even more hands-on while giving back to Foster Love? Consider hosting a bike-building or skateboard assembly event. Each bike kit costs $95, while skateboards are $85 a piece. Decide on a goal, fundraise or contribute directly and place an order via the Foster Love website. Again, you'll receive everything you need to assemble and decorate bikes or skateboards for children in foster care. Foster Love will help coordinate with local organizations to make sure completed projects reach young people in your community.
If you'd like to support Foster Love with a direct financial donation (no drawing or coloring required!), check out the main donation page. Alternatively, head to the Foster Love online shop and peruse its Advocacy Apparel line, which carries clothing, mugs, stickers and more. Of course, 100% of proceeds benefit the cause.
Want to get involved with Foster Love but are unable to participate with fundraising or make a financial contribution? You can still make an impact by serving as a general volunteer. Whether you're helping coordinate a local service event or assisting with gathering donated materials, there are loads of ways to join the more than 435,000 volunteers who have worked with Foster Love since its founding. Details are available on the Foster Love volunteer page, which will introduce you to opportunities nationwide.
As with many nonprofits, awareness is key to success. Even a simple follow or share on social media makes a difference for organizations like Foster Love—so check them out on Instagram and Facebook and spread the word about volunteer opportunities, special events or calls for donations.
Foster Love operates with the belief that, while we can't all open our homes to youth in the foster care system, we can all do ‌something‌ to improve the lives of young people in our communities. Whether you're embracing your inner child by coloring a Birthday Box, putting together a bicycle with your own two hands or organizing a duffel bag decor project with a few of your closest pals, there's a crafty (and charitable) option to embrace.