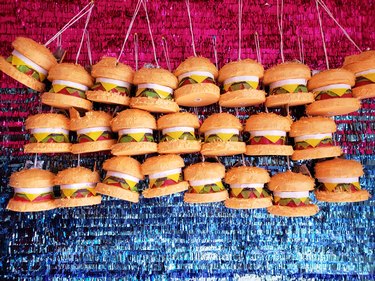 There are few things in life more satisfying than breaking a gorgeous, glittery piñata and getting caught in a rain of candy, party swag—and, if the party host is feeling especially generous—some sweet dolla dolla bills, y'all! As a third-generation piñata-maker, Yesenia Prieto doesn't disagree. "It's such a great moment—everyone is chitchatting at a party and all of a sudden, it's time to break the piñata," says Yesenia, owner of Piñata Design Studio. "At that moment, you're completely present and immersed with the people you love, breaking this thing open and receiving a great reward. It's just so much fun."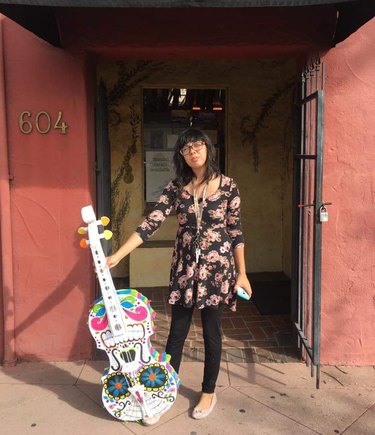 But for Yesenia, whose piñatas have hung everywhere from kid parties to art galleries, the traditional Mexican party favors are also a serious business, combining intense labor and pure art. Her company creates as many as 500 piñatas during the high season of August through October. From a 2-foot tall hand-painted animal head for $65 to a 3-foot tall look-a-like figure with movable limbs for $275, these special pieces are handcrafted by a team of mostly family members—Yesenia's sculptor dad among them. Together they use a combo of Mexican paper-cutting and construction techniques, digital technology, imagination and fine art to make custom, often hand-painted piñatas that have earned them a steady customer base, including celebrities like Rihanna, Rainn Wilson, Chrissy Teigen and Adam Sandler.
But Yesenia and her crew's talents extend beyond creating piñatas for parties, weddings and Hollywood events. They've elevated the craft by making giant, sculptural piñata installations that have been displayed in art galleries, public spaces and concert stages at Coachella. Yesenia also teaches workshops to spread the love of piñatas. "Piñatas are an art form that should be respected and celebrated," she says. "They're so much more than a party favor."
We spoke to Yesenia about following in her family's piñata-making footsteps, taking the ancient art to the next level and, of course, making piñatas for Rihanna!
You're a third-generation piñata maker. How did the family tradition start?
‌YESENIA:‌ My grandparents on my mom's side were musicians in Mexico, but when they immigrated to South Central Los Angeles in the 1980s, they needed to make money. My granddad's brother already had a party supplies store in the United States, and they strove to sell the best of the best piñatas. So my grandparents figured they'd start their own piñata business to follow suit. They ran the business out of our house in L.A. My whole family really had an entrepreneurial mindset and believed in the American dream. Eventually, my aunt started her own piñata-making company, and began to pass the craft down to my cousins and me. The rest is history!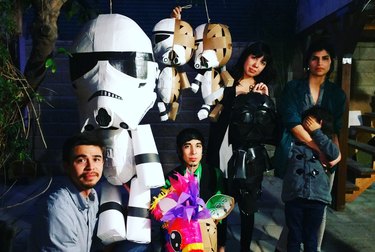 What was it like for you growing up surrounded by piñatas and piñata-making as a kid?
‌YESENIA:‌ My cousins and I were always running in and out of both houses, in a sort of piñata-land that we thought was totally normal! My grandparents and my ‌tía‌—who had traveled to Mexico and paid a master piñata maker to teach her advanced techniques—started doing elaborate custom piñatas. I was blown away by how creative they were.
When did you get involved?
‌YESENIA:‌ At age 12, I would help with little things like painting in the eyes on a piñata. My father is a sculptor, and I was taught that fine art is respected—so as a kid I was always drawing. Then my grandmother got in an accident and was bedridden for two years. My parents had split up, my grandma couldn't work and the reality of poverty set in. I asked my aunt if I could make piñatas for her to pay for my dog's medicines and help the family. She said yes and later asked me to join her business.
The History of Piñatas
The piñata—a staple of Mexican culture and a beloved favor at many a child's birthday party—actually has an ancient and fascinating history. Its roots are an apparent mix of Aztec, Mayan, Spanish and Chinese traditions. Here are the highlights:
In ancient Mesoamerica, an annual winter solstice celebration of the birth of Huitzilopochtli, Aztec god of war and the sun, featured earthenware pots covered in feathers and filled with fruits, cacao and other foods. Mayans had a similar tradition that included a blindfolded participant hitting a pot with a stick.
Ancient Chinese New Year's celebrations included animal-shaped paper containers filled with seeds that were meant to attract good luck. That tradition made its way to Europe in the Middle Ages, where it was tweaked. In Spain, clay pots decorated with paper ribbons and tinsel were a feature of Lent.
When the Spanish colonized what is now Mexico in the 1500s, they used piñatas as a way to co-opt indigenous celebrations and convert people to Catholicism. The seven-pointed star piñata (still popular today) symbolized the seven deadly sins, the blindfold represented faith and the goodies were the rewards.
Piñatas later busted out of their religious setting to become an indispensable birthday tradition in Mexico and beyond, with piñata-making families passing down their knowledge through the generations.
Why did you start your own business?
‌YESENIA:‌ As my family and other makers in our industry faced challenges like below-minimum wages and high living costs, I became passionate about elevating our mission. Not only to preserve a dying art form, but to unite and strengthen our community through collaboration and recognition of the beauty and transformative power of what we can create. I sincerely aim to help inspire other aspiring artists, dreamers and entrepreneurs to pursue their vision, no matter the difficulties.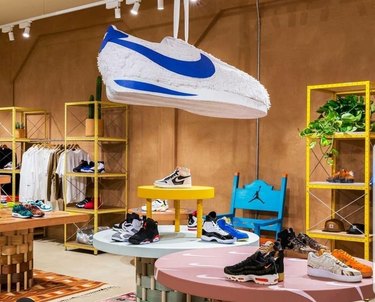 Lots of us love piñatas but have no idea how they're made. Can you enlighten us?
‌YESENIA:‌ It begins with the client's vision of design, how much stuff they want it to hold and what position it will hang in. We sketch the idea on the computer and then make it into a 3D drawing on screen. We scale up the image, using mathematics to get the correct measurements and proportions for every part of the piece—nose, eyes, head.
Next, we build a 3D sculpted base by stapling together cardboard strips of different widths that we buy or cut by hand with giant industrial scissors. Then we lace it with industrial–strength twine, using long needles, so that the piñata can hold 5 to 10 pounds of candy in the position it will hang. Otherwise it's extremely embarrassing to see the whole thing come down too soon.
We create a special wheat paste to cover the cardboard framing with papier-mâché and dry it in a way so that it doesn't collapse. Once dry, we dress it with tissue, acrylic or spray paint and add decorations like eyes or necklaces.
Wow. It's art, math, engineering, physics and crafting all rolled into one.
‌YESENIA:‌ Yes! And you have to do all these things quickly and well, because even though this is an art, it's also a business. Every time we create something here, we're always thinking, "Is there a way to make it better, make the process faster?"
Speaking of art, your work has been featured in gallery exhibitions. Was it always a goal to have it viewed as art?
‌YESENIA:‌ Yes. Our first exhibition was a show about piñatas with other makers. I was telling the curator that before that show, it was difficult to get people to understand that it's an art form that should be respected and treasured—for the skill involved and for what it provides in terms of experience, tradition and celebration of life.
What do piñatas mean to you personally?
‌YESENIA:‌ They're like magic. When you break a piñata, you forget about your worries, bills, problems. In that moment, you are immersed in conquering something while your loved ones cheer you on and help you. It's very much like life—it was here, it existed and its span is short. That's why it's so valuable to pay attention to moments that matter.
That's beautifully put. Surely your clients feel that way as well.
‌YESENIA:‌ They want to give their loved ones something unique and meaningful. Through their stories, I often hear this shared experience of nostalgia. They're often looking to keep traditions alive by gathering everyone together with a gift that brings joy and beauty, not just at first sight but even when it's broken.
Do you have any fun celebrity client stories?
‌YESENIA:‌ We did a piñata for rapper 2 Chainz. He was so tall that he had to kneel so I could blindfold him to break the piñata. I don't think he'd ever hit a piñata because he learned pretty quick that you have to hit it very hard. I love creating moments where our clients have to put in some work!
Rihanna is also a client…. Spill the tea!
‌YESENIA:‌ We've done piñatas for her for National Boss Day, her office Christmas party and her birthday, when we were actually commissioned to make a piñata of her. We got to visit her place of work, which was a really fancy spot. But we didn't get the chance to meet her in person...yet. One day! There is footage of her hitting some of the pieces open, though, which was pretty cool to see.