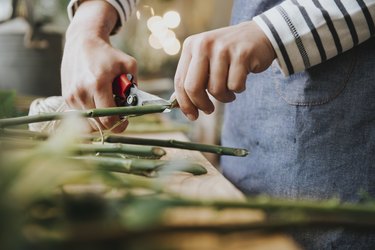 Whether you're a regular at the farmers' market floral booth or are working on making your own wedding flowers, having the right floral arranging supplies can make or break your arrangements (and your patience). Ahead, we've rounded up the best floral arranging supplies, including cutting shears, trendy flower frogs, and floral arrangement guides that transform any vase into a bouquet vessel.
What to Look for When Shopping for Floral Arranging Supplies
‌Flower Arranging Tools:‌ Florist supplies typically include several different tools in order to create professional-worthy flower arrangements. So, when shopping for floral arranging supplies, be sure to pick up items such as wire cutters and flower-cutting shears for your creations. It also helps to consider other craft supplies, like a hot glue gun for adding embellishments or sharp fabric shears for ribbon-cutting when making wedding decor or bouquets.
‌Types of Flower Arranging Supplies:‌ In addition to tools, also consider all of the different types of supplies and what might be most helpful for your arrangement. Floral supplies like green floral tape are always good to have on hand because you can create a grid with them on the top of your vase for a more evenly distributed arrangement or use them to hold sprigs and flower stems together.
A reusable flower frog is also helpful to have on hand, especially if you like to make ikebana-inspired arrangements in shallow vessels with large openings (which makes arranging florals in an upright position tricky). Floral wire is another type of floral supply that is helpful to have on hand, especially if you like to create intricate or vertical designs, and it's also very useful for making your own wreaths. Floral foam (or even styrofoam) is another popular floral supply to keep in your arrangement arsenal, as it allows you to easily stick blooms and greenery into it for a more sculptural look.
‌Vases:‌ Whether you're making one arrangement or planning to DIY your wedding centerpieces, considering the vase is super important when shopping for floral arranging supplies since it will help you better understand what works best for your vessel. It's also helpful to consider the number of vases needed for your floral arrangement project because you can often buy centerpiece vases and other floral vessels in bulk for much cheaper than purchasing individual vases. For example, you could purchase one trendy vase and create a relaxed arrangement, or multiple floral bowls in bulk for wedding, baby shower or bridal shower centerpieces.
‌Kits:‌ One of the best ways to cut down on cost when shopping for floral arranging supplies is to look for kits. What comes in a kit can vary depending on the size and brand, however, most will include useful items to have on hand, such as clippers, floral tape, wire and wrap. Some might also include helpful preservation supplies like water tubes, which can help keep blooms looking fresh. When considering the price, it's sometimes best to opt for a kit over an individual item. Kits will give you a lot more variety and often include smaller quantities or shorter lengths so you don't have to worry about wasting supplies. They may also feature items that can be used for other projects such as garland or wreath making.
‌Extras:‌ While not completely necessary, there are some extras to consider including ribbon, flower food, bouquet holders, pins, and embellishments such as pinecones. These are all useful to keep in your arsenal, especially if you make a lot of arrangements as home decor, or are working on a big project such as wedding bouquets, ​​boutonnieres, corsages and centerpieces for your wedding flowers. If you're into making wreaths, having a few wreath forms on hand is also a good idea, along with paddle wire so that you can easily attach different fillers and flowers to the form.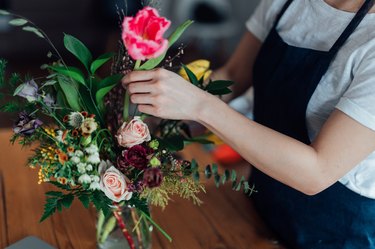 1. FloraCraft Floral Shears
Before purchasing any floral arrangement supplies, you'll want to stock up on the basic tools, which include a pair of good floral shears. Our top pick for beginner and amateur florist shears is the FloraCraft Floral Shears. These scissors are sharp enough to cut both fresh flowers and artificial flowers, feature a comfortable and ergonomic handle, and are an excellent price considering the quality. The multi-purpose shears can also be used to cut ribbon and mesh, so you won't need multiple tools to finish your arrangement.
2. FloraCraft Floral Arrangements DIY Kit
To cut down on cost, a floral arrangement craft kit is a great way to stock up on what you need. The FloraCraft Floral Arrangments DIY Kit from JOANN costs less than $20 and features a wire cutter, paddle wire, green floral tape, clear adhesive tape, floral pins and floral stem wire, providing you with everything you need to make your own custom arrangements.
3. Terrain Niwaki Kenzan, Round
Flower frogs are super popular right now because they make it possible to create a whimsical arrangement in a variety of vessels—even ones that are super shallow with a wide opening. We love the Terrain Round Niwaki Kenzan flower frog because it's constructed from durable material and made to last. Plus, it's super chic looking so you don't have to worry about it ruining the look of an arrangement if it's visible. On top of that, it's reusable and can completely transform grocery store blooms.
4. Pack of 3 Easy Arranger Flower Holders, 4 - 6-in.
When arranging flowers in a classic ceramic or glass vase, one of the trickiest parts is making sure everything is spaced out. To help with this, you can use floral tape in a grid format, however, we love the idea of reusable flower arrangement holders, which are far less effort. This 3-pack of flower holders from Afloral is made of durable metal wire and designed in a flower shape that fits over the vase and easily holds stems in a spread-out and even manner.
5. West Bay Floral Arrangement Kit, 17 Pieces
If you're looking for the best floral arrangement kit to get you started, the West Bay Floral Arrangement Kit on Amazon is it. This under-$20 kit includes all of the basic tools and supplies needed to create a variety of arrangements, including wire cutters, shears, adhesive tape, green floral tape in several shades, floral wire, water tubes and pins for boutonnieres. With all of these supplies, you can easily get started on wedding flowers, event centerpieces and more.
6. Budable Flower Arranger, 3-Count
The Budable Flower Arranger isn't one of those must-have floral arrangement items, however, it's a total game-changer for someone who likes to make home decor arrangements in ceramic and glass vases. The arrangement tool is made from a durable and flexible plastic material that acts like a stretchy flower frog. It sits on top of the vase, providing support to longer stems, and keeping things carefully spaced out for a more professional-looking arrangement.
7. Floral Supply Online Rose Bowls
For wedding flowers or event centerpieces, consider purchasing glass vases— such as these rose bowls—in bulk. The round fishbowl floral vases boast a classic and timeless design and come in a set of six for less than $10 a pop, making them more cost-effective (especially when you consider how much florists can charge for vases). You can also purchase them individually or in packs of two or four. Perfect for simple and elaborate arrangements alike, these are excellent to have on hand and can be repurposed for other craft projects, too.
8. Hewego Glass Clear Vase With Elegant Purse Design
Floral arrangements make the most stunning home decor. If you're looking for a vase for your kitchen or coffee table, this trendy purse-inspired glass vase is a must-have. We love it because you can create relaxed, effortless arrangements using fresh-cut flowers or spring blooms like tulips from the farmers' market. But, if you want something a little more structural, you can easily do so by using a couple of flower frogs at the base. While all of the vases are transparent, there are six color tints to choose from including light blue, light green and pink.
9. FloraCraft Floral Artesia WetFoM 4-Piece Brick Green
One of the best ways to keep flowers looking fresh and upright is to use floral foam in your arrangements. This floral arrangement supply allows you to punch holes in it to hold flower stems, plus they hold up really well under water since they're so absorbent. Floral foam can also be used to create more intricate and dimensional arrangements, such as long table centerpieces and structural floral designs, giving you lots of flexibility when working with it.