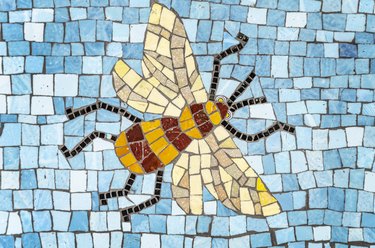 Dating back 5,000 years ago to Mesopotamia, mosaics are one of the oldest and most impressive forms of creative expression. Though we often associate the intricately tiled medium with ancient murals, people have also crafted their own artwork from mosaic tiles for centuries to display in their homes. Today, that tradition continues with DIY mosaic kits, using materials such as grout, ceramic tiles, stained glass and more.
From beginners to advanced crafters, mosaic is a fun way to explore an ancient art form—and, you aren't just limited to wall decoration. You can find a mosaic kit with just about any project, including mosaic coasters, candle holders and even lamps.
Create your own mosaic with these top craft kits, ahead.
What to Consider When Purchasing a Mosaic Kits
With so many mosaic kits to choose from, shopping for one can get a little overwhelming. To help you on your quest for the best craft kit, here's what to consider when making mosaic art:
‌Skill Level:‌ When shopping for a mosaic craft kit for adults, you'll want to consider skill levels, as mosaic crafting can get intricate. For beginners, a small home decor project like a mosaic coaster kit or picture frame project is a good starting point. But, if you want something even more simplified, you could go with a mosaic stepping stone kit, reminiscent of a typical childhood craft. More advanced mosaic artists might enjoy challenging themselves with a new medium, such as diamond painting kits—which use the same principles as mosaic but with tiny little gemstones to create a finished masterpiece—or other more intricate projects such as a candle holder or large wall decoration. Whether you're shopping on Amazon or Etsy, most craft retailers will note the skill level required to help you make your selection.
‌Type of Mosaic Tiles:‌ Mosaic tiles can vary depending on the art kit and project. Oftentimes, you'll find craft kits with ceramic tile, but they also come in pre-cut stained glass tiles, recycled stained glass tiles and colorful beads. You can also find diamond art kits that create mosaics from tiny gemstones, as well as other craft kits that might utilize paper for a more mosaic look.
‌Project:‌ The project included in a DIY mosaic kit is also important—not only because you want to make sure it aligns with your skill levels but also because making something you can actually use as wall decoration or give as gifts can be ultra-rewarding when crafting. Mosaic craft kits come in a variety of projects, from house number kits to mosaic coaster projects to ornaments.
‌Mosaic Supplies:‌ Tiles are, of course, one of the most important mosaic supplies in an art kit. But, you'll also want to look for other mosaic-making materials, including grout, tweezers (which also come in handy when working with more intricate diamond painting kits), molds or canvas to create mosaic pieces, glue and anything else—such as a hanging mechanism—that makes sense for the finished product.
1. XREE Mosaic Kit with Wooden Coaster
The XREE Mosaic Kit with Wooden Coaster is a fun and easy mosaic project for all skill levels. It comes with everything you need to create two wood-framed mosaic coasters—which also make excellent homemade gifts to give—including a variety of tiles in different shapes and colors, gloves, glue, mosaic caulk and a mixing bowl. We love it because the project size makes it a good entry into the world of mosaic crafting, plus you end up creating something you can actually use in your home (which is always appreciated).
2. Alea Mosaic Mosaic Art Kit Square
Want to try your hand at some mosaic art? The Alea Mosaic Mosaic Art Kit Square is a fantastic place to start. With over 36 different artworks to choose from—including a stunning sunflower mosaic that we are obsessed with—you can craft anything from a piece of holiday wall art to an outdoor nature scene for your home. The great thing about this kit is that it comes with square tiles in different colors, so you can create a simple grid mosaic instead of having to worry about fitting different shapes together.
3. Make a Real Mosaic Mandala Medallion
Create a mosaic piece that feels authentic with the Make a Real Mosaic Mandala Medallion kit from Fat Brain Toys. This kit comes with natural stone tiles from Tunisia cut by actual mosaic artists, so you know you're in good hands. While the design might look a little more complex, it's actually very beginner-friendly (and would even make a great mosaic kit for kids). The project is also a caulk-free design, so all you have to do is glue the tiles in place to create your finished piece.
4. Milestones Mosaic Stepping Stone Kit Leaf
When we think of mosaic kits, we immediately think of the homemade stepping stones we made as kids. This leaf mosaic kit from JOANN is an elevated version with the option to stamp out your name, phrase, or handprints and frame the design in colorful tiles. Speaking of, this is an excellent craft kit to try for the sustainably conscious, as the glass mosaic tiles included in the kit are recycled.
5. RIOLIS Strawberries Diamond Mosaic Kit
Mosaics can be made with a variety of materials—not just tiles. If you're looking for a kit that has that mosaic feel but is a little more unique, the RIOLIS Strawberries Diamond Mosaic Kit is a must-try. This adorable project is like a still-life piece of art—only made from little diamonds. The diamond art kit has a "paint by numbers" feel, making it easy to follow, despite the intricacy, and comes with everything needed (including tweezers to make sticking the diamonds down easier) to create a dazzling work of art.
6. Studio Mosart DIY Rainbow Mosaic Table Night Light
Another unique spin on mosaic art, this DIY Rainbow Mosaic Table Night Light kit from Etsy is a fun and alternative way to try the technique. The kit comes with a table lamp, inner glass, tiles, beads and adhesive, plus step-by-step instructions on how to create it. Once finished, it would look stunning on an outdoor patio, or as a statement piece in your home.
7. Milestones Daisy Mosaic Stepping Stone Kit
Another mosaic stepping stone project, this DIY mosaic kit comes with everything needed to create a concrete stepping stone for your garden, including a reusable daisy-shaped mold, 7 pounds of stepping stone mix, a wooden mixing paddle, and step-by-step instructions. While it's still wet, you can use the included colorful stained glass tiles to create a unique pattern on the petals and arrange the glass gems in the center.
8. Rainforest Art Project Desert Cactus DIY Mosaic Kit
If you have your heart set on creating a mosaic scene but are new to crafting with tiles, this kit is an excellent choice. The Desert Cactus DIY Mosaic Kit from Etsy comes with large, pre-cut stained glass tiles that make it easy to piece together a sunset scene with two saguaro cacti, rolling hills, and a shimmering sun. Once finished, you can incorporate this piece into a tiled wall in your kitchen or bathroom, or frame it for a gorgeous piece of wall art.
9. MozeMosaics Personalized DIY Frame Mosaic Kit
Useful, fun and one of the best mosaic projects for beginners, this DIY Frame Mosaic Kit from Etsy is another one of our favorites. The kit comes with everything you need to decorate a 4-by-6-inch picture frame in colorful mosaic tiles, including pre-cut tiles, gloves, a sponge, glue, grout and a step-by-step instruction card. You can also choose your color theme at checkout for a more personalized feel.
10. Toshbug Creations Birthday Party Mini 4-Piece DIY Mosaic Kit
Have you ever seen a more fun mosaic art project? We are truly obsessed with the Toshbug Creations Birthday Party Mini 4-Piece DIY Mosaic Kit from Etsy and think it would make for a fun craft night activity with your friends. The kit comes with everything needed to make four different mosaic projects, including a pink sprinkle donut, an ice cream cone, a slice of watermelon and a piece of pizza. It's the perfect project for beginners looking to try out mosaic art for the first time.
11. Mosaics at the Farm DIY Mosaic Cow Ornament
Create a stunning ornament—either to hang on your wall or from a Christmas tree—with this MosaicsattheFarm DIY Mosaic Cow Ornament from Etsy. The farmhouse-style project comes with everything needed to make a 6-by-4.8-inch cow head ornament, plus hanging options so you can customize it even further. Once finished, it would make an adorable housewarming gift, holiday present or a "just because" keepsake.