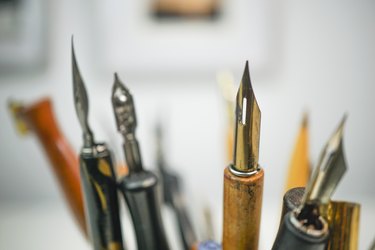 Balance, creating beauty and the art of slowing down are qualities many of us are trying to master for our mental health these days. Calligraphy, an artistic elegant way to do hand lettering, is an inexpensive hobby that helps you slow down, focus and breathe while creating beauty for yourself or others. What a delight it is to receive a beautifully scripted hand-addressed letter in the mailbox, admire an art piece consisting of modern calligraphy in someone's home, or create your own piece of unique home decor using calligraphy pens. If you've been thinking about picking up a dip pen and trying your hand at some modern calligraphy, we're here to help you get started.
What to Consider When Purchasing a Calligraphy Kit
‌Parts of a Calligraphy Pen:‌ Calligraphy pens are made up of three parts: the pen nib, the cartridge, and the handle or holder.
The nib is the pointed metal piece that glides along the paper and distributes the ink. There are two main types of nibs or pen points, italic and point. An italic nib has a blunt edge which creates broad strokes when using the long, horizontal side and fine strokes when using the short vertical side. The point nibs are used for modern calligraphy and drawing. There are two rounded tines on the tip that come to a point. They work using pressure, the harder you press, the more the tines separate producing a wider line.
The cartridge holds the calligraphy ink and makes the pen simple to use and mess-free. An adapter can be refilled from an ink bottle which makes it a bit messier but a more economical option.
The holder does exactly that, it holds the nib in place. There are two types of nib holders, a straight pen holder and an oblique pen holder. Straight pen holders have rubber rings at the tip to hold the nib and come in different shapes, sizes and materials (wood or plastic). Oblique pen holders support difficult angles for various styles of script with an extra piece that holds the rubber rings.
‌Ink Flow:‌ Consistent ink flow from the nib is important since everyone writes with different pressure and speed. Too much ink flow from the nib will cause blots and bleeds on the paper when writing. Too little or inconsistent ink flow from the nib will create patchy or irregular strokes as you write. Steady ink flow will provide strokes with a smooth clean finish.
‌Comfort:‌ Let's face it: Our handwriting muscles aren't as strong since personal computers and smart phones have arrived on the scene. However, as a calligrapher, those fingers will get a workout and comfort needs to be an integral part of each pen so lettering will be a pleasure and not a chore.
‌Type:‌ A calligraphy felt tip pen is an excellent pen for casual calligraphers or beginners just learning how to do hand lettering. They are easy-to-use and low maintenance. The only thing you have to remember to do is cap them when you're finished writing so the tip won't dry out. It's easy to concentrate on learning pen angles and strokes when using a calligraphy felt tip pen.
‌Fountain Pen:‌ Calligraphy fountain pens are also good for beginners just learning calligraphy. A fountain pen has a disposable or refillable ink cartridge. There is no need to dip the nib each time because the ink is distributed mechanically. Fountain pens need to be stored vertically so the ink won't leak.


‌Dip Pen:‌ Calligraphy dip pens (quill pens) are for calligraphers who are more experienced and have mastered fountain pen lettering and are looking for more writing options or a challenge. A dip pen has a pen holder which holds the various types of calligraphy nibs. There is no ink cartridge or reservoir. You simply dip the nib into the ink and transfer it over to the paper for writing.


‌Brush Pen:‌ A calligraphy brush pen has a brush tip which is usually made of goat, wolf or rabbit hair. The pen holder is made of bamboo, wood, lacquer or porcelain. Using a calligraphy brush pen is a totally different type of lettering experience. Brush lettering is definitely is the most challenging type of calligraphy.
‌Paper:‌ The type of paper used for calligraphy will clearly affect your hand lettering, so choosing a good paper will make your lettering look much better. The thickness and texture of the paper are important factors to consider so the edges of your letters won't look fuzzy or bleed. Purchasing smooth paper that is close to 24 pounds is ideal for calligraphy.
The Best Calligraphy Felt Tip Pens for Beginners
To get started in the fascinating world of journaling with beautiful hand lettering, check out this easy-to-use, low maintenance, felt tip calligraphy set. There are no ink cartridges to refill or nibs to change. The pens come with ten different shaped tips to help you create a large variety of calligraphy writing strokes including a 05 tip, 10 tip, 1-millimeter tip, 2-millimeter tip, 3-millimeter tip, extra fine tip, fine tip, medium tip, brush tip and a large soft brush tip. The free flowing black ink is non-toxic, acid-free, odorless, water-resistant, fade proof and safe for both children and adults. The Morfone Calligraphy Kit has everything you need to practice brush lettering, calligraphy, wording in art projects and line drawing.
The Best Calligraphy Fountain Pen Set for Beginners
The GC Quill fountain pen set with changeable ink cartridges is a great starting point to help you develop your own creative lettering style. This set comes with seven fountain pens with different nib sizes: 0.7, 1.1, 1.5, 1.9, 2.9 and 2.5-millimeter and a brush nib. It also includes forty 50-millimeter ink cartridges with 14 different colors. To top it all off, there are seven ink refill converters so you can use your own ink.
The Best Calligraphy Dip Pen Set
Although a bit more pricey than the other sets, the Amalia Calligraphy Dip Pen Set is totally worth it. All the art supplies you need are included in this kit to practice modern calligraphy. It includes copper plate lowercase and upper case practice sheets that include connecting, spacing, numbers and symbols. The worksheets are made of smooth 120 grams per square meter paper so your pens will glide evenly and help you create good shapes and proportions on your lettering.
You'll also receive a blank grid calligraphy practice sheets with a 3:2:3 ratio, a pen holder of your choice, one handmade pottery pen rest, a handmade leather pencil case, a metal box to hold the nibs, and a high quality linen bag for the pen holder. The flourishing instruction book helps you to practice over 180 different flourishes and guides you in correct placement.
The Best Brush Lettering Kit
If you are ready for the challenge of brush lettering the Atiliay brush pen kit will get you going in the right direction. This brush lettering kit will give you a strong foundation and help to build your brush lettering skills. The creator of the Atiliay kit has taught brush lettering to over 1000 students and has included a video based on those classes.
The kit also has a 35-page instructional workbook with practice worksheets, five different sized brush pens, one chalk marker and one sharpie pen. You'll also get 30 pieces of practice paper including card stock, tracing paper, dot paper, printer paper, lined templates and gift tag templates. The list continues with a 5-inch by 7-inch acrylic rectangle, three blank folded cards with A2 sized envelopes, three blank folded cards with A1 sized envelopes, a mini practice print and a personalized canvas pencil bag.
If you learn best by watching demonstrations and verbal explanations, the on-line access and 1 1/2 hour video explaining the workbook will be just right for you. With this purchase you'll have access to over 100 additional practice print-outs.
If that's not enough to make you want to buy this kit, each purchase provides 35 nutritious meals for babies and toddlers at the Ebongalethu Educare Center Preschool and Nursery in Motherwell, South Africa. Sounds like Calligraphy for a Cause in our book.