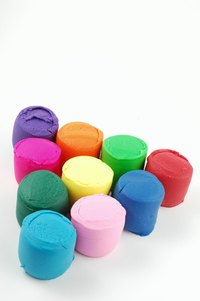 Home crafts give families rich opportunities for family bonding. Over a craft, families can share jokes and strengthen relationships. Home crafts should include every child who can safely wield scissors and glue. Smaller children will enjoy projects completed in a day, while older kids do not mind an ongoing, lengthier craft project.
Mirror Painting
Do not throw out an old mirror. Mirrors make the perfect canvas for colorful paintings. Cover a table with newspaper, or set the mirror on a sturdy easel for kids to paint. Give kids craft paints and brushes. If you like, draw some figures on the mirror with a permanent black marker, draw a funny monster peeping over the bottom of the mirror or paint inside the borders of fancy flowers and blades of grass around the edges. Alternately, let children come up with their own designs for painting. Once the work has dried, hang the mirror proudly in a hallway or in your child's room. Ask him to put his signature on the mirror in a bottom corner; this will make him feel like a real artist.
Egg Carton Bouquet
Kids love giving flowers to parents. Help your child make an eternal bouquet with egg carton cups. Have her cut out the egg cups from the carton, then paint the cups with bright colors, such as a flower, inside and out. When the paint dries, help her poke doubled pipe cleaners into the center to make stems; have her make six or eight and arrange them in a glass of beads, then finish off with a pretty ribbon around the vase. For fun, let her douse the flowers with a blast of floral perfume to make them smell real. This home craft makes a good gift for a grandmother or aunt in the spring.
Dough Bugs
Give your child a pound of clay or dough to work with. He should roll the dough into different-shaped balls and assemble them into dough bugs. When the dough dries, let him paint the bugs with vivid colors using craft paints and brushes. He could make red and black ladybugs or make up her own bugs using his imagination. Once the paints have dried, let him add the dough bugs to flower pots and window sills.