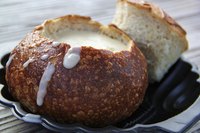 Add flair to a soup course with some imaginative presentation. When soup arrives at the table in a creative serving vessel or with visually appealing finishing touches, you can elevate this traditional meal starter to entree status or set an exciting tone for the fare to come.
Scoop It Out
For a chilled summer fruit soup, hollow out a large melon, leaving behind the thick rind to hold the soup. Present individual servings of chilled gazpacho in hollowed firm tomatoes instead of bowls. For a crowd, make a warm pumpkin soup and use a hollowed pumpkin shell as a tureen. Make individual squash bowls for a hearty fall squash soup. You can also hollow out round bread loaves or rolls to use as edible bowls.
Soup Stemware
Cocktail glasses and wine goblets can create an elegant soup presentation. Try a seafood soup in a margarita glass with a cooked and peeled shrimp dangling over the side as a garnish. Use bar glasses only for chilled soup because the thin glass could break with hot soup. Chill the glasses before adding the cold soup to help maintain an appropriate serving temperature.
Two-in-One Service
For an eye-catching side-by-side presentation, serve two soups in the same bowl. This is suited only for two thick soups, preferably with a vegetable puree base, and works best in a shallow bowl. Try vibrant combinations such as green split pea with a white cauliflower soup or pumpkin bisque with a bright red pepper soup. Simultaneously pour a single ladle of each soup type into opposite halves of a soup bowl, creating a single, sharp border between the two. This technique may take some practice, but the impressive presentation makes the effort worthwhile.
The Art of the Pour
Present a soup bowl containing only cooked meat or bread. Then, bring the heated soup out in a large ceramic pitcher and pour it into each person's bowl. For example, place a cooked chicken leg or boneless breast in the bowl for a chicken noodle soup. This ensures everyone gets an entire piece of chicken. Instead of placing a toast on top of a bowl of French onion soup, put the toast at the bottom and pour the soup on top. As the warm soup breaks down the bread, it thickens the soup. Place a mound of shredded raw vegetables in the bowl and pour a hot vegetable soup on top. The thin cut of the shredded vegetables allows the heat from the soup alone to cook them through.