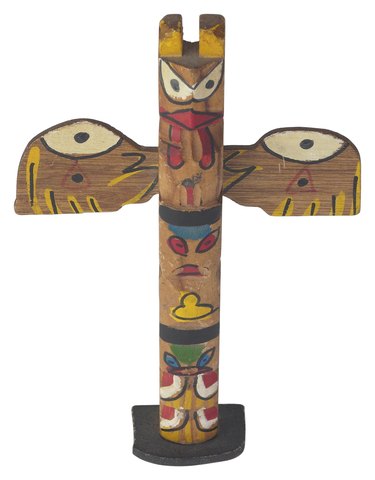 Totem poles originated with the Native Americans in the American Northwest. Carving totem poles is an ancient art form used for storytelling as many totems narrated family stories and important events. Alternatively, totem poles were thought to have spiritual powers that could ward off evil and negative energy. Totem pole arts and crafts projects allow kids to learn about Native American culture while also expressing their own individual creativity.
Carved Wooden Totem Pole
A carving project is ideal for older children who can use wood carving tools. Kids can cut out their own totem pole design from a large store-bought dowel rod or a thick branch. A wooden structure that is at least 2 inches in diameter works best for this craft project. No limit exists as to how tall or thick a totem pole can be. If you wish to work with your kids on a larger totem pole project, carve one out of a tree stump or tree trunk. The kids should be closely supervised when working on this craft and should be required to wear protective goggles and gloves. Once the totem pole is carved, ask the children to stain or paint the wood.
Clay Totem Pole
Kids can sculpt a totem pole from clay and mesh wire that's shaped like a cylinder. For this art project, the kids roll out the clay with a rolling pin and then wrap it around the mesh wire. Each kid can carve out drawings and symbols into the clay using a pencil or carving tools. Once the clay is thoroughly dried, the kids can paint their totem poles in a variety of colors.
Paper Towel Totem Pole
Kids can create a totem pole from a paper towel roll and brown craft paper. A piece of cardboard serves as the base for the totem pole, and green construction paper acts as grass around the pole. The kids can draw Native American symbols and totem animals on a piece of the paper using markers and colored pencils. They can then cut out their drawings and glue them onto the paper towel totem pole. Many totem poles have wings attached. The children can draw wings on another sheet of paper and glue them onto the back of the totem pole as well.
Totem Pole Coloring Project
A totem pole coloring project is ideal for younger kids. You can use a large sheet of craft paper to represent the totem pole, and instruct each child to glue on a picture he has colored. You can download printable pictures of totem animals and symbols from websites such as TeacherVision, PaperTotemPoles and Scissor Crafts. Each kid should pick several graphics to color and should be provided with markers and colored pencils. Once every child is finished with the project, hang the totem pole paper on the wall to display the kids' artwork.