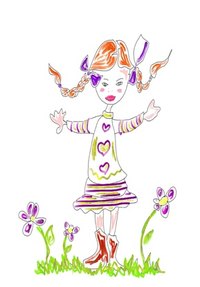 As the season of pumpkins and ghouls rolls around, kids begin thinking about trick-or-treating, bobbing for apples and the perfect Halloween costume. While some choose to dress as a character from the latest blockbuster, you can stick with a timeless, simple theme by dressing up as a little girl. Once you're sporting pigtails, freckles and an oversize lollipop, you'll look positively adorable. It's a quick and affordable costume that's sure to bring a smile to your friends' faces.
Things You'll Need
Ponytail rubber bands
2 8-inch ribbons
Wig (optional)
Large makeup brush
Blush
Brown or black pencil eyeliner
Girl's clothing
Black shoes
White ankle-high socks
Giant lollipop
Teddy bear
Part your hair evenly and make two pigtails, one on either side of your head. Secure the pigtails with rubber bands. If your hair is not long enough, you can buy a wig. Use a ribbon to tie a bow around the base of each pigtail.
Use a large makeup brush swirled in blush to create a rosy glow on your cheeks. Draw five freckles on each cheek using brown or black pencil eyeliner.
Put on child-like clothing, such as blue jean overalls, a dress with puffy sleeves or fuzzy pajamas. Simple black shoes and ankle-high white socks complete the outfit.
Carry a giant lollipop and a teddy bear. Use a high-pitched voice.