Things You'll Need
1-inch by 4-inch lumber, 24 inches long (2)

1-inch by 4-inch lumber, 36 inches long (2)

Hand saw

1-inch by 4-inch lumber, 18 inches long (2)

24 wood screws, 1.5 inches long

1/2-inch conduit, 24 inches long (2)

4 small angle brackets with screws

1-inch pipe straps (4)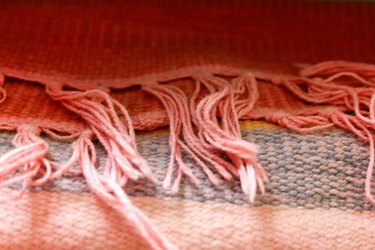 Navajo looms are used for weaving rugs or other flat items. You can use a Navajo loom to make a variety of home decor projects. Making a Navajo loom involves a quick trip to the hardware store and a few simple construction steps. You will then be ready to weave in a traditional Navajo style. Basic woodworking skills are all you need in order to construct this loom.
Step 1
Start with a rectangular frame shape. Place the two 36-inch boards in an upright position to be the sides of the frame. Place one of the 24-inch boards on top of them to make the top of the frame. Screw the 24-inch board into the tops of the 36-inch boards using three screws on each end.
Step 2
Measure the other 24-inch piece of wood to fit inside the space between the 36-inch pieces; cut to fit. Place the shorter board between the two 36-inch boards, leaving space for it to be just above your supports. To measure this, measure the height of your conduit and place the shorter board just above that height on the inside of the longer boards. Attach with wood screws drilled through the sides of the longer boards and into the ends of the shorter board.
Step 3
Assemble your supports. Put one length of your conduit on either side of the frame, at the base. Screw it in from the outsides, centering the conduit to the 36-inch boards. Use four wood screws on either side. This will allow your frame to stand on its own on top of the floor or a table.
Step 4
Attach the four pipe straps to the front and back of your frame. Position two of them, one on either side, near the top of the frame, approximately two inches down from the very top. Position the other two on the bottom, approximately two inches up from the support beam. Later, when you get ready to weave, these pipe straps will support the dowels that will hold up your weaving fibers.
Step 5
Attach the corner brackets to the inside four corners of the loom for support.
Tip
Sand and stain or paint your loom to keep it from having rough patches. Any rough spots in the wood could catch on the yarn or string you use for weaving.