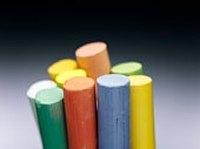 How to Create Wet Chalk Drawings. For chalk drawings that are brighter with a different, more textured visual effect, create wet chalk drawings. This type of chalk drawing is fun for everyone from preschoolers to adults. You can use wet chalk on paper, sidewalks or any other media you desire.
Things You'll Need
Chalk in a variety of colors
Paper or other media
Drinking glass or other container
Water
Decide on the chalk colors and paper or other surface for your wet chalk drawing.
Place your chalk in a drinking glass or other container so the sticks are standing upright. Fill the container with water until the chalk sticks are approximately 3/4 covered.
Soak the chalk in the water but make sure it is not overly saturated. Chalk comes in various thicknesses, so check it after you've soaked it for 6 or 7 minutes. Regardless of the thickness of your chalk, never leave it in the water for more than 10 minutes.
Remove the chalk from the water and place it on a surface that it will not damage, such as a plate or a piece of cardboard.
Create your drawing with the wet chalk. Blend and smudge the colors to get different effects. Wet chalk allows the colors to blend, and it is easy to create new colors for your drawing.
Allow your drawing to dry undisturbed. Hang up wet chalk drawings made on paper to help them dry more quickly.