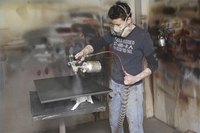 How to Airbrush. The airbrushing technique can be used to attractively paint a variety of surfaces like motorcycles, t-shirts, fingernails, helmets, cars and so on. Whatever the application of airbrushing, the skill required to arrive at perfection is the same. With just a few days of practice, you can airbrush like a pro. Below are the steps that will help you to airbrush a surface with good results.
Things You'll Need
Pad of newsprint
Airbrush color (preferably black color) or food color
Double-action airbrush (gravity feed or bottom feed)
Airbrush hose
Easel
Air source (compressor or CO2 tank)
Get a double action airbrush to start with, preferably gravity feed or bottom feed, air hose and a bottle of airbrush color (preferably black; consider using Golden Brand Airbrush Colors). You can also use food colors to start with.
Get a large size pad of newsprint, available in most hobby stores. Also get an easel to lean your newsprint against.
Hold the airbrush just as you would hold a pen with your index finger on the top of the trigger.
Drape the air hose over your forearm so it doesn't tangle and get in the way while you are airbrushing.
Hold the airbrush vertically to the painting surface.
Remember that pushing down on the trigger will produce air and pulling back will give paint. When you do both, you get both air and paint. Always keep the trigger pushed down to let air out as this is the purpose of airbrushing.
Start with spraying little dots. To do that, hold the airbrush close to the painting surface and spray a gust of paint quickly.
Practice making thin lines by moving your hand constantly and steadily as you spray paint slowly across the paper.
Remember that the width of the line will depend on the quantity of paint sprayed and the distance of the airbrush from the surface painted.
Reduce paint flow by pushing the trigger forward.
Practice making more defined shapes, like geometrical shapes, after you get comfortable with operating the airbrush.