Things You'll Need
Fitted black suit and vest

Silver and gold accessories

Cowboy boots

Leather belt

Large belt buckle

Mariachi hat

Fake mustache (optional)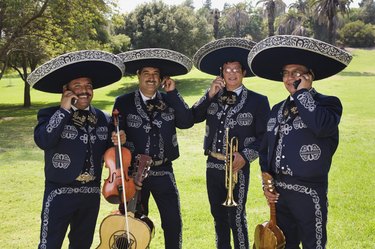 Charros are traditional Mexican cowboys and horsemen. The term originated from the Mexican state of Jalisco, where horsemen competed in horse rodeos called "charreadas." Singing Mexican mariachis often don the outfits of traditional charros. You can create your own charro look by modeling your costume after these revered Mexican rodeo heroes.
Step 1
Select a fitted black dress suit with an accompanying vest. Use iron-on embellished silver and gold decals or stitch your own gold and silver thread throughout the suit to recreate the charro look. Purchase a mariachi costume from a local costume store if you are unable to create the look from scratch.
Step 2
Visit your local western wear store and select a large, lavish belt buckle. Attach the buckle to the belt and wear your suit coat open to display the buckle prominently.
Step 3
Find boots to match your embellished costume. A pair of traditional black cowboy boots can help make the look more realistic, since charros are known for their boots.
Step 4
Visit a costume store and select a large, elaborate mariachi hat. You can create this look at home with the decals and thread used to embellish the suit, if you have a large cowboy hat with a wide brim akin to those worn by charros and mariachis.
Step 5
Place a fake mustache across your top lip to complete the look. You can also use costume makeup to draw on a mustache.
Tip
Carry a lasso to make the distinction between a mariachi and a charro.