Things You'll Need
Poster board

Tape measure

Pencil

Scissors

String

Seed beads

Epoxy adhesive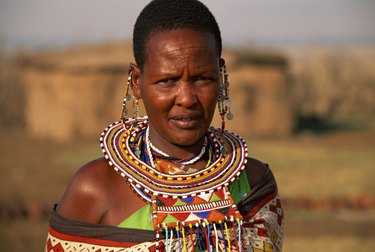 The Maasai tribe of Kenya create beaded necklaces to wear for celebrations such as weddings. The adornments are constructed from animal hide and small round beads. Unless you have access to animal hide, you can use an inexpensive craft material such as poster board to form the sturdy base of the collar necklace.
Step 1
Draw a circle 15 inches wide on a piece of poster board and cut it out. Measure the circumference of your neck with a tape measure and apply this measurement in the middle of the poster board circle.
Step 2
Cut from the edge of the circle to the circle in the middle and cut out the circle in the middle -- you now have a neck hole for your Maasai necklace and a slot through which to slip your neck. The poster board is stiff enough so it will keep its shape and stay around your neck.
Step 3
Cut a string to about 3 feet long and tie a double overhand knot in the end. Add seed beads to the string until you get to 2 inches from the end. Apply a line of epoxy adhesive around the top of the poster board around the edge of the inner cut-out circle.
Step 4
String another long chain of beads and glue it against the first string of beads. Repeat this process until the entire surface of the poster board is covered with beads. Wait 24 hours for the epoxy adhesive to dry completely before wearing your Maasai-style collar necklace.