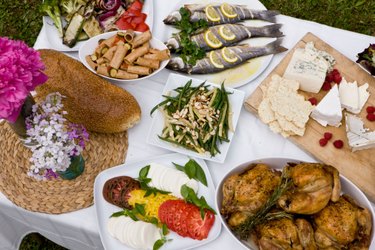 It doesn't take long for meal planning and preparation to become humdrum for the average cook. Once you've exhausted your basic repertoire of standard recipes, you either begin the rotation again, or look for new recipes and ideas to put on the table at mealtimes. Different types of meals suit different occasions, and there are a variety of options for you to choose from as a home cook.
Simple Meals
Simple meals are perfect for lunchtime when you don't want to spend hours in the kitchen or need to get food on the table quickly. Choose grilled ham, turkey or roast beef and cheese, and open a can of soup for a hot meal in a hurry. A green salad filled with chunks of hard-boiled eggs and chunks of meat and cheese and served with a dinner roll is another option. Consider serving wraps when you don't want to bother with considerable prep time. Use leftover chicken, cut into chunks, lettuce, tomato, onion, cheese and a dollop of your favorite salad dressing, mayonnaise or salsa.
Elaborate Meals
When you have more time to prepare a meal and want to impress friends and family with your culinary talents, choose a three-course meal consisting of an appetizer, main course and dessert. Start with a green or pasta salad, followed by chicken croquettes, herbed mashed potatoes and fresh string beans. Add a fresh-baked roll on the side with plenty of butter at room temperature for easy spreading. Bring out the piece de resistance at the end. A carrot cake made from scratch with cream cheese icing, homemade ice cream sundaes or a store-bought chocolate torte are options to consider.
Potluck Meals
Instead of doing all of the cooking yourself when gathering with others, invite everyone to bring a dish prepared at home. Potluck meals reduce the pressure and obligation on any one cook and allow everyone to sample dishes that may be new to them. Create a sign-up sheet and have each person commit to a dish, so you have a varied representation of food, or take your chances and provide a couple of meat and cheese trays, along with bread and condiments to make sure you have ample food for a main course.
International Cuisine
When you're tired of the same old thing, why not create and sample a host of international dishes? Have Mexican night and serve homemade enchiladas, Mexican rice and a salad with jalapeno cornbread. Learn to stir-fry and prepare chicken fried rice, Mongolian beef and deep-fried Crab Rangoon. Choose a traditional British meal, and serve a Sunday pot roast, roasted vegetables, a crusty Yorkshire pudding and lots of brown gravy. Follow up with a pot of hot tea served with milk and sugar and a tray of treacle tarts.