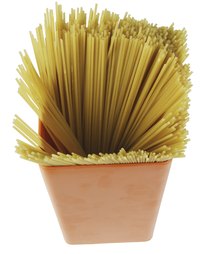 Spaghetti plopped on a plate is filling and tasty but not particularly attractive. Transform spaghetti from a Saturday night supper to an elegant Sunday dinner. Garnishing any dish, including spaghetti, takes only a few extra minutes. Whether you're having a traditional red tomato and cheese spaghetti dish or a gourmet seafood spaghetti entrée, echo the ingredients in the spaghetti sauce in the garnish.
Things You'll Need
Flat plate
Fork
Dinner plates
Spatula
Tri-colored cherry tomatoes
Fresh basil
Cutting board
Knife
Parmesan cheese
Cheese grater
Lemons
Fresh herbs
Preparation
Drain the cooked spaghetti. Mix in the sauce. Twirl the spaghetti with a large fork to make rounds of pasta that looks like a bird's nest. Place 1/2 cup of spaghetti on a flat plate or cookie sheet. Drag the fork through the spaghetti in a circular motion, swirling the spaghetti.
Slide a spatula under the spaghetti nest and place it on the dinner plate.
Place three mounds on each serving plate.
Tomato and Cheese
Rinse the cherry tomatoes and basil sprigs. Pat them dry with paper towels. Nestle a different colored cherry tomato in each spaghetti nest. Place two basil leaves on either side of each cherry tomato.
Grate the Parmesan cheese. Sprinkle the cheese around the edge of the plate by the outside edges of the nests.
Place the remaining basil leaves one on top of the other. Roll them up cigar-style then slice across the rolls, 1/4 inch apart. Turn the roll and slice the other way. Scatter the chopped leaves inside the Parmesan cheese on the edges of the nest.
Shrimp and Seafood
Cut a thin slice off both ends of the lemon. Slice the lemon in half horizontally. Scoop out the flesh with a spoon. Fill the lemon with some of the sauce for the spaghetti. Place a lemon half in the middle of the three nests of spaghetti.
Put a shrimp, mussel, clam shell or whatever other seafood you've used for the pasta dish in the center of each nest. Leave the remaining seafood intermixed with the pasta.
Cut a thin slice of lemon. Cut the rind and flesh of the lemon from the edge to the center. Twist the lemon slice. Place a twist on the edge of the plate by each nest.
Chop some of the herbs you've used for the sauce and sprinkle them over the nests.