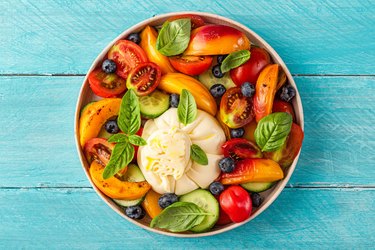 Summertime salads are beloved for a reason. Too hot to cook? Make a salad. Have a bunch of farmers' market veggies on the verge of going bad? Salad. Downed a bunch of chips during happy hour but still need to eat something filling for dinner? You guessed it: Try a summer salad. With so many potential salad-eating opportunities on the horizon, you're going to need a thorough list of summer salad recipes to draw from.
Luckily, the foodies of social media have you covered. Read on for a vibrant roundup of easy, refreshing salad recipe ideas that call for tomatoes, corn, watermelon, berries and other peak summer ingredients. Who knew salad could be so ‌fun‌?
Think of this tomato burrata salad from TikToker @dontgobaconmyheart_ as a more decadent version of your standard caprese salad. It looks impressive but takes about five minutes to throw together. Ripe tomatoes are tossed with a vinaigrette made with garlic, red wine vinegar and fresh basil. Add a ball of burrata (fresh mozzarella with a creamy center) to the bowl and pair this simple salad with crusty garlic toast. It could be a side dish for a summery Italian feast or the main course.
At some point, restaurants decided they could serve taco fillings in deep-fried tortilla bowls and call it "salad," and we all just decided to go with it. And that was smart of us because taco salad is darn delicious, even when it's more meat and cheese than vegetables. With @justataste's TikTok tutorial, you can make bite-size taco salad cups in crispy wonton shells and pack them with your favorite veggies.
Ready for something fresh? TikToker @iamtabithabrown's vegan tuna salad recipe is a delicious alternative for anyone who doesn't eat seafood or simply wants to explore plant-based fare. It's packed with nutrients from carrot pulp and jackfruit and gets a ton of flavor from dill, onion powder, garlic powder and nori furikake seasoning.
This protein-packed recipe from Instagrammer @jar.of.lemons ticks all the boxes for a great summer meal. It's loaded with fresh veggies, but you can easily swap in romaine for spinach or make other substitutions to suit your taste. Crispy chickpeas and nuts give it tons of crunch, while tahini-lime salad dressing provides creamy tartness. And because it's gluten-free and can easily be made vegan, it's a great option for potlucks or other gatherings where people might have dietary restrictions.
5. Spring Roll Noodle Salad
Think of this easy summer salad as a deconstructed spring roll that calls for cold rice noodles instead of rice noodle wrappers. The version from TikToker @sammymontgoms calls for shrimp, though tofu or another protein would be just as tasty. You could even skip protein altogether and serve it as a side salad with a Thai-inspired dish. The chopped peanuts and ginger-peanut sauce give this salad plenty of crunch and flavor!
Salad Inspo From the Stars
Famous people love salad too! Here's some A-list inspiration.
When fresh sweet corn is in season, you've got to eat it every chance you get. So, even if corn might not be a part of traditional potato salad, try TikToker @starinfinitefood's version for something new. Because it's made with balsamic vinaigrette instead of mayo, you can bring it to a cookout without worrying about it going bad in the heat. Ripe cherry tomatoes, shaved red onion and a ton of basil pack this salad with flavor.
7. Watermelon Mint Feta Salad
Juicy watermelon chunks, salty feta cheese and fresh mint are a perfect combination on their own. Get even bigger, brighter flavor in your watermelon salad by taking TikToker @cookingwithliana's lead! Add lemon juice, olive oil and black pepper to the salad and top it with a drizzle of tart, sticky balsamic glaze. With zero cooking required, this is the perfect cold, refreshing salad for those summer days when your kitchen feels like a sauna.
8. Dill Pickle Pasta Salad
Calling all pickle fanatics! Here's something unconventional and totally delicious to try—even if you're not typically a fan of pasta salad. After all, many pasta salad recipes are ‌fine‌, just not super memorable. This summer, bring a new twist to an old classic with TikToker @caymck12's tutorial for dill pickle pasta salad. Chopped pickles, pickle juice and dill give this recipe a briny punch. Dill-icious!
9. Rose Water Fruit Salad
Fruit salad is a timeless side dish, but TikToker @feelgoodfoodie takes her recipe to the next level with a super-special ingredient: a dash of rose water mixed right in! She demonstrates the recipe with sliced strawberries, kiwi, blueberries, cherries, cantaloupe and mango, though you can whip up an equally tasty bowl with whatever fresh fruit you have on hand. Just don't forget that rose water.
Thanks to social media foodies, finding craveworthy summer salad recipes isn't a challenge. The real challenge? Deciding which recipe to try first!
Still hungry? You'll want to check out our thorough pasta guide for an overview of this delicious dish.