Cookies and other desserts get all the glory when it comes to homemade food gifts for the holidays and beyond. And, okay, there's ‌plenty‌ to love about sweet treats. But we think savory options deserve their time in the seasonal spotlight. So for DIY gift options that will delight even the pickiest foodie in your life, read on: We've got a whole slew of homemade holiday food gifts that aren't sugary sweet! (Sorry, sugar cookies—you know you'll always have a place in our heart.)
From marinated feta to homemade cheese straws, these edible gifts come to us from talented TikTokers who offer tips and tricks for elevating your winter gatherings with all sorts of delicious presents. Each and every savory pick is made with fresh flavors and a whole lotta love—your loved ones' taste buds will thank you!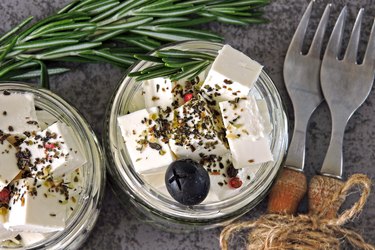 Marinated feta might be trendy on socials right now, but it's a timeless option that appeals to folks of all ages and tastes. This easy-to-make foodie gift tastes amazing on salads, atop crusty bread or even as an indulgent solo snack. TikToker @callherchef shows us how it's done with feta cubes marinated in olive oil, lemon juice and zest, oregano, chilis, black pepper and chopped fresh basil. Are you drooling yet? We are.
2. Ranch-Seasoned Oyster Crackers
There's so much Southern charm in this DIY food gift video from @healthylittlepeach on TikTok, who provides a simple recipe for creating ranch-seasoned oyster crackers. With ingredients ranging from melted butter to dry ranch dressing seasoning, there's no doubting these crackers will delight recipients this holiday season—particularly if they're loaded into a festive, dressed-up jar like the one featured.
For the loved one who prefers things both salty and spicy, consider whipping up a batch of homemade sriracha salt. @colleenscooking on TikTok explains that sriracha salt is among the most economical Christmas gifts around, as it requires only two simple ingredients: salt and sriracha! Pop your mixture in the oven and neatly package it for a tasty seasonal DIY.
Get a little cheesy this holiday season with a batch of crispy cheese straws, a favorite Guyanese snack. In her video, Guyanese TikTok cook @metemgeeblog explains a bit about cheese straws' cult following and teaches us how to make them at home to achieve melt-in-your-mouth perfection. We can only imagine how cute these would look placed in a glass jar or wrapped up in a see-through pouch with some festive ribbon!
Mushroom pâté makes a tasty appetizer or topping, but it can be expensive. For a budget-friendly (and decidedly bougie) holiday gift, consider making your own at home. According to TikToker @thismumcooks, it's not so hard—all you'll need is butter, salt, pepper, garlic, cream cheese and a whole lot of mushrooms. Cook, process, blend and package. It's a cinch!
6. DIY Wrapped Salted Butter
Who doesn't love butter? TikToker @condimentclaire is certainly a fan, hence her video demonstrating just how beautiful homemade butter can be when it's wrapped in parchment paper and tied with colorful string or twine. The only two ingredients you'll need are cream and salt, but the results are magnificent(ly delicious). Check out her full salted butter recipe video before jumping in, of course!
For the friend who's always adding hot sauce to their dishes, consider something a bit different: homemade chili oil! London-based TikToker @vernahungrybanana offers a fantastic edible gift idea in the form of jarred and labeled chili oil, which she brews from garlic, shallots, chili flakes, peanuts, star anise, peppercorn, sunflower oil and ginger. We're willing to bet this homemade batch blows store-bought chili oil out of the water.
Winter is soup season. Why not present your loved ones with the gift of warmth by creating dry onion soup mix? @thetracyann on TikTok exemplifies just how easy it is to make this mix, which is a thoughtful choice for those who live in chilly climates. You'll need dried minced onion, beef bouillon, parsley, celery seed, turmeric, paprika, pepper and onion powder to create this yummy edible gift. Coziness awaits.