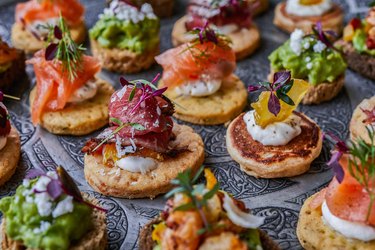 Tiny sandwiches, mini pizzas, itsy-bitsy tacos...there's just something inherently adorable about finger food and bite-size eats, especially when their flavors are anything but miniscule. TikTok is full of recipe inspiration for turning classic meals and desserts into one- or two-bite versions that make perfect party food or delicious everyday fare for the whole family.
Whether you're looking for side dishes, dinner ideas or appetizer recipes or you're just craving a snack that's as cute as it is tasty, here's a roundup of some of the best mini bites to sample from social media. (Prepare to develop a ‌big‌ appetite!)
When done right, rolls stuffed full of buttered lobster meat make a full meal—and a messy one at that. So private chef and TikToker @chef_thai951 has perfected a way to make brunchworthy lobster roll bites with all the flavor of the real thing in a bite-size package. Think buttery lobster bruschetta loaded with celery, peppers, Old Bay seasoning, Parmesan and (of course) big chunks of lobster, all served on buttery toast rounds that you can easily eat with one hand.
They're definitely kid-friendly, but bite-size corn dogs are for everyone! The version @jasmineandtea on TikTok demonstrates, inspired by Korean street food, has a bread crumb crust that turns crispy when the mini dogs are deep-fried. Bored by your traditional mustard? Jasmine's corn dogs get a sprinkle of sugar plus ketchup and mayo at the end.
Creating your own taco shells doesn't require tons of skill or extra effort, but it certainly makes everyday dinner feel more special. Full-size tortillas are a popular option for taco night, but baking wonton wrappers in muffin tins (as demonstrated by @michaelfinch on TikTok) yields crispy, crunchy shells that are truly bite-size. Fill bowls with beans, veggies, sour cream and all your other favorite fixings for a tiny, tasty taco treat.
Biting into warm, gooey s'mores no longer means washing the smell of campfire out of your hair! Recreate nostalgic flavors in your own kitchen with oven-baked s'mores bites, as demonstrated by @bylusi on TikTok. Crushed graham crackers and melted butter form a quick crust that gets pressed into mini muffin tins and baked. A chocolate square and marshmallow top each one and then the whole pan goes back into the oven until the marshmallows are toasted brown. As a bonus, they're gluten-free. We're not drooling, you're drooling!
Making yeast dough from scratch is a ‌process,‌ but cutting up biscuit dough only takes 30 seconds! With this simple shortcut from @myhealthydish's TikTok, homemade pretzels are within your reach. The key is a quick boil in water with baking soda, which helps give pretzels a brown crust and chewy texture. Serve them with honey mustard or cheese dipping sauce with jalapeños. (Or, considering these pretzel nuggets are really biscuits in disguise, dunk them in gravy!)
TikTok baker @michelles.belly takes a classic dessert and makes it mini with these totally charming pint-size pies complete with lattice-top crusts. Roll out store-bought pie dough or mix your own dough from scratch. Then, cut circles using a standard cookie cutter. Fill your tasty creation with homemade jam, premade pie filling or fruit spread before baking. Can you imagine how darling these would look topped with a tiny scoop of vanilla ice cream?
Next up, @themodernnonna shows off mini zucchini "pizzas" that put a veggie twist on a classic dish. Nothing compares to bona fide pizza dough, but if you already like the flavor of zucchini, you'll likely enjoy it as a complement to tomato sauce and mozzarella. Plus, the recipe is super simple if you're low on standard pizza ingredients (no olive oil required)!
Here's what's great about fried mac and cheese balls: everything! More specifically? They're easy and versatile. TikToker @dope_kitchen starts with a batch of boxed mac and cheese, but homemade mac from a gourmet recipe also works. The key is to freeze the finished dish so it can be cut into cubes for battering and frying. This method uses an air fryer so the bites get crispy without being too greasy or falling apart.
Here's your chance to get creative! Little pillows of baked puff pastry make the perfect base for both sweet and savory toppings. Check out @vbyislamii's TikTok tutorial, which highlights a simple method for prepping store-bought puff pastry dough and then spooning anything you want into the baked puffs. If you're craving something sweet, opt for fresh berries and mint or peanut butter mousse with chocolate chips. For a savory option, try spoonfuls of curried sweet potatoes or a combination of pesto, goat cheese and sun-dried tomatoes.
Which bite-size dish are you going to try first, and why is it homemade mini corn dogs? We hope you have a blast whipping up (and digging into) this pint-size cuisine. Remember: The tiny food you make might be cute but never too cute to eat!
Can't get enough adorable eats? Take time to check out our whimsical frog and mushroom meringue recipe, which feels like something out of a fairy tale (and can definitely be devoured in only a bite or two)!