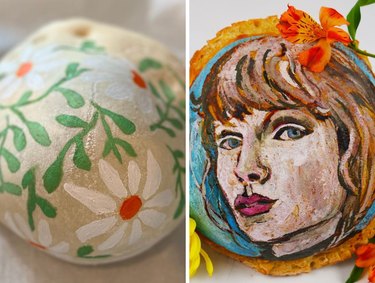 Sourdough bread is beautiful on its own, but have you ever seen sourdough that doubles as edible art? If you've spent time scrolling through baking experts' social media feeds or even perused the racks at your local bakery in recent months, you might have picked up on a fresh (and eye-catching) trend: painted sourdough.
This trending treat is just what it sounds like. Bakers use food coloring and other natural dyes to create hand-painted masterpieces of sourdough loaves. The results are simultaneously whimsical and ‌almost‌ too stunning to eat. We said almost! If you're looking to create your own painted bread loaf masterpiece or simply seeking a dash of colorful inspiration to brighten your day, take a look at our roundup of social media's most brilliant painted sourdough loaves.
1. Floral painted sourdough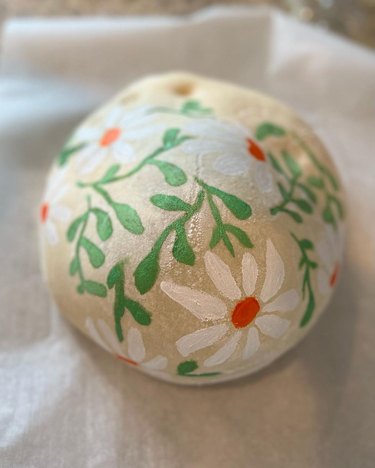 Instagram baker @talistreats.bakery offers a bright and cheery take on the painted sourdough trend with a lovely floral loaf. The design here is simple yet eye-catching, combining white flowers with bold green stems that cover the entire bread loaf. It's incredible what a bit of food coloring, water and fresh bread can do.
Next up, TikToker @emmabakesbread shows off incredible artistic skills by crafting a "Water Lilies" painted sourdough loaf. Emma uses a parchment paper stencil to form the shape of Monet's iconic painting and then adds decorative colors directly onto the bread dough with food coloring powder and paintbrushes. While baking, colors darken to reveal a stunning scene. Delicious and beautiful!
TikToker @jesfraz creates a lovely strawberry design with the use of gel food coloring, which provides a slightly darker shade. Her tutorial walks viewers through the whole baking process, beginning with a sourdough starter and concluding with an absolutely adorable (and undoubtedly tasty) completed loaf.
4. Checkerboard sourdough
Next up, TikToker @jotiwall decorates a sourdough loaf with a painted checkerboard pattern in hues of light purple and white. There's even dough etching done to create the look of imprinted flowers in the completed loaf. The finished product appears spectacularly crisp on the outside with a soft, warm interior. It's good to the last crumb—and easy to look at too!
Baker @brookiliciouss on TikTok offers a subtle yet lovely take on the painted loaf trend with a botanical-inspired design featuring simple greenery. There's something enchanting about watching a blank canvas transform from a typical slab of dough into something truly original.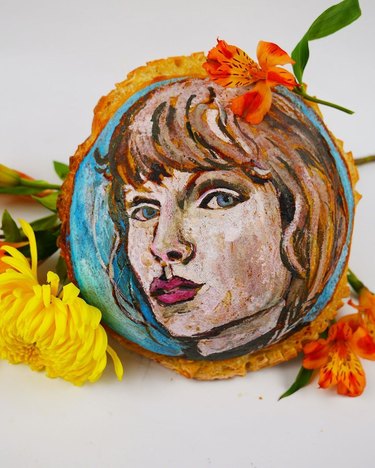 Calling all Swifties! Have you ever dreamed of seeing Taylor Swift's face on a loaf of sourdough? Instagrammer @speckledhenhill creates remarkably detailed painted loaves, many of which are pop culture-inspired, including this likeness of T. Swift herself. A quick scroll through the baker and artist's feed reveals sourdough paintings of everyone from Dwight Schrute to Dolly Parton.
TikToker @loavesfulloflove demonstrates the process of slashing (scoring) and kneading bread dough thoroughly before adding minimalistic stems and flowers along the striped form with a dainty paintbrush. The decorated dough is baked in a Dutch oven and displayed on a wooden tray. What a delightful sight!
Last but certainly not least, TikToker @doughxdesign uses just a few paint colors to create a ladybug sourdough design. With large black dots and an adorable smile, it's hard not to fall in love with this super-cute loaf. Wouldn't this be wonderful to serve at a little one's birthday party or a garden-themed gathering?
Now that you've checked out some of the prettiest painted sourdough loaves from social media's most talented and artistic bakers, we hope you're feeling inspired! Follow our easy sourdough starter recipe and take the first step toward becoming a bread artist extraordinaire in your own right.