If you ask us, whipping up tasty food is the best way to welcome a new season. After all, there's nothing better than enjoying fresh flavors mixed into delicious homemade dishes. The best part? You don't need to be a pro to make it happen. With our trio of simple dip recipes—watermelon feta mint dip, Maine lobster dip and campfire s'mores dip—you can easily embrace the arrival of summer.
We'll kick things off with watermelon feta dip, a refreshing sweet and salty salsa that's perfect for summer parties. It's a great partner for tortilla chips, but you can serve it with meat or tacos as well. Our Maine lobster dip is inspired by (surprise!) Maine lobster rolls. It's a creamy, satisfying dip made with lobster meat, lemon juice and chopped celery, making it an ideal partner for crudités and potato chips alike.
For a sweet finish, we'll walk you through campfire s'mores dip. It's a gooey, layered concoction made of chocolate chips and marshmallows and topped with trail mix. The result is a mouthwatering dip that both kids and adults will love. Whether you're hosting game day, a barbecue or a pool party soirée, you'll want to add these easy dip recipes to your summer to-do list.
Video: Lobster Roll Dip, S'mores Dip & More Easy Dip Recipes
Recipe 1: Watermelon Feta Mint Dip
Things You'll Need
4 cups seedless watermelon, diced

1/2 cucumber, deseeded and diced

1/2 red onion, diced

1/2 cup feta cheese, crumbled

1/4 cup fresh mint, chopped

1/2 tsp. salt

2 Tbsp. red wine vinegar

2 Tbsp. olive oil
Tip
For a different take on this bright and tangy dip, replace mint with cilantro.
How to make Watermelon Feta Mint Dip: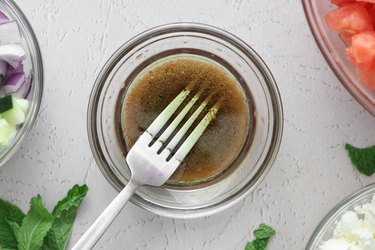 In a small bowl, whisk together red wine vinegar, olive oil and salt.
In a large bowl, combine watermelon, cucumber, red onion, feta cheese and chopped mint leaves. Toss gently.
Add the red vinegar mixture and then toss to combine.
3. Serve with tortilla chips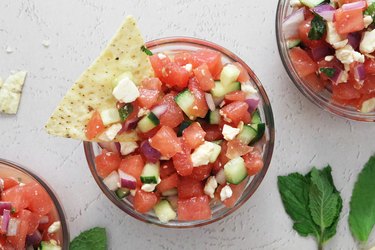 Your fresh summer appetizer is ready for dipping. Serve watermelon feta mint salsa with a slotted spoon, which will allow excess liquid to drain. In addition to tortilla chips, try this dip with pita chips and potato chips. So good!
Recipe 2: Maine Lobster Dip
Things You'll Need
16 ounces lobster meat, roughly chopped

4 oz. cream cheese, softened

1/4 cup mayonnaise

1/4 cup sour cream

1 Tbsp. lemon juice

1 tsp. onion powder

1 tsp. salt

1 or 2 celery stalks, diced

Chives, for topping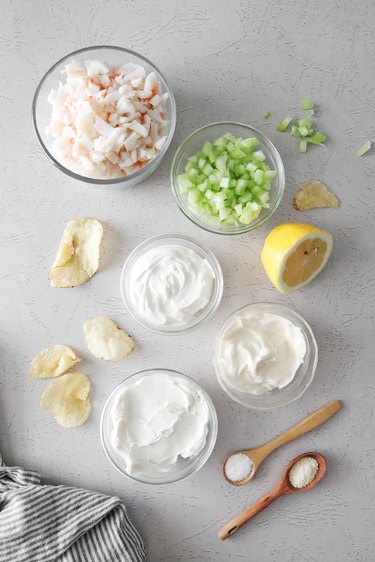 Tip
Feel free to use imitation lobster meat.
How to make Maine Lobster Dip:
1. Prepare cream cheese base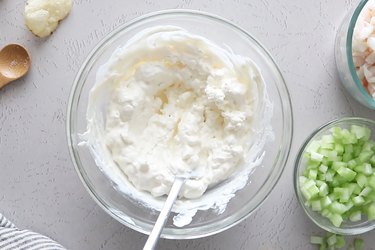 In a large bowl, combine cream cheese, mayonnaise, sour cream, lemon juice, onion powder and salt. It might help to use a large fork to break up the cream cheese. Mix well.
Tip
You can use Greek yogurt in place of mayonnaise or sour cream.
2. Add lobster and celery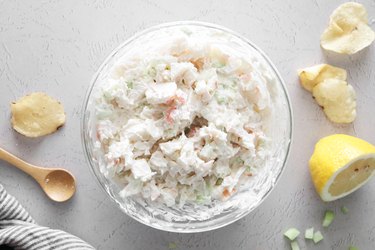 To the bowl, add chopped lobster meat and diced celery. Mix with a spatula until combined and then taste and add more salt and pepper as needed.
3. Dig into creamy seafood chip dip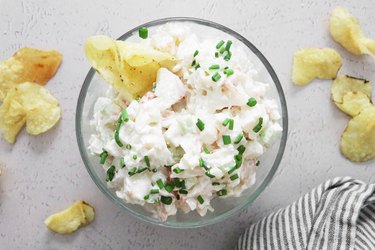 Top with chopped chives if desired. You can also use green onions and freshly chopped herbs, such as dill or parsley. Serve this appetizer recipe cold with potato chips or fresh veggies.
Tip
If you love cheese dips, add a layer of shredded cheese on top. Another idea is to mix in ranch seasoning to create a seafood ranch dip.
Recipe 3: Campfire S'mores Dip
Things You'll Need
Chocolate chips

Marshmallows

Trail mix (Chex cereal, M&M's, raisins, etc.)

Graham crackers

Melted butter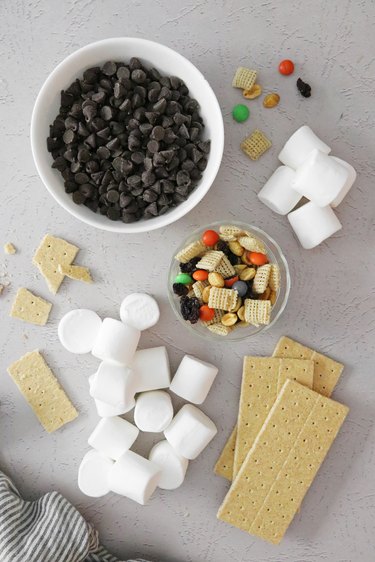 Tip
This sweet party dip doesn't require ingredient measurements. The exact amounts you'll need depends on the size of your baking dish.
How to make Campfire S'mores Dip:
Preheat the oven to 450°F. Grease a baking dish or mini cast iron pan with melted butter.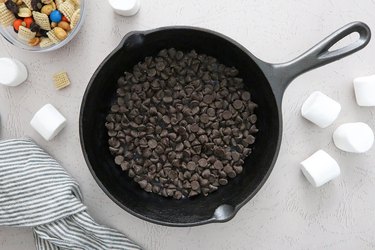 Add chocolate chips in an even single layer.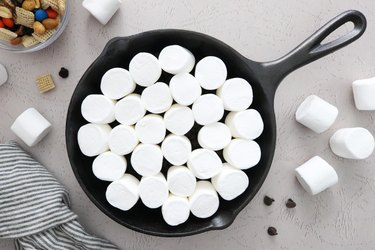 Add a layer of marshmallows on top.
4. Bake and garnish with trail mix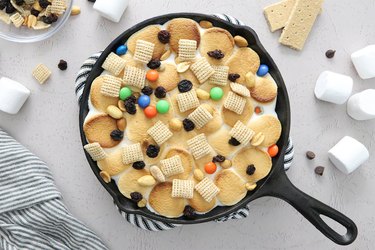 Bake until the marshmallows are toasted, about 8 to 10 minutes. Remove it from the oven and then top with trail mix.
Tip
Start checking the marshmallows around 5 minutes, as every oven is different.
5. Serve with graham crackers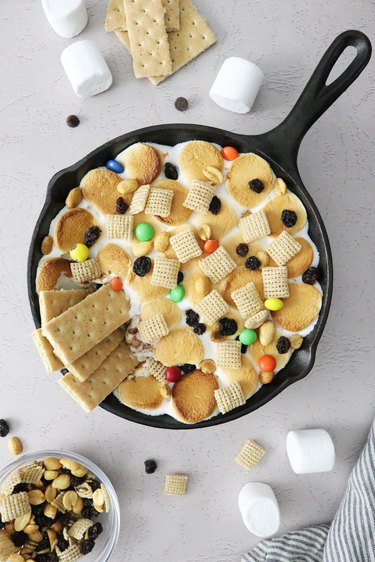 Serve with graham crackers immediately.
Now that you're up to speed on our trio of summer dips, it's time to start planning your next get-together! With these recipes in hand, you'll have plenty of happy guests—and empty dip bowls.