Looking for an easy bake for Halloween or Thanksgiving? Or simply need the perfect side dish to accompany a main dish for a dinner party this fall? Well, look no further. These pumpkin sweet rolls are for you! If it's your first time making dinner rolls, don't worry. This recipe has simple step-by-step instructions to ensure beautifully fluffy and delicious results every time, and it doesn't hurt that these rolls are totally adorable. Pumpkin-shaped rolls? Sign us up!
Before we get started, here's a quick recipe preview. All of the ingredients are thrown into a stand mixer fitted with a dough hook. The mixer is left to run for about 10 minutes to build gluten until the dough is very elastic and smooth. Afterward, the dough is left to rise. It is then divided and wrapped with twine. Before baking, the rolls are brushed with melted butter. Lastly, almonds are plopped in the middle of each dinner roll to resemble a pumpkin stem.
These pumpkin rolls are slightly sweet but not too sweet. They would be absolutely delicious if slathered with honey cinnamon butter or cream cheese. Enjoy them as a side to your meal or with a cup of warm coffee (pumpkin spice latte, anyone?) for ultimate cozy fall vibes.
Now, let's get to baking!
Video: Fall's Favorite Dinner Roll: Pumpkin-Shaped Pumpkin Spice Rolls
Quick recipe overview
‌SERVINGS‌:‌‌ 14 rolls
‌‌‌‌‌PREP TIME‌:‌‌‌‌ 15 minutes
‌RISE TIME: ‌60–90 minutes
‌COOK TIME: ‌15–20 minutes
‌‌‌‌‌TOTAL TIME:‌ ‌‌1 hour 30 minutes –1 hour 50 minutes
Things You'll Need
Electric mixer/stand mixer fitted with dough hook or large mixing bowl

Cooking spray

Plastic wrap

Twine

2 baking trays

Silicone mats or parchment paper

Small bowl

Pastry brush

Scissors


3 3/4 cups all-purpose flour

1/2 cup warm water or warm milk

1 1/2 cups pumpkin puree

2 1/4 tsp. active dry yeast or instant yeast

3 Tbsp. brown sugar or granulated sugar

1 1/2 tsp. pumpkin pie spice

1 tsp. salt

4 Tbsp. unsalted butter, whole milk or 1 large egg (whisked)

14 almonds
1. Combine wet and dry ingredients
In the large bowl of a stand mixer, mix together flour, water, canned pumpkin, yeast, sugar, pumpkin spice and salt until no dry spots remain.
How to make pumpkin spice
No pumpkin spice on hand? You can mix together 1/2 tsp. ground cinnamon and 1/4 tsp. each of ginger, allspice, cloves and nutmeg.
Knead the dough for about 10 minutes on slow-medium speed or until dough is smooth.
3. Cover dough and let rest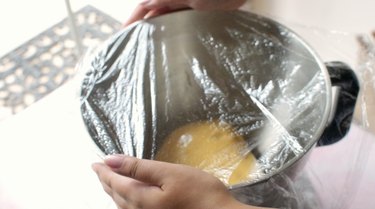 Spray mixing bowl and dough with cooking spray. Cover bowl with plastic wrap and let rest at room temperature until doubled, about 60 to 90 minutes.
Alternatively, you can keep this in the fridge overnight and continue the next morning!
Punch down dough and then transfer to a floured surface. Divide into 14 equal pieces.
Tip
Cover dough with plastic wrap as you work with each piece so dough doesn't dry out.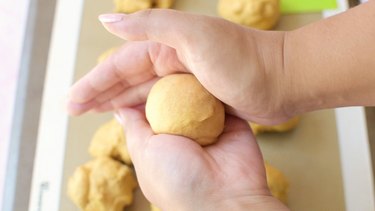 Line baking trays with parchment paper or silicone mats. Preheat oven to 350°F.
Roll each dough piece into a ball.
Tip
The next step may take a while. If your room is warm, we recommend storing about half of the balls on a tray in the fridge so they do not overproof.
Lay down a long piece of twine on your work surface and then place dough ball at the halfway point. Tie a knot, cross the two pieces of string together and then flip the dough ball. Tie another knot at top. Create another cross with strings, flip and tie again. Repeat until ball is divided into eight sections. Repeat with remaining balls of dough.
7. Brush with melted butter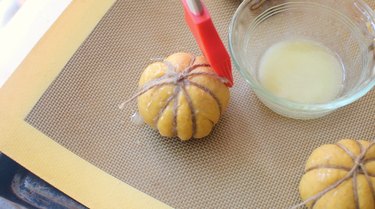 Melt 2 Tbsp. unsalted butter in a small bowl.
Brush on melted butter using a pastry brush. Alternatively, you can use milk or a whisked egg. Bake for 15 to 20 minutes or until golden brown. Let cool on pan for a few minutes and then transfer to wire rack to cool completely.
Tip
If desired, right after baking you can brush on more melted butter to give the rolls extra shine.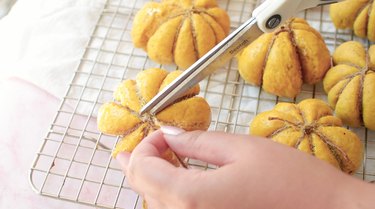 Use scissors to cut off twine.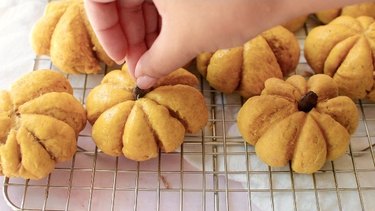 Add almonds to middle of bread to resemble pumpkin stems.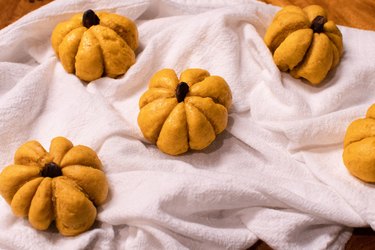 Enjoy! Store these pumpkin rolls in an airtight container at room temperature for up to five days or in the freezer for up to one month.