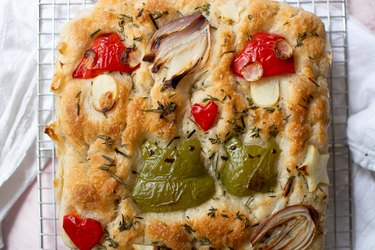 Ready to bake something adorable? This ‌frog‌-accia is one of the easiest bread recipes you'll ever make! You don't need a stand mixer or a dough hook—you'll use just one bowl for mixing, no kneading required. Plus, you can get creative with designs, such as these two cute green froggies in love surrounded by mushrooms and stars.
Video: Grow a Garden of Flavor With Fresh Focaccia Bread
For this recipe, you can use either all-purpose or bread flour. If you use all-purpose, you'll get lighter bread, but the dough might be stickier and won't rise as much. With bread flour, you'll get taller bread with a chewier and more open crumb. Either way, you'll wind up with delicious bread that can be flavored to your taste buds' desire based on the toppings you choose. You can switch up the types of herbs and vegetables or even top the loaf with spicy chili oil or other spreads.
Ready to bake? Let's hop to it!
Quick Recipe Overview
‌SERVINGS‌: ‌One 9" x 9" focaccia
‌‌PREP TIME‌: ‌‌5 minutes
‌‌‌REST TIME:‌‌‌ 1 hour, 40 minutes
‌‌BAKE TIME: ‌‌25–35 minutes
‌DECORATING TIME: ‌‌15 minutes
‌‌‌TOTAL TIME:‌‌‌ 2 hours, 25 minutes–2 hours, 35 minutes
Things You'll Need
Large bowl

Whisk

Rubber spatula

Plastic wrap

9x9-in. baking pan

Parchment paper

Toothpick

2 tsp. instant yeast

1 3/4 cup warm water (420 g)

4 cups all-purpose flour or bread flour (480 g)

2 1/2 tsp. kosher salt (12.5 g)

5 Tbsp. extra virgin olive oil, divided

Flaky sea salt

Herbs such as oregano, rosemary and thyme

Vegetables for decorating, such as bell peppers, potatoes and shallots

Balsamic glaze
How to make Garden Focaccia: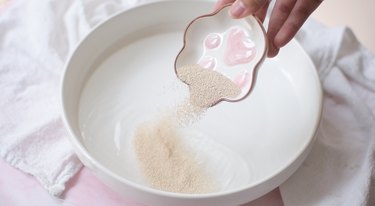 In a large bowl, whisk yeast and warm water until yeast is dissolved.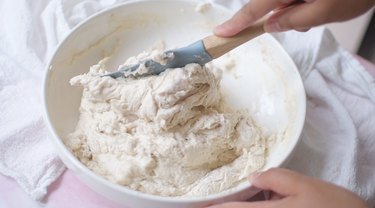 Add flour to yeast mixture and scatter salt on top. Stir with rubber spatula until no dry spots remain.
Cover bowl with plastic wrap and let rest for 20 minutes at room temperature.
Tip
Wet your hands with water when touching the dough. This will prevent the dough from sticking to them.
Slide your hands under middle of the dough and lift. Tuck one side of dough under the middle, then repeat to tuck the other side underneath. Rotate container 90° and repeat the coil fold. Let dough rest for 20 minutes.
Repeat entire process three more times. This helps gluten form while dough rises.
Line baking pan with parchment paper, and drizzle with 2 Tbsp. of olive oil. Transfer focaccia dough to pan, stretching it to fit entire pan. If dough resists, lightly cover and let rest for 5 minutes.
Let focaccia rest and rise for about 20 minutes. Meanwhile, preheat oven to 450°F. Use cookie cutters and a paring knife to cut out shapes from your choice of vegetables. We used green bell pepper for frogs, red bell pepper for cute mushroom caps and hearts, and potato for mushroom stems, spots and stars.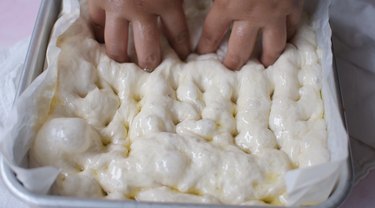 Drizzle remaining olive oil on focaccia and on your hands. Using your fingers, dimple focaccia dough by pushing your fingers all the way down into the dough at a 90° angle.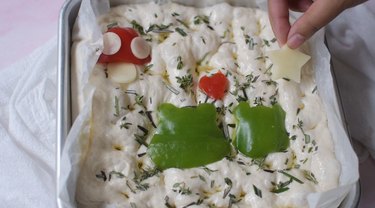 Sprinkle on flaky sea salt and herbs. Add veggie cutouts to create shapes of your liking.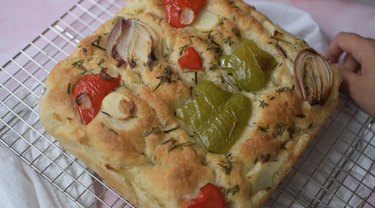 Bake bread for 25–35 minutes, or until top is golden brown and springs back when poked. Immediately transfer to wire rack to let slightly cool.
Use a toothpick dipped in balsamic glaze to draw frog faces. Serve focaccia warm or at room temperature.
To store, wrap focaccia in plastic wrap and keep at room temperature for two days. You can also cut the focaccia into slices and freeze for up to one month.
This might just be the most delicious garden we've ever seen. It's tough to imagine a more a-‌dough‌-rable creation, so plan your veggie design and let the baking begin!