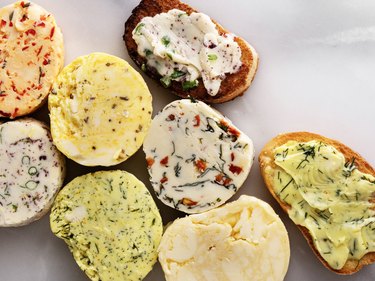 Want to step up your flavor game? Ah, if only there were a simple, universal sauce or condiment that required minimal culinary skills and called for common, easy-to-find ingredients. Wait—there is! In fact, there's a whole family of such sauces, and they're known as compound butters. At its core, compound butter is really just a fancy way to describe plain butter that's been dressed up with additional ingredients. Think: garlic butter, honey butter, blue cheese butter...the delicious list continues.
Compound butters play a delectable role in all sorts of cuisine, from classic American dishes to Italian and French fare and just about everything in between. What's more, the total time to whip up compound butters at home is often no more than a few minutes—but the results are undeniably mouthwatering.
Now that we've opened the door to a new world of tastiness, are we going to take you on a chef-led exploration of all things compound butter? You ‌butter‌ believe it.
Wait... Is Butter Really a Sauce?
You may raise an eyebrow at the thought of butter being described as a sauce, but it certainly functions as one. Culinary textbooks will tell you that sauces are preparations that add flavor, richness and moisture to a finished dish. Compound butters have all of these elements. Richness? Check. Moisture? Check. Flavor? Oh, yes—and not just butter's own pleasantly understated flavor, but the flavors of any ingredients you choose to add. It's a sauce!
How to Make Compound Butters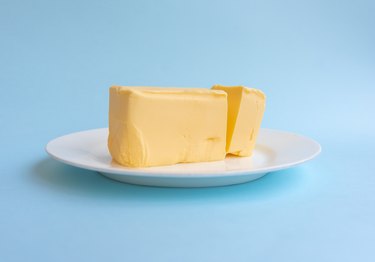 Before we explore specifics, it's important to understand the basic process for making compound butter. Thankfully, most compound butters can be made with an easy recipe that's broken into a few simple steps:
Most recipes call for unsalted butter, but feel free to use salted butter if that's what you've got. Just leave out any salt—usually kosher salt or sea salt—that your recipe calls for. If you're vegan or avoiding dairy products, substitute any suitably butter-like spread. This can mean ordinary mass-market margarine or artisanal vegan faux-butters, store-bought or handcrafted at home.
It shouldn't be ‌too‌ soft—just about the consistency of modeling clay. Mix with wooden spoon, your hands or the paddle attachment of a mixer until flavoring ingredients are incorporated. Combining 2 to 3 Tbsp. of compound add-ins per stick of butter is usually enough, and keep liquid ingredients to a teaspoon or less.
3. Shape, store and serve
Turn out your butter onto a sheet of parchment paper, wax paper or plastic wrap. Shape it into a log and let chill for at least an hour, until it's firm enough to slice—or freeze it for later use. To serve, thaw frozen butter until ‌just‌ sliceable. Cut it into round medallions, then add to your food at the last minute before serving. Alternatively, cut butter into pats ‌before‌ freezing and place small pieces of parchment between them to keep them separated.
If your butter will simply be spooned or spread onto food without ceremony (think: sweet or cheesy butters on a muffin or biscuit), you can simply pack it into an airtight container and keep it in the fridge. The refrigerator life of a compound butter varies from weeks to a month, but it should last for several months in your freezer if carefully packaged.
Tip
For a prettier appearance, you can also choose to roll the finished log of compound butter in a suitably colorful coating (minced herbs, complementary spices) when it's finished but before it's wrapped.
10 Must-Try Butter Combos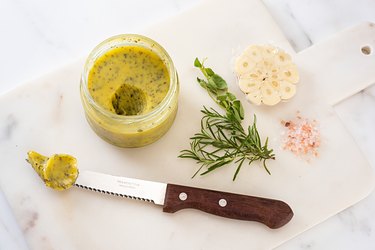 Now that you've got the basic buttery formula down, let's dive into some of the most delicious flavor combinations for compound butters:
1. Maître d' Hôtel Butter
This is the all-time classic—the "little black dress" of compound butters. It's what you'll find on your steak in an old-school steakhouse or French restaurant, but it's equally good on steamed fresh vegetables, a piece of poached fish or a roasted chicken breast.
‌How to make:‌ It couldn't be easier to make. For every stick of butter, finely chop about 2 Tbsp. fresh parsley and knead that into softened butter, along with 1/2 tsp. or so of lemon juice and a generous grinding of fresh black pepper. If you've used unsalted butter, add 1/4 to 1/2 tsp. salt until mixture suits your taste buds.
Store-bought garlic "butter" or garlic butter sauce is often made from cheap soft margarine, dried parsley flakes and garlic powder. For your own homemade garlic butter, flip the script and use all fresh ingredients: whole cloves of fresh garlic, fresh parsley and chives.
‌How to make:‌ For every stick of butter, you'll want 1 Tbsp. grated or minced garlic and 1 to 2 Tbsp. minced parsley or chives. It will elevate your next batch of garlic bread beyond your wildest dreams! It's also good as a simple but flavorful topping for roasted chicken, fresh veggies, baked potatoes, mashed potatoes or pretty much any other side dish you can think of. You can also fine-tune the basic garlic butter recipe to suit specific foods. For example, finely minced fresh rosemary added to the garlic butter makes it extra-special on poultry and lamb or as a topping for roasted potatoes.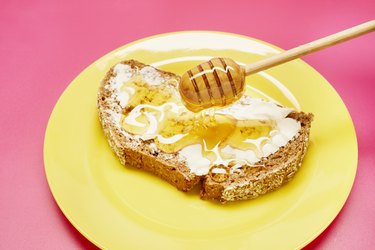 There's a whole world of sweet butters out there, and among the most versatile is honey butter. Spread it on your morning toast, use it to glaze sweet potatoes or a ham or just set a small bowl of it on the table to slather over fresh-baked biscuits. Yum!
‌How to make:‌ To make it, you'll knead 2 to 3 Tbsp. honey into a stick of butter. Of course, you don't need to stop at ‌just‌ honey. You can add cinnamon or other warm spices, chopped and toasted nuts or even a dollop of your favorite nut butter. All of them work beautifully, and all of them will help you elevate your dessert (or snacking!) game.
Anchovies are the Parmesan cheese of the fish world, adding a pungent (and concentrated!) blast of savory flavor. You don't necessarily need to use this in seafood dishes, as it can go in—or on—anything that needs a quick hit of umami. This butter is especially great as a finishing touch on pasta dishes, grilled or baked oysters, rich fish like salmon and even grilled steak or corn on the cob.
‌How to make:‌ For each stick of butter, you'll want 2 to 3 cloves of minced garlic, 4 to 8 fillets of canned anchovies with the oil blotted from them and 1/2 tsp. each of lemon juice and hot or smoked paprika. Mince anchovies very finely, then knead all ingredients into the butter. Anchovies are usually very salty, so unsalted butter works best.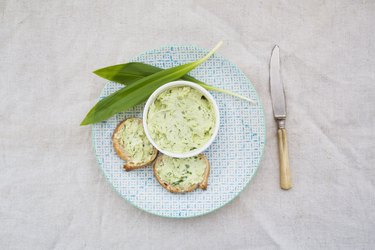 Does anything capture the flavor of summer quite like pesto? That in-your-face hit of fresh basil is the high note, of course, but garlic, pine nuts and Parmesan give it an earthiness and depth of flavor that complement basil perfectly. If you incorporate all of that into a compound butter, well...now you've got summer in a bite-size flavor bomb.
‌How to make:‌ Knead 2 to 3 Tbsp. prepared pesto (your own or store-bought) into a stick of softened butter. That's it! Use as an alternative to garlic butter on garlic bread, as a simple sauce on pasta, as a topping for seasonal vegetables or stirred into a rice pilaf to brighten its flavor.
Mushrooms contain a lot of naturally occurring glutamates, which means they'll bring a pop of savory flavor to dishes. We recommend using mushroom butter on steaks and chops, in vegetable dishes or on grain-based side dishes like pilaf or risotto.
‌How to make:‌ To harness the flavor of mushrooms in the form of a compound butter, first sauté the mushrooms with a bit of fresh onion and garlic until they've released their juices and cooked down, leaving everything caramelized and dry.
Once the mushroom mixture has cooled, mince it finely and knead about 3 Tbsp. into a stick of butter. For added flavor, grind dried mushrooms to powder in a blender and roll the log of mushroom butter in mushroom powder.
Traditional maître d'hôtel butter might be the classic option for your steak, but there are other contenders as well—including blue cheese butter. The funky, aromatic tang of blue cheese is a happy (if rich) pairing with your favorite grilled steak or a premium hamburger.
‌How to make:‌ Blue cheese is an exception to the "3 Tbsp. of flavoring" rule because it's similar in texture to butter and melts just as readily. So, for a stick of butter, simply knead in up to 1/2 cup of your favorite blue cheese. The more you use and the more potent the cheese, the funkier your blue cheese butter will be. Crumbly blue cheeses should be crumbled first; the soft and gooey kind should be brought to room temperature.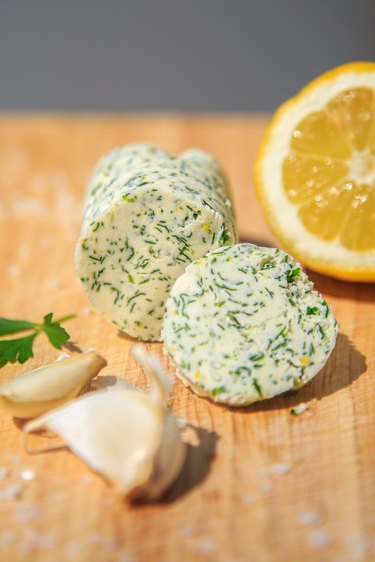 This isn't so much a single compound butter as an entire category of them, because there are literally thousands of variations on this theme made with simple ingredients. You can add herbed butter to homemade garlic bread, simple veggies like green beans and more.
‌How to make:‌ It's pretty straightforward. Take 1 or 2 herbs you like a lot (such as rosemary, thyme, sage or even an Italian seasoning mix), mince them and put a few tablespoons into a stick of butter. Think about it: How often do you buy a whole "bunch" of herbs because you need a little bit for a specific recipe? This is a great way to use up (and preserve) the rest.
As a rule, it's best to rein in your imagination and restrict yourself to 1 or 2 herbs. Some herbs are definitely punchier than others, and you're still looking at a rough limit of about 3 Tbsp. of minced fresh herbs per stick of butter, so you may need to experiment a little in order to get the balance right.
9. Cranberry-Orange Butter
If you're looking for other sweet compound butter ideas, fruit flavors are a slam dunk. One versatile combination brings together the bright, tart flavors of cranberries and oranges. And we must say, cranberry-orange butter is especially delightful on toast, muffins, pancakes or hot biscuits. You can even use it as a finishing touch on warm desserts such as bread puddings.
‌How to make:‌ For each stick of butter, use 2 Tbsp. sweetened dried cranberries, chopped finely, the zest of one orange (ditto) and 1 Tbsp. honey.
We'll finish with an especially elegant compound butter that's straight from the world of traditional French haute cuisine. Lobster butter adds a richly understated lobster flavor to creamy pasta dishes, chowders, sauces, lobster bisque, canapés and more.
‌How to make:‌ If you eat lobster occasionally, you'll have sometimes found vividly pink lobster roe ("coral") inside the shell, where the tail meets the body. To make lobster butter, simply knead in the usual 3 Tbsp. or so of coral per stick of butter. That's it! Alternatively, use your food processor to combine butter and roe, which breaks up some of the eggs and gives the butter an attractive pink hue.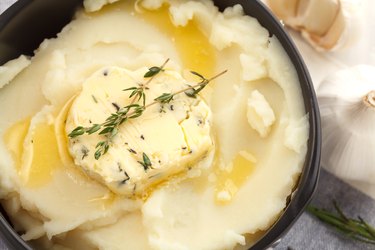 Compound butter is so easy to love and enjoy. After all, it requires minimal prep time, often calls for nothing more than a handful of simple ingredients and, above all, adds fantastic flavor to everything from fish to French bread. What are you waiting for? Start experimenting—butter (err, ‌better‌) cooked fare awaits!
Searching for another way to dress up your dishes? Check out our tutorial for how to infuse olive oil with garlic, herbs and citrus.