Comfort cooking and soup go together like cheese and crackers. Speaking of which, we've rounded up some of the best DIY cracker and crouton recipes of TikTok (specifically #SoupTok...yes, it is a thing!) to round out your favorite soup recipes. From Georgia Fire Crackers to massive cheesy croutons, these recipes are sure to elevate your soup game.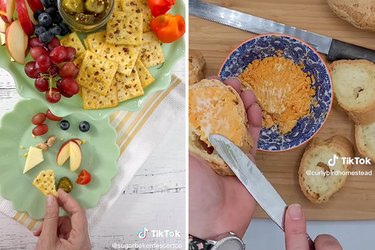 1. Ranch-Flavored Oyster Crackers
First up, @pamelacooke52_mamaw2 shares a beloved family recipe for flavored oyster crackers. Oyster crackers are a great topping for soup even in their most basic form, but the addition of oil, ranch dressing mix, dill and garlic powder surely makes them even more delectable. We love that these ranchtastic crackers can be whipped up in a large batch and stored in cans or other containers and used throughout the year. Our mouths are watering just thinking about those seasonings!
Next up, @sugarbakerdessertco demonstrates how to make Georgia Fire Crackers, also known as Comeback Crackers, which offer a spicier alternative to the previous oyster cracker recipe. The process looks pretty simple: Fill a large plastic container with several sleeves of saltines and top with a combination of oil, crushed pepper, dill, garlic powder and—again—ranch dressing mix. Close the container and gently shake the drizzled oil mixture onto the saltines. We bet these would pair nicely with any potato-based or cheesy soup!
3. Homemade Cheesy Croutons
Last but not least, @curlybirdhomestead shows off a recipe for oversize cheesy soup croutons, which we now want to make immediately. Store-bought croutons are great, but we imagine the freshness and flavor in this homemade batch is unbelievable. You'll need cheese (the TikToker uses sharp cheddar but mentions that Gruyere and blue cheese also work), softened butter, Dijon mustard and a sliced baguette. Broil until crisp, ladle yourself a bowl of soup and enjoy!
The next time you make soup for dinner, try pairing it with one of these tasty TikTok recipes. We bet you'll find a new fave!