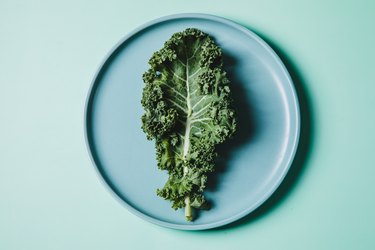 The farmers market gets a lot of attention in summer, when sun-ripened tomatoes, peaches and peppers are the stars of the show. But a winter market can be equally exciting if you know what to look for and what to do with your finds. Hearty vegetables like butternut squash, beets, celery root and turnips are often grown year-round. Not to mention the earthy, versatile queen of leafy greens: kale.
Kale is a brassica, in the same family as cabbage, cauliflower, broccoli and radishes. Its earthy flavor is a delicious match for starchy winter vegetables and pantry staples such as lentils, chickpeas and quinoa. And all kale varieties—from baby kale to dinosaur kale—can be eaten raw or cooked.
Most kale recipes require little prep time, so it's the perfect vegetable for winter weeknights and weekends alike. Plus, it can easily be used as a substitute for other greens and herbs in pestos, salads, soups, sauces and more. Keep reading for a few of our favorite ways to use kale this winter, from garlicky sautéed kale to healthy stir-fries, slaws and smoothies!
Tip
Before using kale, you'll want to thoroughly wash the leaves in cold water to remove any dirt or pesticide residue. Then you'll need to remove the leaves from their stems. While kale stems are technically edible, they're quite fibrous and hard to digest, so it's best to only eat the leaves.
The easiest way to remove the leaves is to hold the kale upside down and tug on the leaves with your fingers. While firmly holding the stem with one hand, use your other hand to grab either side of the leaf and then pull downwards toward the top of the leaf. The kale leaves should come right off the stem.
There's no need to remove the stems from baby kale, as they're quite tender and edible. Just wash your baby kale and it's ready to go for both raw and cooked preparations.
10 Ways to Use Kale in Winter Recipes: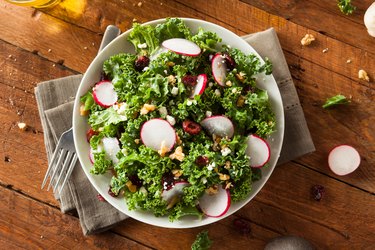 Kale is a great substitute for lettuce and other greens during the winter months. Try swapping romaine lettuce for baby kale leaves or chopped kale in a Caesar salad, or toss some kale with your favorite vinaigrette, dried fruit (such as currants or raisins), pine nuts and Parmesan cheese. You can make a simple dressing with olive oil, kosher salt and either lemon juice or balsamic vinegar. Sherry vinegar also adds a nice punch. For a hearty vegan salad, add a teaspoon of tahini to your dressing or use some finely grated walnuts in place of the cheese.
Tip
The trick for a good kale salad is to use very finely chopped kale. This not only lets the kale absorb more of the vinaigrette but also makes it easier on your digestive system. Stack a few kale leaves (with stems removed), then roll them up into the shape of a cigar. Using a sharp knife, thinly slice the kale into fine shreds. From there, run your knife through the shreds a few times to make even smaller bite-size pieces. If you find raw kale difficult to digest, you can use lightly steamed or sautéed kale in place of raw.
Kale chips make a great party appetizer or movie snack. Create a marinade with some tahini, olive oil, lemon juice, nutritional yeast and salt—plus any seasonings of your choice, such as curry powder, cumin or crushed red pepper flakes to add some heat. Toss torn kale leaves with the dressing and bake in a 200°F oven for about an hour until crispy.
Tip
You might need to add a little bit of water to thin out the dressing if it's too thick to coat the kale.
Kale is the perfect winter substitute for tender basil leaves, which can be hard to find locally during winter. Simply add raw chopped kale, chopped raw garlic, pine nuts and Parmesan cheese to a food processor. Process until fine, drizzling in olive oil until you get your desired texture, then season with salt. You can easily replace pine nuts with any nut or seed you have lying around—from walnuts and almonds to pumpkin seeds and hemp seeds—and/or eliminate the cheese to make it vegan. Use your pesto in all sorts of pasta dishes or toss it with roasted vegetables for a hearty side dish. It can also be used as a tasty topping for butternut squash soup.
4. Add kale to soups and stews
Kale adds a bright earthiness to all sorts of soups and stews, from Italian white bean soup to coconut curry. It also pairs particularly well with sweet potatoes and butternut squash. Simply toss a few leaves of blanched or sautéed kale into your brothy soup or hearty stew while it's done cooking. Cooking the kale first will help maintain its vibrant green hue and ensure it's the right texture when added to the soup.
Kale Health Benefits 101
Kale is considered a superfood because of its heavy dose of essential vitamins and minerals, including vitamins A, C, E and K plus folate, calcium and zinc—on top of powerful antioxidants like lutein and zeaxanthin, which give the leaves their deep green color. Kale also contains other nurients such as phosphorus, potassium and a small amount of alpha-linolenic acid (a heart-healthy omega-3 fatty acid).
These nutrients are especially beneficial in the winter when our diets lack the colorful bounty of the warmer months. Vitamins A, C and E all support the immune system, while folate aids in blood cell and brain development. Vitamin K and calcium both build healthy bones, and potassium can help lower cholesterol and maintain healthy blood pressure.
5. Toss kale with cooked grains for a hearty grain salad
A grain salad with kale makes a perfect hearty lunch or weeknight meal. Cook the grain of your choice (we suggest quinoa, brown rice, wheat berries or couscous) and toss with chopped raw or cooked kale, olive oil, lemon juice and salt. You can also add feta cheese, nuts or seeds, dried fruit and/or fresh herbs such as cilantro, mint or parsley.
Tip
To blanch kale for sustained vibrancy and greenness, add cleaned kale leaves to salted boiling water, cook for 1 to 2 minutes, until they start to soften, then immediately remove them from water and drop them into a bowl of ice water. Drain kale in a colander or squeeze out excess liquid before using.
6. Make garlicky sautéed kale
Keep it simple by sautéing kale leaves in olive oil with crushed garlic, red pepper flakes and kosher salt. Add garlic to the hot pan first until it's toasty, then add kale and toss together with other seasonings. To speed up the cooking process, add a splash or two of water to steam the leaves as they cook. You can also add lemon zest or lemon juice at the end for a citrusy kick.
7. Add some kale to your morning smoothie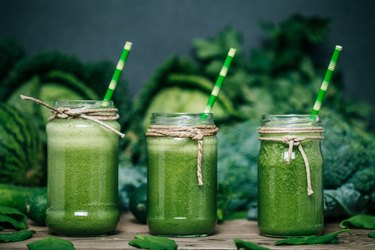 Adding kale to a smoothie is a super easy way to reap its health benefits without much preparation (and you might not even taste it!). Just toss a few cleaned kale leaves into your favorite smoothie recipe and blend well.
8. Toss kale into a stir-fry
You can easily add a few cooked kale leaves to a stir-fry for added texture and nutrition. Sauté kale in a hot pan or wok with with sliced carrots, broccoli florets, scallions, alfalfa sprouts or any other vegetables you have on hand until tender. Then add a premade stir-fry sauce or make your own by combining sesame oil, grated ginger, chopped garlic, honey and soy sauce. Toss the vegetables in the sauce and serve over a bowl of warm rice or noodles.
Tip
For the healthiest and tastiest kale, source it from your local farmer or farmers market. Locally grown kale is often even more nutrient-dense than the stuff from the grocery store. When produce travels long distances or sits on the shelf for long periods, it loses some of its volatile vitamins and antioxidants along the way—some of which help create its flavor profile. To find the freshest kale, look for a bunch that's bright green with firm leaves that are free of any brown or yellow spots.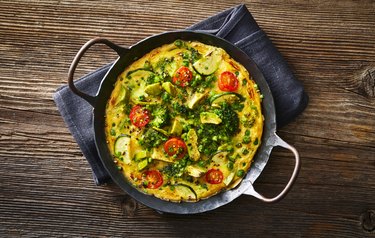 A frittata is an easy-to-make egg dish that's great for breakfast, lunch or a quick snack—and adding kale is a great way to make the dish more flavorful and nutritious. Toss some blanched or sautéed kale leaves into a heated cast-iron or nonstick pan followed by a mixture of whisked eggs, milk and salt. Top with a few dollops of ricotta or grated Parmesan cheese, then bake in a hot oven until set.
Kale is an easy replacement for cabbage in coleslaw. Finely slice the kale, then toss with grated carrot, sliced red onion and the dressing of your choice. Use yogurt or mayonnaise as a base for a richer, more traditional slaw or toss the kale with apple cider vinegar and olive oil for a lighter take. Kale slaw makes a great side dish with roast chicken or barbecued meats.
Tip
Kale's hearty texture means it holds up well in the fridge for several days after it's prepared. A kale salad or grain salad will last 2 or 3 days in the refrigerator without going soggy. You can also keep blanched or sautéed kale on hand to toss into various recipes throughout the week.
Just about any winter recipe will benefit from some hearty and nutritious kale, so get creative with it—and keep these ideas in your arsenal any time you have some extra kale lying around or want to give your meal a delicious dose of vitamins and minerals.