School is officially back in session! Celebrate the big day (or console kids who aren't ready to bid adieu to summer vacation) with this colorful charcuterie board inspired by school supplies and letter boards. You might have seen similar projects made with cardboard letters, but our creation is completely edible! You'll arrange a sheet of black fondant and letter cookies surrounded by delicious treats and appetizers, including notebook paper cookies, apple pretzels, pencil crackers and juicy fruit skewers. Talk about the ultimate after-school snack!
Needless to say, this isn't your typical charcuterie platter or cheese board. Whether you're a parent, grandparent, teacher or student, you'll have a blast making our back-to-school letter charcuterie board just in time for those first few days of a brand-new academic year.
Video: Kick Off the Year With an Edible Back-to-School Letter Board
Tip
To make letter cookies, you'll need nothing more than mini letter cookie cutters (check out Amazon or Etsy) and your go-to sugar cookie recipe. If possible, use a cookie dough made with vegan butter, as it will spread less during baking. This is especially important for tiny letter cookies, which tend to turn into blobs during baking. Another option is to use white fondant, which will yield cleaner and crisper letters.
Things You'll Need
Mini pretzel twists

Red candy melts

Green candy melts

Green leaf sprinkles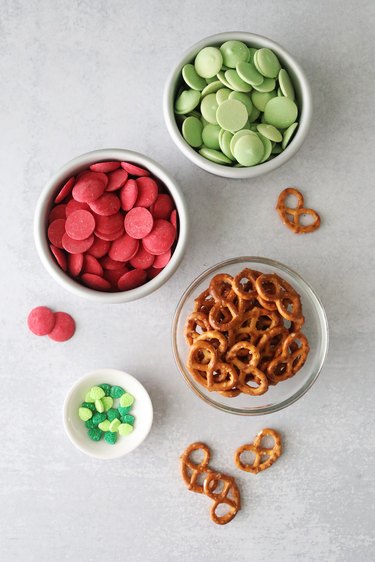 Tip
You can use green M&M's instead of sprinkles.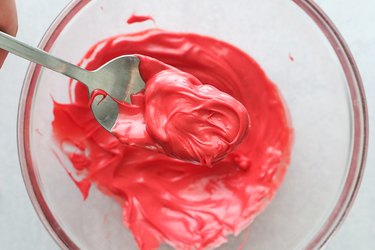 Line a baking sheet with parchment paper.
Microwave red candy melts according to package instructions. Using a spoon, coat pretzels with melted candy.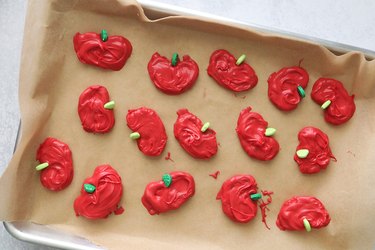 Place coated pretzels on baking sheet. Add a leaf sprinkle to top center of each one.
Repeat with green candy melts.
Let pretzels sit for about one hour or until candy coating has hardened.
Things You'll Need
Sugar cookie dough

White fondant

Red food-coloring maker

Blue food-coloring marker

Fondant roller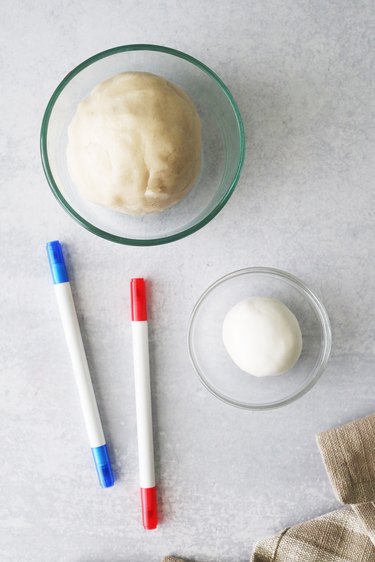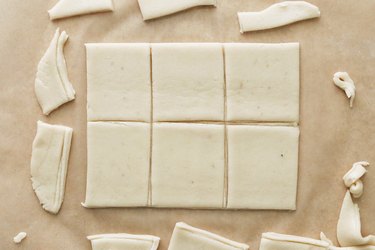 Lightly flour a sheet of parchment paper. Roll out cookie dough and then cut it into rectangles of preferred size.
Tip
For rectangle cookies, you can use a knife or pizza cutter to create shapes. Otherwise, if you want cookies to be the same exact shape and size, use a rectangle cookie cutter.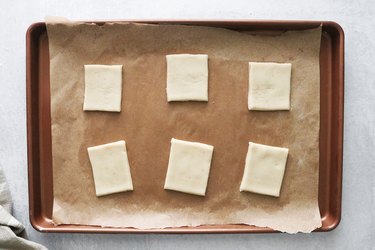 Carefully transfer parchment paper onto a baking sheet. Separate cookies, leaving about 2 in. between each one. Chill in freezer for 30 minutes.
Tip
You can also chill cookie dough first and then separate the rectangles.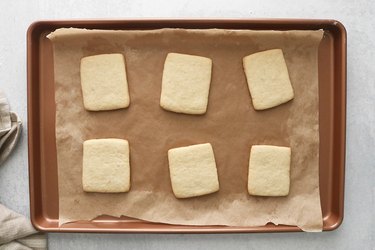 Let dough sit at room temperature for approximately five minutes. Bake according to time listed in recipe.
3. Add notebook paper details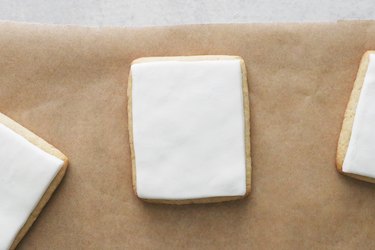 Roll out a sheet of white fondant. Trim into rectangles using each cookie as a template. Place white fondant on cookies.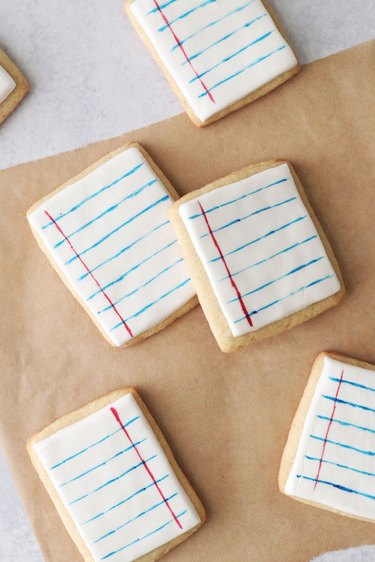 Using food-coloring markers, draw horizontal blue lines and a red vertical line on fondant.
Tip
You can find food-coloring markers in the baking section of most craft stores, including Michaels, Hobby Lobby and Joann.
Things You'll Need
Sugar cookie dough

Flour


Mini letter cookie cutters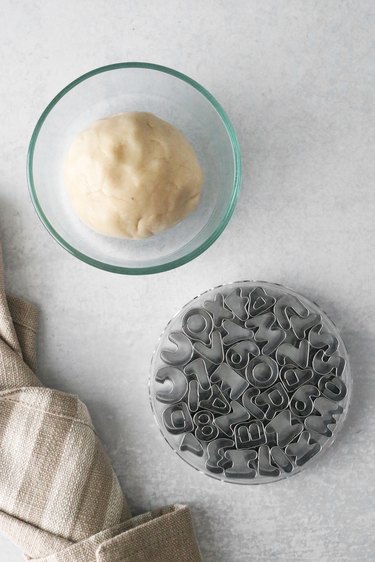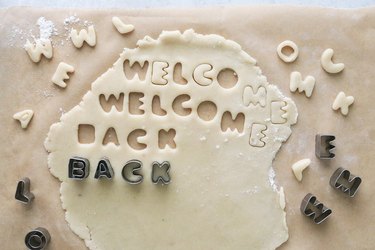 Sprinkle flour on a sheet of parchment paper. Roll out sugar cookie dough and then cut out letters based on desired message. We recommend cutting out multiple letters so you can choose the best ones after baking.
Tip
Dip cookie cutter into flour before cutting out a shape. This will help reduce sticking. It also helps to chill the dough before cutting out letters.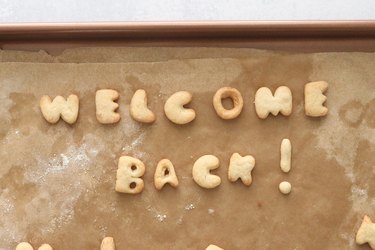 Transfer parchment paper to a baking sheet. Chill in freezer for 30 minutes, let sit at room temperature for five minutes and then bake in oven.
Tip
Since the letters are so small, we recommend removing cookies before the listed time.
Things You'll Need
Rectangle crackers

Cheese

Deli meat (like ham or bologna)

Sliced black olives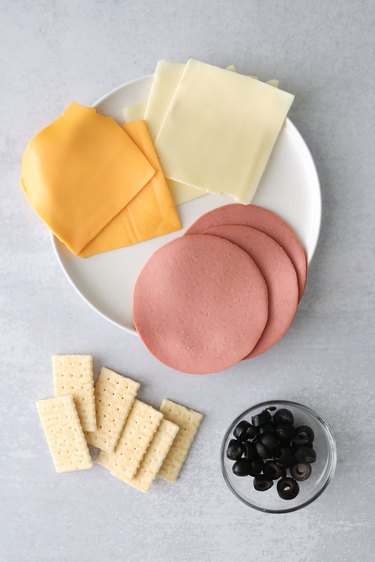 1. Prepare cheese and meat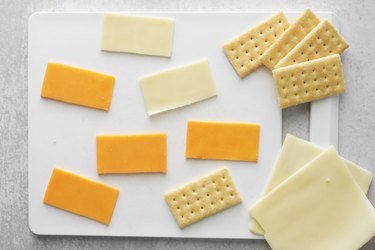 Slice cheese into rectangles using crackers as templates.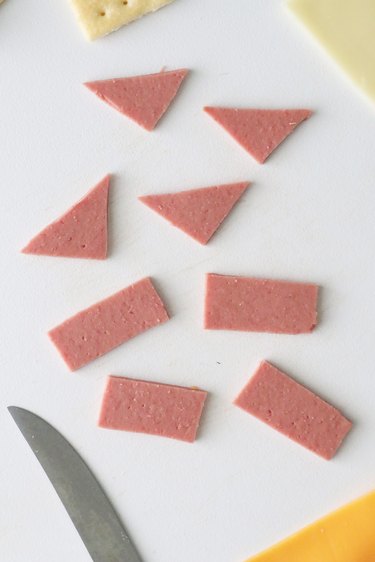 Cut deli meat into small rectangles (for "erasers") and triangles (for "pencil points").
Tip
The scraps of cheese and meat will be a game-changer for brunch; simply save leftovers and use them in omelets or quiche.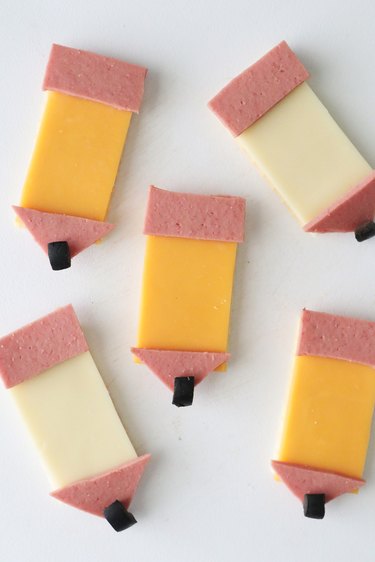 Layer a cheese rectangle on each cracker. Place small rectangle of meat on one end then add triangle on other end.
Cut a sliced olive into quarters. Add one piece to the tip of each meat triangle.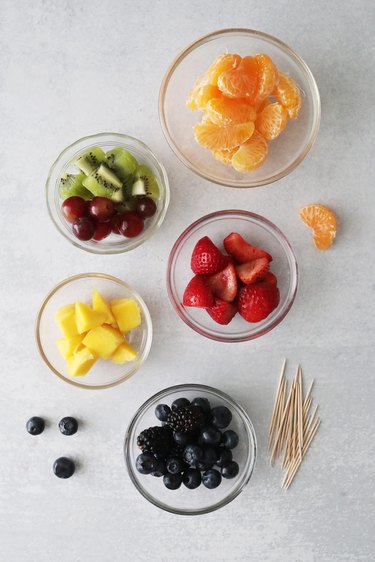 Tip
Any fruit is fair game! We used strawberries, blackberries, blueberries, grapes, mango, kiwi and mandarin oranges.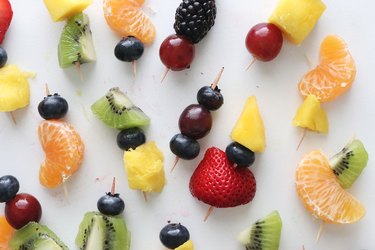 Add a few pieces of fruit to each toothpick. Set aside a few loose pieces of fruit to fill in gaps.
How to Make a Dessert Letter Board
You might have seen dessert charcuterie boards at baby showers or other gatherings, but a back-to-school theme is fun and unique. Check out the following tasty ideas, which would also make great gift box contents for your child's favorite teacher!
‌Graham cracker pencils: ‌Use graham crackers and sweet toppings, like icing, fondant and sprinkles, to make dessert pencil crackers.
‌Notebook paper cupcakes: ‌Top cupcakes with a circle of white fondant and then draw blue and red lines to make paper. You can even make fillable cupcakes by cutting out the center, adding themed sprinkles and replacing the top before adding fondant.
‌Chocolate-covered fruit:‌ Dip strawberries, mandarin oranges or bananas into melted chocolate and freeze until firm. So delicious and easy!
6. Letterboard Charcuterie Board
Things You'll Need
Apple pretzels

Notebook paper cookies

Letter cookies

Pencil crackers

Fruit skewers

Black fondant

Mini cutting board

Fondant roller or rolling pin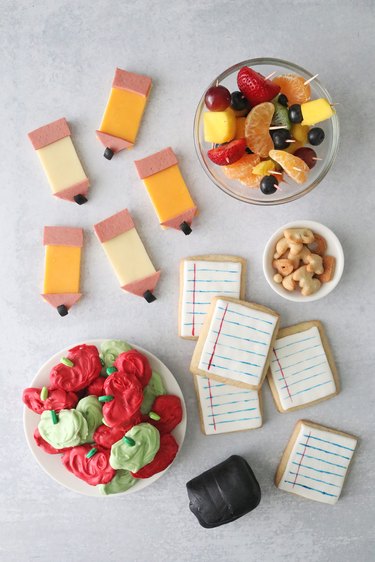 1. Roll out black fondant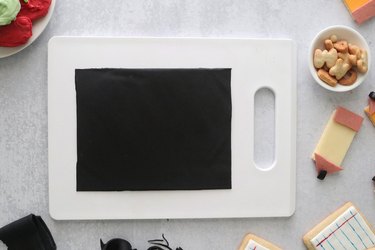 Roll out black fondant on cutting board. Trim each side to create clean edges.
Tip
To prevent fondant from sticking to cutting board, add a sheet of parchment paper (or food-safe wax paper) first.
2. Add back-to-school treats
Place letter cookies in center of black fondant. Arrange apple pretzels, notebook paper cookies, pencil crackers and fruit skewers around edges. Fill in any gaps with loose fruit; blueberries, grapes and mandarin orange wedges are especially helpful for this purpose.
Serve your tasty creation at a special event, like a back-to-school open house (consider placing ingredients in charcuterie cups for sharing) or simply have it waiting when your favorite student gets home after a successful first day back. Here's to a sweet school year!