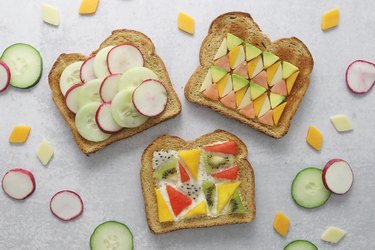 When it comes to simple breakfast or lunch ideas, you can't go wrong with a slice of toast. Just add a pat of butter and a spoonful of jam to whip up a quick, delicious dish. But why stop there? If you're looking to upgrade your next slice of toast (or make a unique food prop for the 'gram), check out these geometric designs made with popular toast toppings.
Our tutorial explains how to make three types of fancy toast: A funky triangle fruit version with cream cheese, a scalloped design made of cucumber and radish and a structured geometric pattern that combines avocado, cheese and smoked salmon. Yum! Each toast topping idea will seriously elevate your next brunch spread, whether you're hosting guests or making a meal for someone special. These designs work on any bread type, from gluten-free to sourdough to whole-grain breads, just to name a few.
Once you've created your geometric breakfast toast (and taken pictures, of course), pair the dish with brunch staples like crispy bacon, hard-boiled eggs or sweet potato home fries. The result will be a beautiful breakfast that's almost too good to eat!
Read on for three geometric toast recipes plus tips for customizing each one.
Video: Geometric Toast Recipes for a Colorful Breakfast Spread
1. Cream Cheese & Fruit Toast
Things You'll Need
Sliced bread

Cream cheese (softened)

Sliced dragon fruit

Sliced kiwi

Sliced mango

Sliced watermelon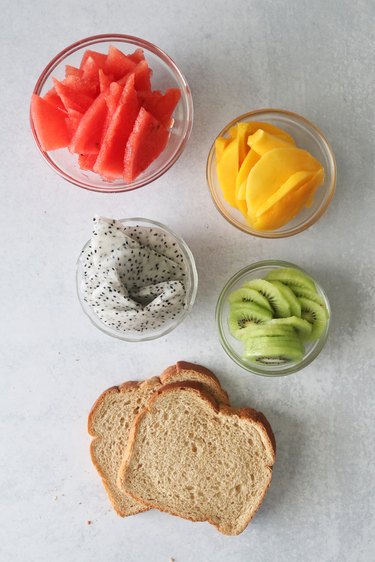 Tip
If you love ricotta toast, try using ricotta instead of cream cheese. If you prefer the combo of fruits and nut butter, go for a layer of peanut butter or almond butter. For a nut-free option, use sunflower seed butter.
1. Cut fruit into triangles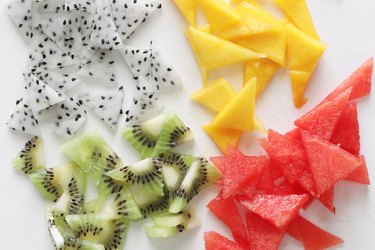 Slice fruit into triangles, making sure to vary side lengths. For example, avoid making only equilateral triangles, which have three sides of the same length.
Tip
The fruits listed in our recipe can be replaced with other fruits as long as they can be sliced thin. Examples include cantaloupe, honeydew, large strawberries, peaches or plums.
Toast bread. Let cool slightly and then add a layer of cream cheese.
Tip
Avoid adding cream cheese to the bread as soon as it comes out of the toaster. Allow proper cooling time to avoid melting.
Arrange fruit triangles atop toasted bread. We recommend starting around the border of the cream cheese and working inward. It might take time to find the best pieces for the toast (it's like a puzzle!) but keep in mind that you can always trim fruit as needed.
Tip
For a sweeter snack, add a drizzle of honey or maple syrup on the toast just before serving. You can also sprinkle chia seeds on top for some healthy fats and contrasting texture.
2. Scalloped Veggie Hummus Toast
Things You'll Need
Sliced bread

Hummus

Sliced cucumbers

Sliced radishes

Small circle cookie cutter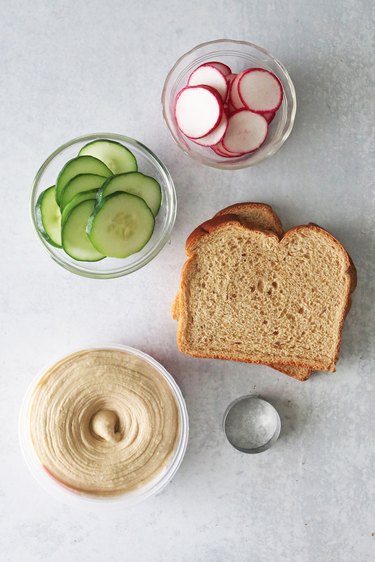 Tip
The cookie cutter will be used for cucumbers. Try to use one that's about the same size and width as radish slices. This way, the cucumber and radish slices will be about the same size.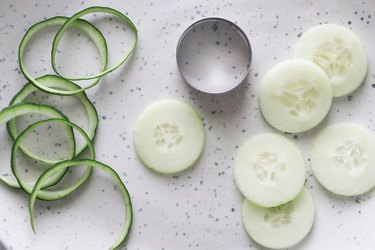 Press circle cookie cutter into cucumber slices.
Tip
Use cucumber scraps for a smoothie or salsa.
2. Spread hummus on toast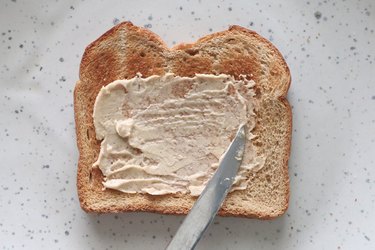 Toast bread and then spread a layer of hummus on top.
Tip
If you don't have hummus on hand, any spreadable condiment can be used for this savory toast recipe. Ideas include feta cheese dip, ricotta cheese or mashed avocado for a spin on avocado toast.
3. Layer cucumbers and radishes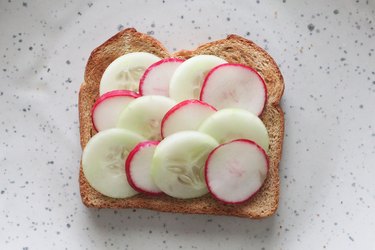 To complete your scalloped veggie hummus toast, layer cucumber and radish slices in an alternating pattern. Enjoy completed toast as is or sprinkle sea salt, everything bagel seasoning or dried herbs on top for extra flavor. A drizzle of olive oil would be delicious too.
Tip
For a cheesy take on this easy recipe, replace one of the vegetables with mozzarella circles. You can buy a sliced mozzarella log at the supermarket or slice a ball at home.
3. Savory Triangle-Pattern Toast
Things You'll Need
Sliced bread

White sliced cheese

Orange sliced cheese

Smoked salmon

Avocado slices

Small triangle cookie cutter

Small diamond cookie cutter
Tip
When choosing cookie cutters, make sure the side of the triangle is the same length as the side of the diamond. This will ensure shapes can fit together in a structured pattern. For reference, we used these mini cookie cutters from Amazon.
Use diamond cookie cutter to cut both cheeses.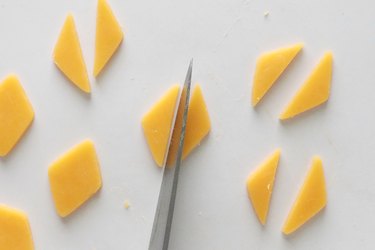 Slice diamonds in half. Each piece will form the "side panel" of the geometric pattern.
2. Cut salmon and avocado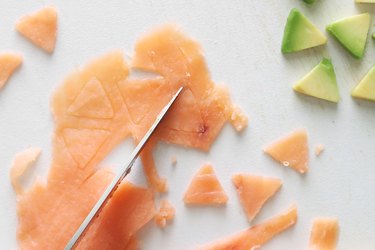 Use triangle cookie cutter to cut smoked salmon and avocado. Due to the texture of smoked salmon, you'll need to further trim it with a knife for a clean cut.
Tip
For best results, avoid using the diamond cutter with smoked salmon and avocado. Diamond shapes need to be cut in half, and salmon and avocado are too fragile to be further trimmed down. Alternatively, replace either ingredient with sturdier ingredients, like deli meat, cucumber slices or more cheese.
3. Arrange shapes on toast
Toast a slice of bread. Carefully place cheese triangles on toast so that points are facing each other. Fill in top and bottom with triangles of salmon and avocado. Repeat this pattern until toast is covered.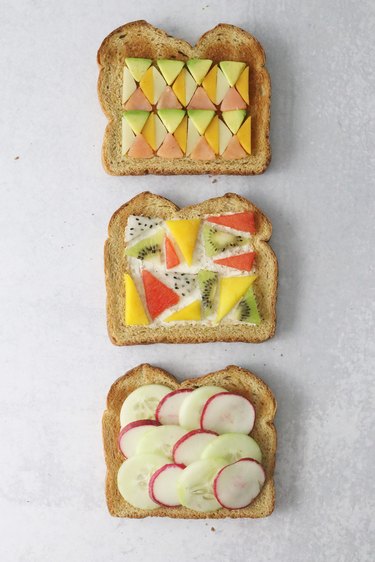 See you never, boring toast! With these eye-catching (and mouthwatering) recipes, you'll be looking forward to breakfast every morning—and you just might find yourself making toast for every meal.