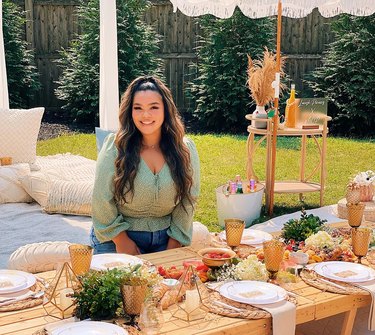 Ever seen a charcuterie board so stunningly arranged that you simply ‌have‌ to take a photo? Michelle Recarte, owner of New Jersey-based charcuterie business More Cheese Please, strives to cultivate that sense of enchantment. From intricate salami roses to tiny cheese letters to heart-shaped displays and beyond, Michelle has a real knack for making charcuterie boards as fun to behold as they are to eat. "I can't tell you how many times clients have been like, 'Oh, I can't eat it, it looks too good!'" she says.
In fact, it was the chance to take something culinary and transform it into a delicious, Instagrammable experience that sparked Michelle's passion for charcuterie in the first place.
In the spring of 2020, the recent Pennsylvania State University graduate found herself living back home with her parents. Her dream job offer from one of the country's premier hotels for events was rescinded due to COVID-19. "I was devastated and didn't know what to do," she says. "For months, like the rest of the world, I was home not doing anything."
And then, inspiration struck—in the form of cheese. The concept of a charcuterie business simply popped into Michelle's mind. She hopped on Instagram and noticed there wasn't much of a charcuterie presence on social media nor any similar business in her area. "I can't say the idea stemmed from a past history or a love of cheese," she explains. "It was a random thought, and I decided, 'Let's try it! Why not?'" She came up with the business's name, More Cheese Please, on a Tuesday. By Wednesday, her Instagram account was up and running. By the end of the week, 20 orders had been placed.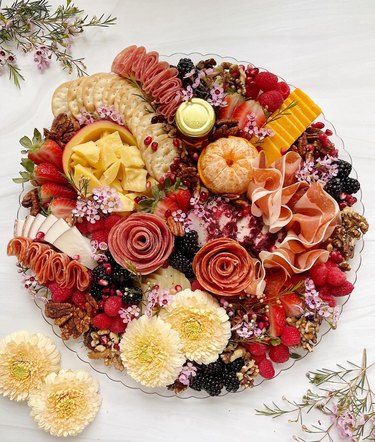 Three years later, Michelle caters events and teaches workshops about building the perfect charcuterie display. Her delicious creations and how-to videos have garnered over 6,000 followers on Instagram and nearly 4,000 on TikTok—and counting. We chatted with Michelle to learn more about her inspiration, the magic of charcuterie and how to build the perfect board.
When did you first think you might become a culinary artist?
‌MICHELLE:‌ I initially wanted to be an event planner but wound up with a bachelor's degree in hospitality management. I've always been a social person, so it was really the right fit for me. In one of my college classes, we ran a café. We had to manage the café, serve food and work with customers. It was cool to be on the back end of that, run the books and learn everything that goes on behind the scenes in a kitchen. I loved catering to people and making their experience fun. It's funny because that's what I do for a living now! Such a full-circle experience.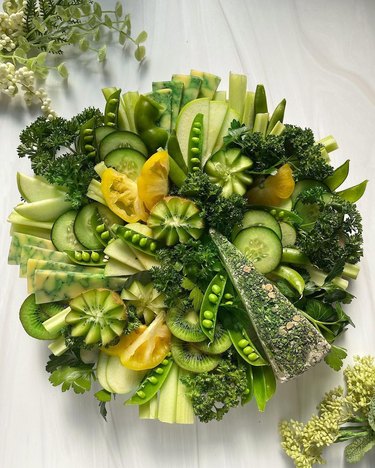 ‌MICHELLE:‌ Charcuterie has been around forever, but I think it's become more popular because of the aesthetic. Everyone wants a nice focal point at their events, especially after so much isolation during the pandemic. People missed having events, so they want theirs to be as beautiful as possible now. I think charcuterie just adds a bit of razzle-dazzle to any get-together. Charcuterie also creates an ice-breaker because people notice and say, "Look at that table, it's so pretty!" It draws people in to gather, chat and eat.
What to Put on a Charcuterie Board
Want to build a better charcuterie experience at home? Expert Michelle Recarte suggests following this mini guide to ensure a balance of flavors and textures on the board.
‌1. Pick three kinds of cheese. ‌For variety and balance, include three types of cheese from these categories: goat's milk cheese, sheep's milk cheese and cow's milk cheese. In practice, that might look like blueberry vanilla goat cheese, manchego and mozzarella.
‌2. Pick two types of meat.‌ Add at least two meats to accompany the cheese. Crowd-pleasers include hard salami and prosciutto di Parma. "If you prefer a sweet and spicy vibe, I'd definitely recommend adding a hot and sweet soppressata," says Michelle.
‌3. Add a sweet touch.‌ Including a jam or honey on your board brings a touch of sweetness and rounds out the flavor.
When building a board, what's the most important thing to keep in mind?
‌MICHELLE:‌ I try to make sure flavors are balanced. You can explore, but you want to create a theme or trend of flavors within the board. For example, when I include garlic and sun-dried tomatoes, I also incorporate mozzarella because those flavors go hand in hand. I like to use items that pair well and place them near each other so you have a "guide" while you eat.
A lot of chocolate pairs well with cheese. Dark chocolates go well with sharp cheddars. You wouldn't think that because they're both sharper flavors, but they complement each other so well.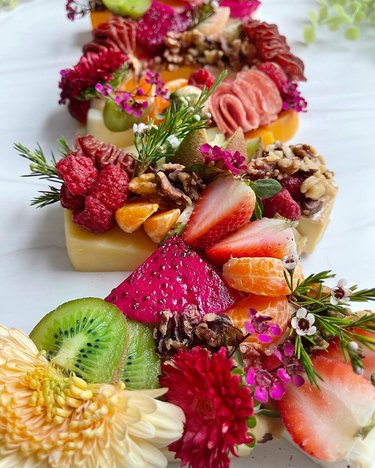 When to Serve Charcuterie Meats & Cheeses
"The peak of the flavor for most meats and cheeses is 20 minutes after you take it out of the fridge, so make sure you allow time for that before serving." —Michelle Recarte
Your boards are so visually appealing. How do you achieve those pictureworthy looks?
‌MICHELLE:‌ For full letter and number boards, I buy premade cardboard boards at craft stores. I cut and peel the top to create a hollow shape, fill it with cheese and build the board with that.
As far as cheese cutouts, I'll start with sliced provolone cheese and cookie cutters. You always want the cheese to be a little firmer, so you can freeze it for about 15 minutes before using cookie cutters. These are everyone's favorite boards because they add a personalized element. You can have the letters spell out special messages, like "Happy Birthday," or add someone's name. It's a cool custom touch. Just a slice of cheese and some cookie cutters will do the trick!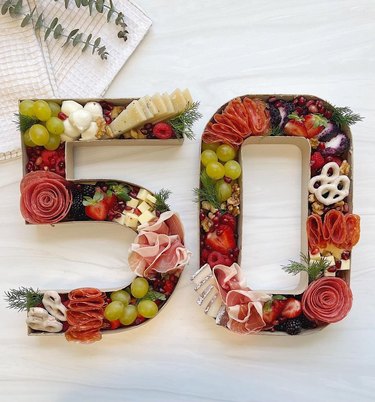 What's your favorite kind of board to create?
‌MICHELLE:‌ Brunch grazes are my favorite because they incorporate everything from lobster tails to macarons. The main difference between a brunch graze and a lunch or dinner charcuterie board is the extra carbs. I like to use different pastries—waffle bites, mini bagels, croissants and all that fun stuff—to add a brunchy appeal. I also like to incorporate chocolate for a sweet touch, plus meats and cheese.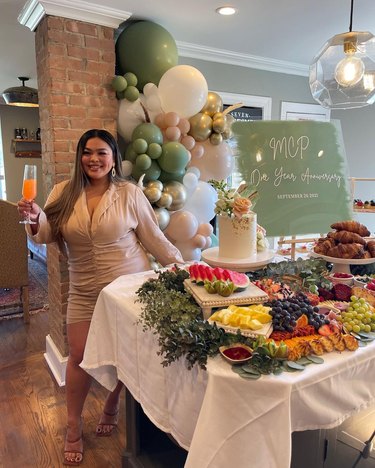 How to Make a Charcuterie Board "Char-beautiful"
Michelle offers simple tips for getting your charcuterie board ready for its close-up.
1. ‌Use a round board to build on.‌ "All boards can be beautiful, but I find a circular board easiest to work with," says Michelle. A circular board creates a cohesive aesthetic. By following the curve of the board with your slices of cheese, you can effortlessly build a visually appealing display.
2. ‌Arrange from biggest to smallest.‌ Start with the cheese first. It's the star of the show, after all, and you'll want to make sure you have enough space for it. Continue by arranging items from largest to smallest, finishing off the display with small garnishes, like nuts or pomegranate seeds.
3. ‌Don't forget to add dimension and volume‌. "It's like architecture," says Michelle. "You're building something. You never want to have a flat board." She says forming piles of different cheese types and berries adds height, creates a fuller effect and introduces depth to the display.
What's been your biggest charcuterie mishap?
‌MICHELLE:‌ I dropped a board in front of my client! I had to make it all over again from scratch, right before their event. Honestly, though, I think it's a misconception that charcuterie has to be perfect. A lot of the food creates the aesthetic for you. It's not about if your cheese slices are perfectly even or if your meats are folded just so. At the end of the day, it's art—and everyone's art is beautiful.
Michelle Recarte's Charcuterie Best Bets
Charcuterie pro Michelle Recarte breaks down her charcuterie board go-tos and must-haves:
‌Best charcuterie cracker:‌ "Carr's water crackers are my pick!"
‌Favorite charcuterie combo:‌ "A water cracker (original flavor) with hot soppressata and manchego. I have a custom homemade strawberry honey that I'd drizzle on top."
‌Best fruits for the board: ‌"Strawberries or kiwi flowers. I also have an Instagram tutorial for making blueberry flowers!"
‌What's in her grocery cart:‌ "Lately, it's been boursin cheese."
‌Must-have tools for the perfect board: "‌A board and a knife—that's really all you need."
‌Favorite place to go for charcuterie inspo: "‌Instagram, for sure. I like @blissandboards."
‌Motto:‌ "Don't overthink it too much. The hardest part is starting, so just start!"