What's more wonderful than bread? Bread that's almost too pretty to eat, of course! We're big fans of beautiful bakes—and it doesn't get much more delightful than decorated focaccia bread. This delicious Italian bake is magnificent on its own, particularly when it's packed with rich flavors, like rosemary, sea salt, chives and olive oil. But while plain focaccia is fantastic, the emergence of focaccia bread art has brought a brilliant, colorful spin to the foodie world. Think: lovely loaves of golden brown focaccia decorated with artistically arranged bell peppers, fresh herbs, crisp garden veggies and more.
Whether you're planning to whip up your own loaf of edible art or simply want to appreciate the talents of social media bakers, our roundup of the prettiest focaccia bread art will leave you impressed...and hungry. Don't say we didn't warn you!
It's almost impossible to go wrong with a traditional garden design atop a loaf of focaccia, and TikToker @teri.mohi certainly does it well. The baker whips up a batch of focaccia dough and tops it with freshly sliced onions, olives, tomatoes and more to create a flower garden scene. We can almost smell that mouthwatering aroma as the loaf settles.
TikToker @mcfadyenclan puts a lovely spin on the standard focaccia garden by creating a "feminine focaccia" loaf, which features green sprigs, herbs and veggies in the shape of a woman. We love the addition of a red bell pepper smile and dangly tomato earrings. How fun!
Here's another fun work of art from @oakcitysourdough on TikTok, who creates a full-blown focaccia bouquet by placing real (and edible!) flowers onto dough after adding dimples with her fingertips. Of course, the loaf is drizzled with olive oil and topped with heart-shaped bell pepper bits to round it all out.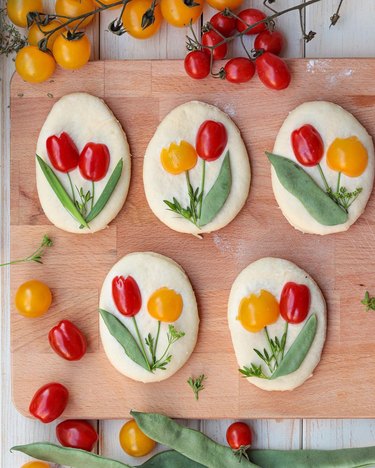 Instagram baker @pinguinaincucina puts a twist on the typical large focaccia loaf by creating mini focaccia ovals topped with decorative tulips. Each floral design is crafted with sliced cherry tomatoes, green herb flower stems and even a few pea pods. Wouldn't these be adorable for a baby shower or spring picnic?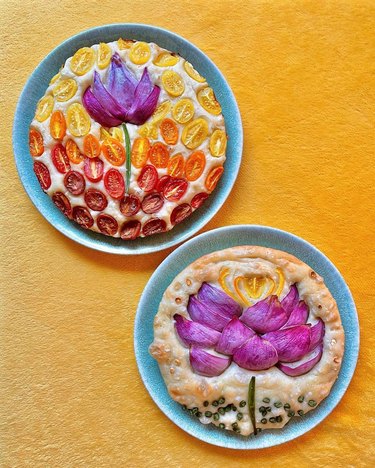 We're enchanted by this lotus-inspired focaccia from @pleasejazmine on Instagram, who tops her Italian bread with capers, cherry tomatoes, scallions, red onion and yellow bell peppers to create a stunning (and undoubtedly tasty) scene. We love the round shape of this focaccia and the attention to detail with each veggie's placement.
Most focaccia dough is topped with hearty flavors from veggies and herbs, but TikToker @linda__atkinson mixes things up by adding sugar and lemon-dusted nectarines and a sprinkling of cinnamon. Of course, a few sprigs of fresh rosemary round out the dimpled dough to create some of the prettiest (and sweetest!) focaccia we've ever seen.
7. Purple beetroot focaccia
If you're all about bright colors, you'll adore this beetroot focaccia from TikTok baker @addieblesausage. A classic focaccia garden design stands out against the purple hue, which is made by mixing beet juice and beetroot powder with all-purpose flour and other ingredients in a large bowl, covering it with plastic wrap and letting it rise like traditional sourdough. Let it rise, knead, add olive oil and decorate as usual—the results are eye-catching.
In another adorable twist, TikToker @foodwithliz uses sliced tomatoes, onions and a sprinkling of sesame seeds to create a cottagecore-esque mushroom design. Of course, there's a healthy dash of extra virgin olive oil and sea salt to round out the flavor and create that perfectly crispy yet chewy texture that makes focaccia so special.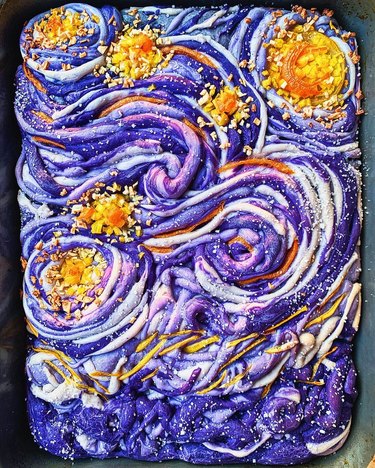 Instagrammer and cook @carolinagelen blows us away with this Starry Night-inspired focaccia, naturally dyed using butterfly pea flour. Finely chopped veggies and strands of focaccia dough are perfectly placed to create an intricate, vibrant design. We think Vincent van Gogh would be proud—and he'd probably want to take a few slices home!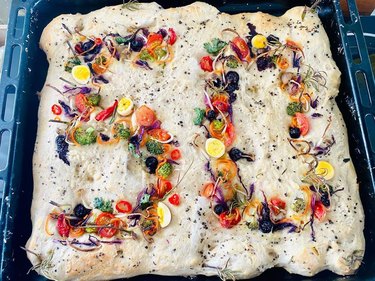 Some people prefer fresh bread to birthday cake, and we totally respect that. Instagrammer @gourmet.singapore shows off some fantastic decor inspo for "birthday focaccia" using loads of fresh veggies and even sliced hard-boiled eggs to spell out a loved one's age. A decorated birthday loaf would be perfect for a brunch get-together or even a pre-birthday dinner appetizer. The only thing missing is a smattering of birthday candles!
We don't know about you, but we're feeling pretty darn inspired to stretch our creative muscles and design some edible art of our own. These brilliant focaccia creations from across social media are simultaneously mouthwatering and enchanting—it doesn't get much better than that.