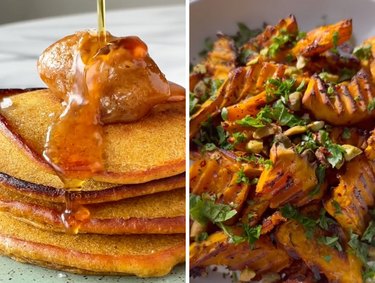 'Tis the season for all things pumpkin! When fall hits, everyone's favorite gourd takes center stage in home decor, festivities and—perhaps most importantly—food. While many of us immediately think of pumpkin spice lattes, pumpkin muffins and homemade pumpkin pie, there are so many other unexpectedly delicious ways to use this tasty ingredient. Combined with a spice blend of ground cinnamon, ground clove, ground allspice, ground ginger and ground nutmeg, pumpkin can be used in sweet creations of all kinds. (Here's to you, pumpkin spice ice cream!)
But don't forget about its savory uses. Pumpkin (and pumpkin spice) is amazing in chili, soups, pasta dishes and more—even hummus! With these fun twists on easy fall recipes in mind, we've rounded up some of our favorite unique pumpkin recipes from social media foodies so you can enjoy the flavors of fall in brand-new ways.
1. Pumpkin Spice Pancakes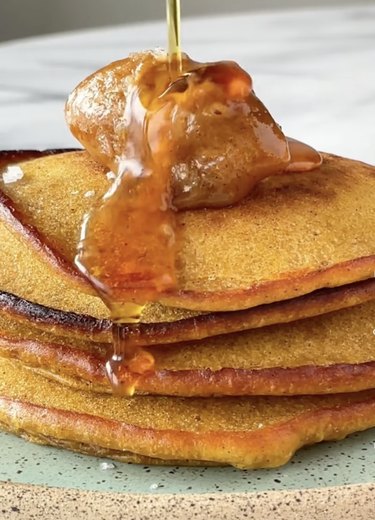 We're not exaggerating when we say we would risk it all to get a taste of these pumpkin spice pancakes from @carolinagelen on TikTok. They're aesthetically pleasing, they're the perfect thickness and they're topped with plenty of pumpkin butter and syrup. @carolinagelen includes plenty of spices in her batter and whips up an impressive stack of seasonal flapjacks that's almost too beautiful to eat. (Almost!)
2. Pumpkin Spice Cream Cold Brew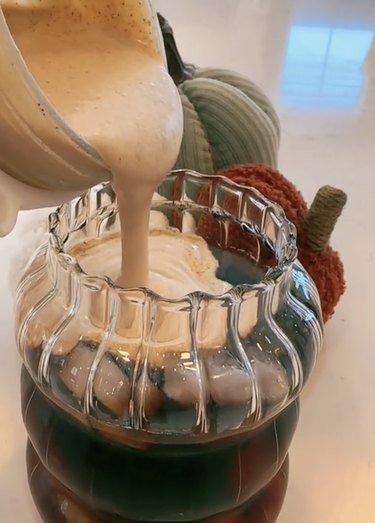 It's fall, so you know what that means: Starbucks (and pretty much every other coffee shop on the planet) has released the famed pumpkin spice latte. But the PSL's underrated sister, the pumpkin spice cream cold brew, is this writer's favorite fall drink. Save some bucks and a drive by making your own pumpkin spice cold foam at home using TikToker @jlorenward's recipe. You'll need heavy cream, canned pumpkin puree, brown sugar, vanilla extract and pumpkin pie spice. Froth it all together, top off your cold brew and enjoy a perfect fall treat—regardless of the temperature outside.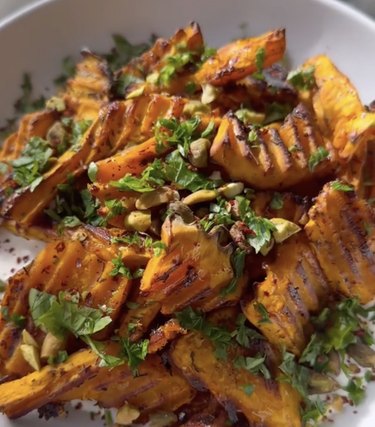 Yes, you read that right: pumpkin fries! Take a savory approach to the pumpkin trend with a little help from TikToker @ketorecipes. This recipe uses pumpkin wedges tossed in oil and spices and roasted in the oven. @ketorecipes serves them with lebneh as a base and tops with pistachios, parsley and chili flakes to add to their heated spice mix, but you could try this with Italian seasoning or other savory spices. If you're feeling extra creative, make it sweet with cinnamon, sugar and warming spices! Fries will never be the same.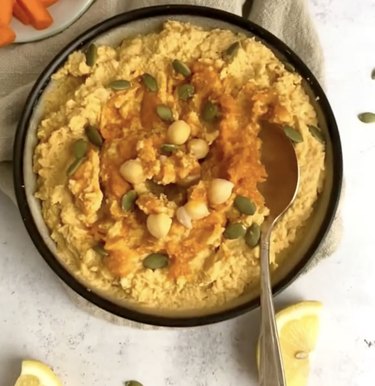 We love hummus. We love pumpkin. Therefore we absolutely ‌adore‌ pumpkin hummus, and you'll probably feel the same way when you dig in! TikToker @elizabeths_table shows off a fun fall update to a party and charcuterie board favorite. Her savory recipe calls for chickpeas, pumpkin, tahini, garlic, lemon juice, cumin and salt. Blend together in a food processor and top with pumpkin seeds for a fall aesthetic! (Pro tip: Pumpkin hummus is best enjoyed on a blustery fall day while watching a beloved autumnal film. ‌When Harry Met Sally,‌ anyone?)
5. Pumpkin Spice Overnight Oats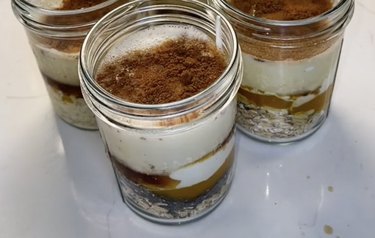 Meal planning meets fall vibes! If you're a meal prepper (or just a breakfast enthusiast), check out these pumpkin spice overnight oats from TikToker @briannaancheta. Layer together oats, chia seeds, canned pumpkin, Greek yogurt, milk, vanilla extract, pumpkin pie spice (homemade or store-bought) and maple syrup in a Mason jar or an airtight container. Place in the fridge overnight and voilà! An easy, delicious breakfast perfect for cozy fall mornings. Add-ins could include nuts, dates or dried cranberries. This TikTok creator also added vanilla crème sweet drops for sweetness, but you could include honey or a little sugar. Delicious!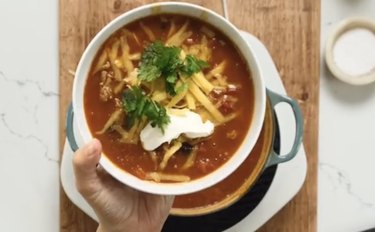 Chili and ‌chilly‌ weather are pretty much meant to be together. Why not give your chili a pumpkin twist? @kelseynixon on Instagram provides an easy one-pot pumpkin chili with ground turkey (but you could also sub ground beef). Top with cheese and sour cream for a delectable autumn meal.
7. Pumpkin à la Vodka Pasta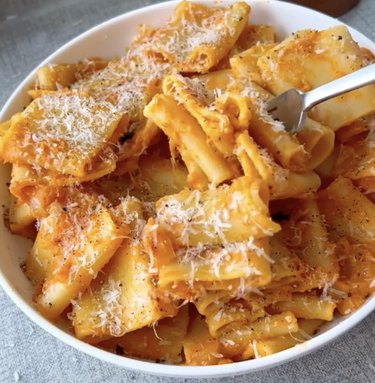 There's nothing quite like a delicious, filling bowl of pasta, especially in the chillier months. Add some pumpkin and ground nutmeg to the sauce of this unique pasta recipe from TikToker @everything_delish to make it suit the season. Of course, no pasta dish is complete without a healthy dose of cheese, so shave some Parmesan on top and serve with crusty bread.
8. Rice-Stuffed Mini Pumpkins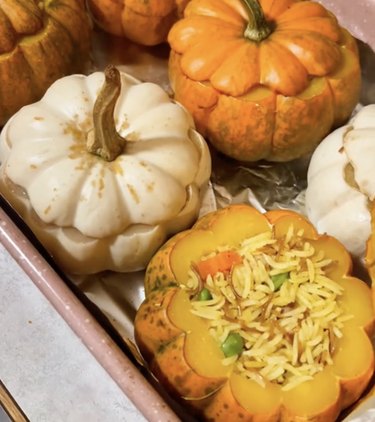 Stuffed peppers get plenty of (well deserved) love for their flavor and versatility. But have you thought about switching up the vessel? Enter: stuffed pumpkins! To give it a try, check out this stuffed mini pumpkin recipe from TikToker @positivethingshappening, which would also make a beautiful Thanksgiving dish. Fill hollowed-out mini pumpkins with a delicious blend of rice, herbs and spices (ground beef would be tasty too!), then bake in the oven to make what might be the most festive fall meal imaginable–with a subtle yet undeniable dash of pumpkin flavor.
9. Pumpkin Spice Ice Cream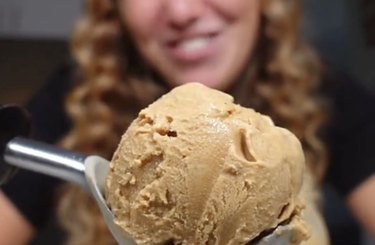 If you're anything like us, you firmly believe that ice cream is a year-round treat and not just limited to summer. Add some fall flavor and pumpkin spice to this dessert staple with TikToker @icecreamwithjules's recipe, which combines pumpkin pie spice, pumpkin puree, sweetened condensed milk, instant coffee, whipping cream and plenty of sugar. The best part? All you have to do is pour ingredients into a Mason jar, give it a good shake and let your freezer do the rest!
10. Classic Pumpkin Bread
Last but certainly not least, a true fall classic: pumpkin bread! This tasty loaf is a fall baking fave because it can be served for breakfast, as a meal side or just as a snack—and there are so many variations on the recipe. This option, from Instagrammer @scientifically.sweet, features a sweet cinnamon swirl running throughout the bread. And what says "fall flavors" more than streusel made of toasted pecans and brown sugar? Yum!
We hope these new recipes have inspired you to do some fall baking and cooking of your own with the tasty and versatile pumpkin! From pumpkin desserts with a dash of spice to savory recipes, there's so much deliciousness to be discovered.