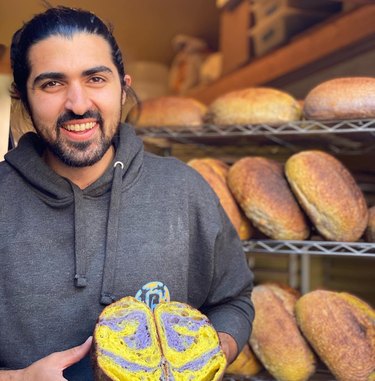 For Häsi Bread founder Matias Barang, it all began in the back of a van—a bakery van, that is! The Austrian-Afghan-American baker, who is known for his brightly colored sourdough creations, had an unconventional start in the bread business. "My mom, who immigrated to the United States from Austria, started a bread company with her best friend in the mid-1990s," says Matias, who is based in Los Angeles. "I still remember being picked up from school, cramming into the back of a van brimming with bread mix and flour!"
And so a love of bread-making was born—though it took a few twists and turns before Matias realized baking was his calling. In fact, Matias was in the middle of applying to med school when he took a trip to his mother's native Austria and, in a tiny mountain village, discovered generations-old recipes that would lead to the birth of his business Häsi Bread.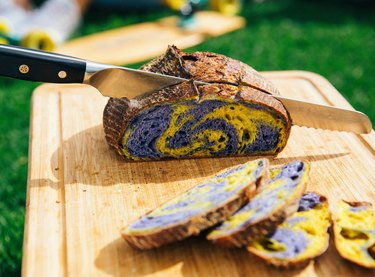 Today, Matias' artisan bakery sells sourdough nationwide through its website and in farmers markets throughout Southern California. You might have even spotted his unforgettable blue and yellow loaves—in fantastic flavors like poppyseed and roasted garlic—on Instagram.
We spoke to Matias about his unconventional path to baking, how his dual heritage is represented in every single loaf and, of course, his beloved sourdough starter, Dwight.
How did a trip to Austria inspire your bread business?
‌MATIAS:‌ I've always been surrounded by amazing food and bread from different cultures. My mom is Austrian and my dad is Afghan, so honoring food and traditions from different backgrounds is just a part of who I am. With my mom's bread business in the 1990s and growing up around that, I never lost those connections to my parents' heritage. Then in 2017, I visited my sister-in-law in Austria, where her family has been baking bread in a tiny village for something like 160 years. During our trip, she and her family sat me down and shared a whole list of bread-making tips. And something was sparked in me.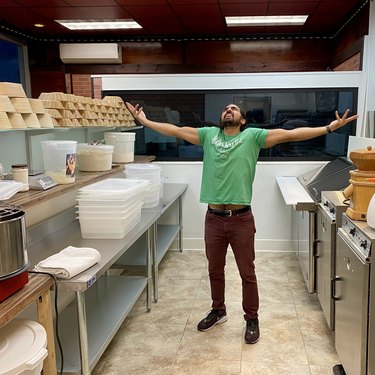 How did you turn your hobby into a business?
‌MATIAS:‌ After my trip to Austria, I went back to studying for my MCAT, applying to med school and working full-time at an advertising agency. But on the weekends, I was putting more and more creative energy into bread and experimenting with different colors and ingredients. I made my own sourdough starter—it took about two weeks—and named it Dwight after the charater in ‌The Office‌. It's the same sourdough starter we use today.
When I was baking, it was just me and the dough. I loved how it felt in my hands and the visual elements. So I shifted away from medicine and finally, in January 2020, signed a lease for a bakery. Perfect timing, right? It's another sad COVID story, but we created a very different, beautiful thing for the neighbors and a much more grassroots approach as a result. I actually ended up baking and selling from a shed at my parents' house. With my dad and some friends, we built the shed and converted it into a bakery with water, power, sewage and everything. And everything grew from there.
Häsi? What Does That Mean?
The short answer is that Häsi is Matias' childhood nickname. "In German, the slang version of my first name is Hias," he explains. "My brother mispronounced it as Häsi when we were younger, and the nickname stuck! That's what my family still calls me to this day."
Your bread is so visually unique. What's the story behind the colors?
‌MATIAS:‌ Our slogan is "Art Is in Bread," and I really stand by that. Häsi bread has a really distinctive color scheme of purple and yellow. A lot of the visual part is sort of psychedelic-inspired, but the colors themselves come from butterfly pea flower and turmeric. They both change the color of the water, which changes the color of the dough. Butterfly pea flower is an antioxidant that's used to make tea, cocktails or lemonade, but when you introduce an acid to it, it turns purple. So it's a really fun ingredient. Initially, I made a purple loaf and then a yellow loaf. Later, I developed a marbling technique to weave both colors together in a pattern that's always different and just so fun to cut into.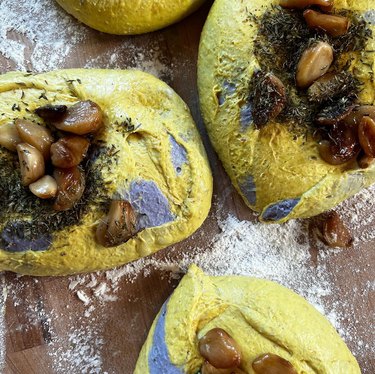 You clearly put so much thought into every loaf. Why is bread so meaningful to you?
‌MATIAS:‌ Honestly, each loaf of bread is a reflection of who I am as an Austrian-Afghan American. Rye is reminiscent of my Austrian heritage, and it's the most European-styled grain you can use for bread. We also use ‌khorasan‌ or ‌kamut‌, a form of wheat that originates in the Khorasan region, which is modern-day Afghanistan—that's where my dad is from. So the loaves represent every part of my story. We bring in other cultures too through our sourced ingredients. Our turmeric comes directly from an Indian farm, while the pea flower is from Thailand. The salt that we use is an ancient sea salt. It's a mineral salt, so it's actually pink—it comes from Utah, and it's called Redmond Real Salt.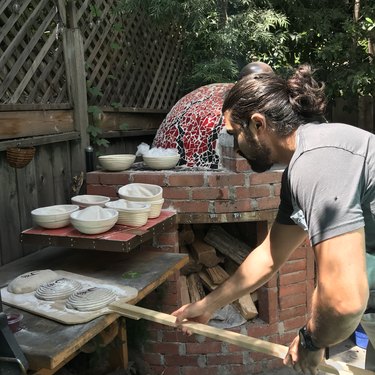 What's on the horizon for the bakery?
‌MATIAS:‌ The dream is to have a retail storefront and really just be with the people. I love sharing the product. I love being the face of it and interacting with people, getting feedback, changing things and making the best product we possibly can—that's why I love farmers markets. The dream is to create a place in a neighborhood where people appreciate the product and come in every day to get their fresh baguette, rolls or whatever it might be. I want it to be the people's company. What I envision next is folding in the community so people who believe in the product can feel part ownership of it.
How to Get Your Hands on a Häsi Loaf
"People can still come pick up bread weekly from the house, but we've expanded so much," Matias says. Häsi Bread has a presence at eight market locations throughout Southern California and delivers bread to Erewhon markets in L.A. "We've also partnered with a couple local co-ops and have deals with online grocery stores like Imperfect Foods. And customers across the country can also order from our website for national delivery."
What's the most meaningful part of Häsi Bread?
‌MATIAS:‌ Oh, man, I'm getting a little emotional thinking about this. I've given away so much bread to people, especially at the beginning of the business, when I was just trying to share the craft. During the early days of the pandemic, we were able to gift bread to restaurant workers. Sometimes people will say things like, "This is the best bread I've ever had in my life," and that feels good, of course. But when someone comes back after years and remembers me giving them a loaf of bread at a farmers market because they couldn't afford it, that's the most rewarding feeling. It's not a cheap product. But if I could give it away for free, I would.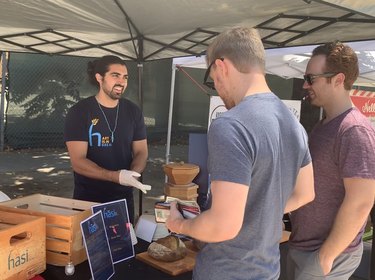 Do you have any advice for others who want to follow their passion?
‌MATIAS:‌ Be persistent and consistent, especially when the fun stuff gets hard. If you decide you want to make your passion your work, it ‌will‌ get hard. This is where you need to be persistent—continue doing what you do even when you feel tired, it's raining or the roof is coming down. Find a way to keep going and show up. People don't see the push that goes on behind closed doors, but they might in five years. When they're surprised at how far you've come, you won't be.