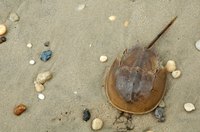 Summers on the beach are wonderful experiences for the old and young alike. If you've had a particularly memorable beach vacation, the chances are you want some keepsakes to remember your vacation by. Horseshoe crab shells can make an excellent keepsake of that special summer vacation at the beach. For a horseshoe crab to be a good keepsake, it must be properly preserved.
Things You'll Need
Bleach
Container large enough to soak the horseshoe crab in
Lacquer
Soak the horseshoe crab in water to loosen up any pieces of junk that may be clinging to the exoskeleton. Scrub the crab with a brush and make sure that all sand and other debris are removed.
Soak the crab in diluted bleach for about half an hour. You should use about half a cup of bleach for every three gallons of water that you soak the crab in. Soaking in the diluted bleach solution sanitizes the horseshoe crab and helps loosen up any more dirt that may be clinging to the crevices of the shell.
Rinse the horseshoe crab shell and let it dry thoroughly.
Pose the crab in a position that you would like it to be in after it's been preserved. Think carefully about how you want it to look and position it creatively.
Put enough lacquer in your container to bathe the crab shell in. You may need to use lacquer thinner to make the lacquer thin enough to bathe the crab in. Place your crab in the bath of lacquer.
Remove the shell carefully from the lacquer and let it dry. It should dry after about 10 minutes and will have a sleek shine and will be well preserved for generations to come.