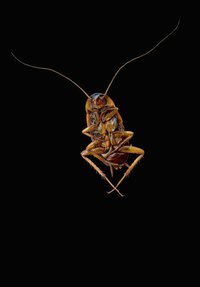 There is a long-standing joke that cockroaches would survive a nuclear attack or cataclysmic event that destroyed all other life on the planet. For most people, however, roaches are not a laughing matter. While keeping a clean house is important in avoiding infestation, sometimes the creatures will still take up residence, necessitating more drastic action. Homemade roach baits may help in repelling and killing the invaders without adding harsh chemicals to your home
Things You'll Need
4 oz. shortening
2 oz. sugar
8 oz. flour
8 oz. powdered boric acid
1/2 medium onion, chopped
Water
Mix the shortening and sugar together.
Combine the flour, boric acid and onion.
Add the shortening mixture to the flour mixture. Mix thoroughly.
Stir in water to make a dough.
Roll the dough into small balls and place them in areas where roaches have appeared. If you have small children or pets, place the bait in an empty plastic soda bottle, capped, in which you have cut a slit just large enough for the roaches to enter.