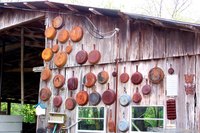 Cast-iron skillets remain a part of many kitchens because of their durability, even heat distribution and rustic appeal. They may be handed down through generations, found at flea markets and purchased new, but all require maintenance by proper cleaning and seasoning. Cast iron may be the easiest of all cookware to care for once seasoned properly, note Brook and Barbara Elliot of Mother Earth News. If cast iron becomes rusty, it is not ruined. With a little effort, even a skillet that has been neglected for years can be restored to good working order.
Things You'll Need
Rubber gloves
Soft dish washing brush
Dish detergent
Steel wool soap pads
Clean rags
Vegetable oil or cooking fat
Kitchen oven
Pot holders
Cleaning
Scrub the skillet in your kitchen sink with a soft dishwashing brush, liquid dish detergent and hot water. Scrubbing removes a great deal of the surface rust and old grease.
Put on rubber gloves to protect your hands. Moisten a steel wool soap pad with water. Scour the skillet with the soap pad to remove stubborn rusty spots.
Rinse well, dry with a rag and check thoroughly for even the smallest speck of rust or old grease. All residue must be removed before proceeding.
Seasoning
Heat the oven to 250 degrees.
Coat the entire skillet with cooking oil or fat using a clean rag. Coat the skillet completely. Any area left without an oil coating will be prone to rust again.
Place the oiled skillet in the hot oven, close the oven door and leave for 30 to 40 minutes. Timing is not critical.
Turn the oven off and allow it to cool. Remove the skillet with a pot holder and wipe off any excess oil with a clean rag.
Check again for any uncoated spots on the skillet. If needed, reapply oil and return to a 250-degree oven to ensure even distribution of the oil coating.