Add these red velvet pancakes with whipped cream cheese topping to your next special occasion breakfast menu! These red velvet pancakes are so delicious, light and fluffy and are incredibly simple and quick to make. The perfectly sweet whipped cream cheese topping only makes them better too! Serve them however you would like, but we love a generous topping of fresh raspberries and a sprinkle of white chocolate chips!
Things You'll Need
7.4 ounces (210 grams) all-purpose flour
4.9 ounces (140 grams) granulated sugar
1 ounce (30 grams) cocoa powder
2 1/2 teaspoons baking powder
1/2 teaspoon baking soda
1/2 teaspoon salt
11.8 fluid ounces (350 milliliters) whole milk
2 large eggs
2 teaspoons vanilla bean extract
1.8 ounces (50 grams) unsalted butter, melted
1 tablespoon red food coloring
Neutral oil or butter, for frying
8 ounces (226 grams) cream cheese, at room temperature
3.2 ounces (90 grams) unsalted butter, at room temperature
13.2 ounces (375 grams) powdered sugar, sifted
2 teaspoons vanilla bean extract
2 fluid ounces (60 milliliters) heavy cream
Fresh raspberries, for serving
White chocolate chips, for serving
Step 1: Combine the dry ingredients
In a large mixing bowl, whisk together the all-purpose flour, granulated sugar, cocoa powder, baking powder, baking soda and salt.
Then, use a wooden spoon to create a well in the center.
Step 2: Mix in the liquid ingredients
Whisk in the whole milk, eggs and vanilla bean extract until evenly combined.
Then, pour in the melted butter. Whisk until well combined.
Add in the red food coloring. Mix until evenly distributed throughout the batter.
Step 3: Fry the pancakes
Place a small, non-stick frypan over medium-low heat and brush the pan with oil or butter.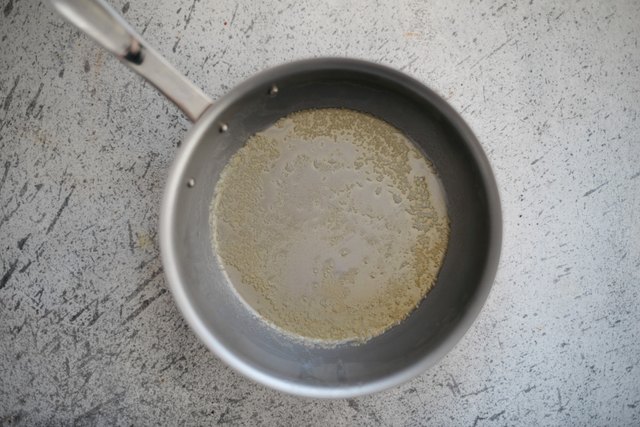 Tip
When the oil or butter is beginning to sizzle, it is time to start frying the pancakes.
Using a small ladle or a 1/4 cup as a measure, scoop the pancake batter into the fry pan. Fry on one side, for 3 to 4 minutes, or until small bubbles are beginning to form around the edges and in the middle of the pancake. Then, use a rubber spatula to carefully flip the pancake onto it's other side. Fry for a further 2 to 3 minutes, or until the pancake is firm in the center.
Set the pancake aside on a plate and repeat the frying process with all of the remaining batter.
Step 4: Make the topping
Next, make the whipped cream cheese topping. Combine the cream cheese, butter and powdered sugar in the bowl of a stand mixer fitted with the whisk attachment. Whisk, on medium speed until light and fluffy, about 3 to 4 minutes. Pause mixing and pour in the heavy cream and vanilla bean extract. Resume mixing and continue to whisk until the mixture is thick and fluffy, 3 more minutes. Set the topping aside in the refrigerator until needed for serving.
Step 5: Frost and decorate
Frost the pancakes with a generous amount of the whipped cream cheese topping, or, if you are catering for a crowd, simply place it in a small bowl and set it on the side. Decorate the pancakes with a handful of fresh raspberries and a sprinkling of white chocolate chips.
Step 6: Serve the pancakes
These red velvet pancakes are best served warm, fresh on the day of making.
If you desire, you could also keep the pancakes on a plate covered with a layer of aluminium foil and store them in the refrigerator for up to three days. Reheat before serving.