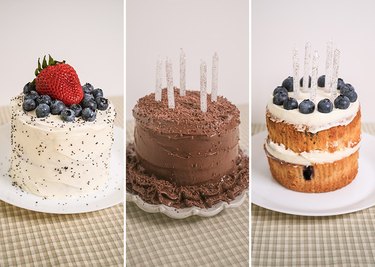 Doesn't it always feel like there's a birthday party lurking around the corner? Luckily, we've got a delightful (and tasty) gift you can whip up last-minute that's sure to be well-received: the birthday cake! Whether you're looking for a fresh take on a cake or need to put something together in a pinch, these three mini cakes made from Costco muffins are an adorable (and affordable) option. Best of all, because these jumbo muffins are so substantial, they make the perfect cake base with no cake mix or cake baking necessary.
If you're familiar with Costco muffins, you might already have a go-to flavor. We went with a delectable trio made from three classic Costco muffins: poppy seed muffins with lemon frosting, blueberry muffins with vanilla frosting and double-chocolate muffins with chocolate frosting. Each cake is made with two muffins and store-bought frosting for easy assembly and a simple ingredients list. After all, the toppings are what make these cakes shine!
So, let's get ready to transform these Costco bakery classics into cute, crowd-pleasing cakes!
Idea 1: Lemon Poppy Seed Cake
Things You'll Need
2 Costco poppy seed muffins

Vanilla frosting

Lemon extract

Poppy seeds

Strawberries

Blueberries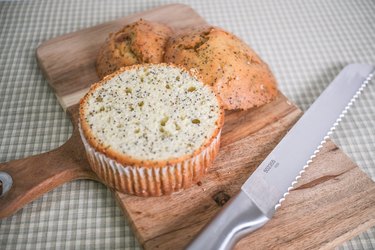 Using a bread knife, carefully cut off the top of the poppy seed muffins. Cut as evenly as possible to create an even, flat surface.
2. Flavor vanilla frosting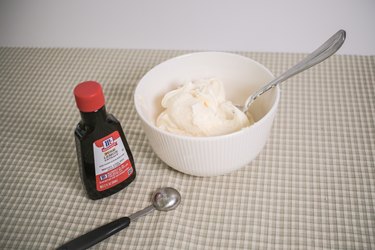 Lemon and poppy seed make a great pair. Add 2 tsp. of lemon extract for every 1 cup of vanilla frosting you use. Be sure to completely mix in the extract for consistent flavor.
Tip
If you're not the biggest fan of lemon, you could add strawberry extract rather than lemon or opt for a cream cheese frosting instead!
3. Frost top of one muffin
Create the frosting layer of the cake by topping one muffin with a generous portion of the lemon frosting.
4. Assemble and add crumb coat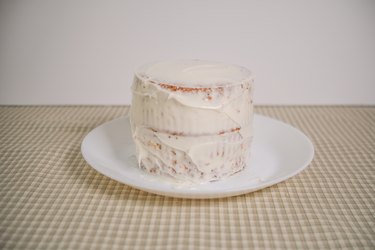 Stack the second muffin on top of the first but this time, set the muffin down so that the cut end faces downward into the frosting layer. This will give you a more level base for the top of your cake.
Next, add a crumb coat of frosting.
What's a crumb coat?
A crumb coat is a thin layer of icing that traps all of the cake crumbs (or in this case, muffin crumbs). After adding the crumb coat, place the cake in the fridge to chill. This sets the icing. When you add the next and final coat of icing, any crumbs will (if all goes well) stay encased in the crumb coat.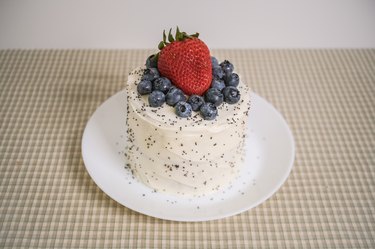 Add the final coat of frosting, smoothing it out as best as you can.
Sprinkle poppy seeds onto the sides and the top of the iced cake. Finish decorating by topping the cake with a large, ripe strawberry surrounded by fresh blueberries. Yum!
Idea 2: Chocolate-Chocolate Cake
Things You'll Need
2 Costco double-chocolate muffins

Chocolate frosting

1 chocolate bar

Candles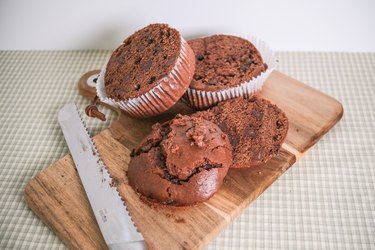 Carefully remove the top of the double-chocolate muffins using a bread knife, cutting as straight across as possible.
2. Frost top of one muffin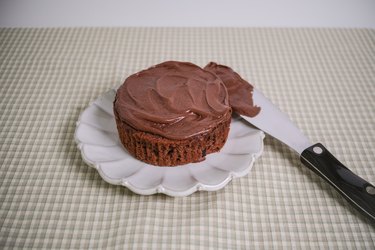 Top one muffin with a thick layer of chocolate frosting.
Tip
While we left our frosting layer simple, you could add chocolate chunks, chocolate chips or any other topping of your choice.
3. Assemble and add crumb coat
Add the second muffin on top of the first, placing the muffin cut side down into the frosting.
Next, add the crumb coat. Don't worry about how it looks—just be sure that the muffins are completely covered.
After letting the crumb coat set in the fridge, add one more coat of chocolate frosting and then pipe more chocolate frosting around the base of the chocolate cake using a decorative frosting tip and a plastic bag.
Lastly, grate a chocolate bar (we used semisweet) with a grater, creating enough shavings to top the whole cake. Sprinkle the shavings onto the sides and the top of the iced cake. Then, top off the chocolate cake with candles.
Idea 3: Vanilla Blueberry Cake
Things You'll Need
2 Costco blueberry muffins

Vanilla frosting

Blueberries

Candles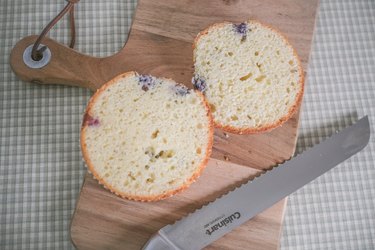 Cut off the top of the blueberry muffins with your bread knife.
Tip
If you're wondering what to do with your leftover muffin tops, we recommend making a muffin top bread pudding or turning them into crispy French toast.
2. Frost top of one muffin
Next, add a generous heaping of vanilla frosting to the cut top of one muffin.
3. Assemble cake and add frosting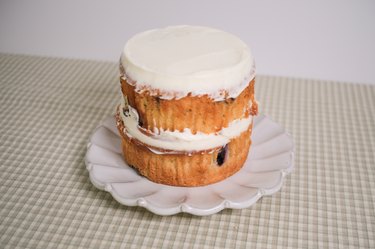 Add your second muffin, bottom side up. For this particular cake, we're skipping the crumb coat to achieve a Milk Bar-inspired "naked cake" look. Simply add a thick layer of frosting to the top of the second muffin, smoothing it out on the top and the sides.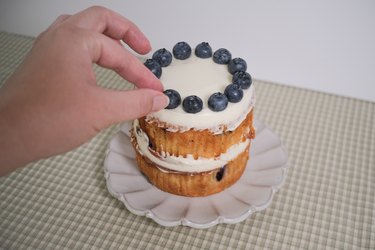 Complete your cake by lining the edge with fresh blueberries and adding some fun candles.
These mini cakes are sure to be a massive hit. After all, nothing says "happy birthday" like a cake (or three) decorated with love!