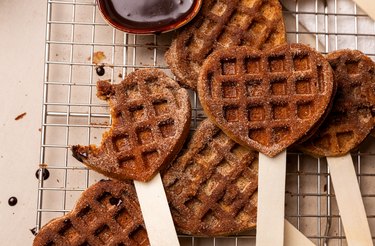 We're wild for waffles, especially when they're homemade. If you share our passion for this sweet and satisfying breakfast bite, you'll adore our easy and inventive take: mochi waffle pops made with cinnamon sugar.
Mochi is known for its stretchy and chewy texture, especially in desserts like butter mochi or mochi ice cream. This is because mochi is made with ground Japanese short-grain glutinous rice flour, which is high in starch. When these starches become hydrated and heated, they yield squishy, chewy and stretchy doughs.
And since mochiko flour is made with rice, it's naturally gluten-free and works well as a 1:1 substitute in many dishes—including waffles! By replacing all-purpose flour with mochiko, regular waffles become lighter and chewier. When you make this easy recipe for waffle pops, you'll find that they're just as deliciously flavorful as traditional Belgian waffles but with a bit less fluff and a bit more chew.
Tip
Change up this waffle recipe by adding mix-ins like coconut flakes or chocolate chips, flavorings like pandan extract or powders like cocoa or matcha. You can serve these waffles with maple syrup, peanut butter or even ice cream for a more indulgent dessert.
You can even use this same batter to make mochi pancakes or baked doughnuts! For doughnuts, we recommend using a doughnut pan and baking them at 350°F for 25-30 minutes. The options are endless when it comes to mochi batter!
For our waffle recipe, we chose a cinnamon sugar flavoring that's loaded with warmth and sweetness. After cooking the batter in a heart-shaped waffle iron, we brushed each mochi waffle with melted butter, coated them in cinnamon sugar and completed the mouthwatering project by adding a Popsicle stick for easy syrup dipping!
Ready to explore this easy breakfast recipe? We're sure you'll "heart" it as much as we do.
Video: Cinnamon Sugar Waffle Pops Made with Mochiko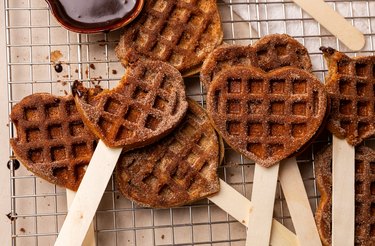 Quick Recipe Overview
‌SERVINGS‌:‌ ‌8 heart-shaped waffles‌‌‌‌
‌PREP TIME‌: ‌‌10 minutes
‌COOK TIME: ‌‌5 minutes
‌TOTAL TIME:‌ ‌15 minutes‌
Things You'll Need
Large mixing bowl

Small bowl or plate

Whisk

Rubber spatula

Cookie scoop

Tongs

Wire rack

Pastry brush

1 cup mochiko flour (sweet rice flour)

1 tsp. baking powder

1 tsp. cinnamon

1/2 tsp. salt

1/4 cup brown sugar

1/4 cup granulated sugar

1 large egg

1/2 cup milk

2 Tbsp. butter, melted and cooled

1 Tbsp. vanilla extract

Cooking spray

4 Tbsp. butter, melted and cooled

4 Tbsp. granulated sugar

1/2 tsp. cinnamon

Popsicle sticks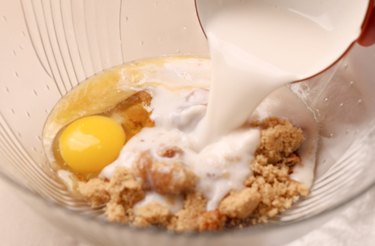 In a large mixing bowl, whisk together 1/4 cup brown sugar, 1/4 cup granulated sugar, 1 large egg, 1/2 cup milk, 2 Tbsp. melted butter and 1 Tbsp. vanilla extract until smooth.
Tip
To make this a dairy-free recipe, swap in alternative milk, like oat or coconut milk. Use alternative butter or a neutral oil, like canola or vegetable oil.
2. Stir in dry ingredients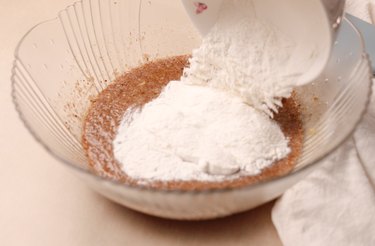 Add in 1 cup mochiko flour, 1 tsp. baking powder, 1 tsp. cinnamon and 1/2 tsp. salt. Stir using rubber spatula until no dry spots remain. Let mixture sit out at room temperature for about 5 minutes while waffle iron preheats.
Tip
You can find mochiko flour in the international section of some American grocery stores. Otherwise, check the baking section of an Asian grocery store or Amazon.
3. Scoop batter into waffle maker
Lightly spray waffle iron with cooking spray. Scoop about 3 Tbsp. mochi batter into each cavity of waffle iron. Cook for about 5 minutes or until golden brown and crispy.
4. Transfer cooked waffles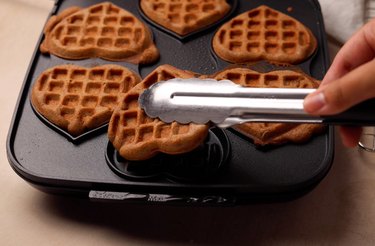 Use tongs to transfer cooked waffles to a wire rack. While waffles are still warm, insert a Popsicle stick through bottom. Cook remaining batter.
Tip
If waffles are too crispy or difficult to work with, use a knife to poke a hole for stick. Then, dip Popsicle stick into melted chocolate and insert it into hole. Once chocolate sets, waffle will stay in place.
5. Brush with melted butter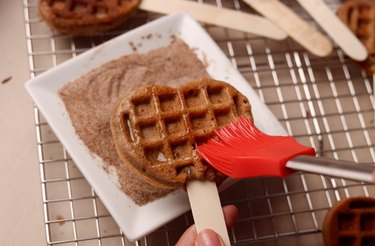 In small bowl or plate, mix 4 Tbsp. granulated sugar and 1/2 tsp. cinnamon until combined. Lightly brush melted butter all over one waffle with pastry brush.
6. Coat in cinnamon sugar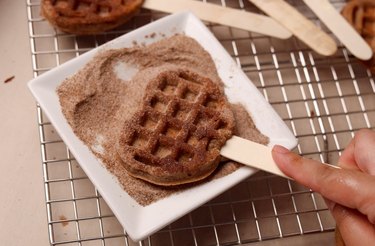 Coat mochi waffles with cinnamon sugar. Repeat steps 5 and 6 with remaining waffles. Serve completed waffle pops with maple syrup, chocolate syrup, whipped cream, fresh fruit or whatever your heart desires.
Store waffles in an airtight container in the fridge for up to 3 days. For long-term storage, wedge squares of parchment or wax paper between each waffle so they don't stick and then store them in freezer for up to a month.
Warning
Reheat finished mochi waffles in a toaster oven until crispy. We don't recommend using a traditional pop-up toaster because the sugar will melt and drip into the bottom of the appliance.
We're not waffling on our stance; this sweet mochi recipe is easy to love!