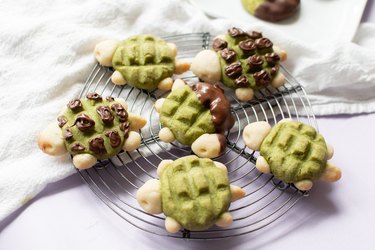 Kawaii baking is my favorite type of baking. And what could be more fun than these shortbread matcha turtles?
Best of all: This is a super-approachable, one-bowl recipe. It yields slightly crispy shortbread cookies flavored with matcha green tea powder. No food coloring is needed since the ground green tea leaves already create a natural bright green color in the dough.
The matcha taste perfectly balances the sweetness and butteriness of the cookie. Just make sure to use culinary-grade matcha, which is commonly used for lattes, baked goods and smoothies. Ceremonial-grade matcha, on the other hand, is a higher-quality matcha but is really only meant to be enjoyed as tea.
Once you bake the green tea cookies, you can add designs on top of the shells by piping on melted chocolate. If you want more texture, you could always add crushed macadamia nuts on top of the chocolate. Both of these would pair nicely with the matcha flavor. Either way, I recommend enjoying the turtle cookies with coffee or even on top of some ice cream!
Quick recipe overview
‌SERVINGS‌:‌ 12 turtle cookies
‌‌‌PREP TIME‌: ‌‌15 minutes
‌‌BAKING TIME: ‌‌10-13 minutes
‌‌‌DECORATING TIME: ‌‌10 minutes
‌‌‌TOTAL TIME:‌ 35 minutes
Things You'll Need
Large mixing bowl

Small mixing bowl

Small microwave-safe bowl

Hand mixer

Rubber spatula

Small cookie scoop

2 baking sheets

Parchment paper or silicone mats

Bamboo skewer or toothpick

Cooling rack

Piping bag

1/2 cup unsalted butter

1/4 cup granulated sugar

2 tsp. vanilla extract

1 cup all-purpose flour

1/2 - 1 Tbsp. culinary-grade matcha powder, adjusted to taste

1/2 tsp. salt

1/4 cup milk chocolate or dark chocolate chips

1 tsp. coconut oil
1. Cream butter and sugar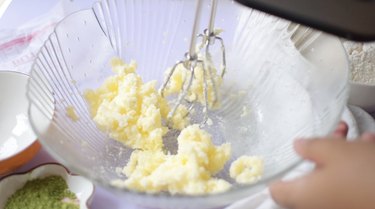 Preheat oven to 350°F. Line two cookie sheets with silicone or parchment paper.
In a large bowl, use a hand mixer to cream together the butter and white sugar until smooth.
2. Add vanilla extract and dry ingredients
Fold in the vanilla, flour and salt until no dry spots remain. The dough may seem dry but don't add more wet ingredients. Rather, use a rubber spatula to press down the dough and it'll slowly come together.
Transfer about 3-4 Tbsp. of dough into a small mixing bowl. Keep this to the side—this will be for step 6.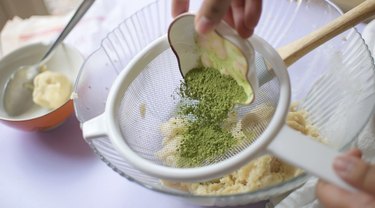 Sift matcha powder into the remaining dough. Fold it in until thoroughly combined.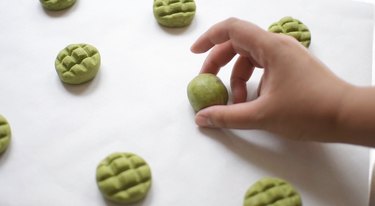 Use cookie scoop to gather about 1.5 Tbsp. of matcha dough and roll into a ball. Then, place on lined baking sheet.
5. Add turtle shell marks
Use a bamboo skewer or toothpick to add indents to the matcha dough.
6. Add head, legs and tail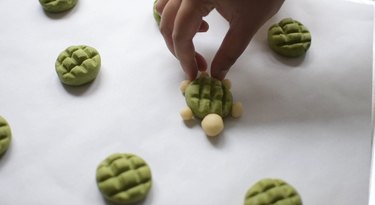 Using the plain dough, shape the head (about 1/2 tsp. dough), legs and tail (about 1/4 tsp. dough for each). Attach to turtle shell.
Use the bamboo skewer or toothpick to poke holes in the turtle's head for the eyes.
Repeat steps 4-7 for the remaining cookie dough.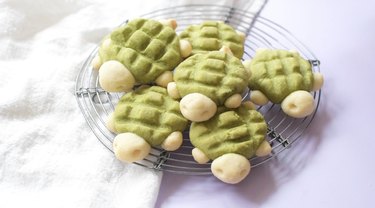 Bake for about 10-12 minutes or until edges are set and regular dough is slightly golden brown.
Allow to cool on tray for 5 minutes and then transfer to cooling rack to fully cool.
9. Decorate with melted chocolate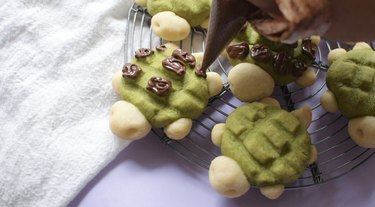 In a small microwave-safe bowl, add chocolate chips and coconut oil. Microwave at 30-second intervals, stirring in between, until chocolate is melted. Transfer to piping bag. Use this chocolate to decorate the top of the shells.
Enjoy with a cup of tea or coffee!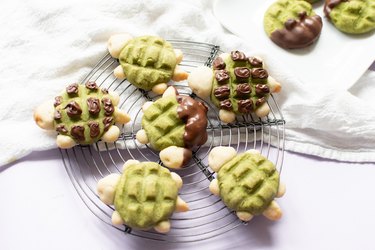 Store cookies in an airtight container at room temperature for up to 3 days.