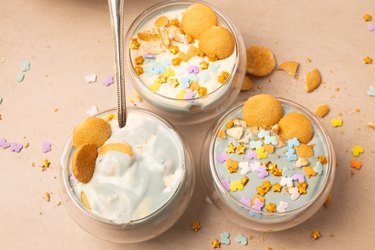 If you've never heard of butterfly pea flower, get ready to be dazzled! Known for its deep blue flowers, this stunning plant is native to Thailand, Malaysia and other parts of Asia, more recently making a major splash in the United States and beyond. But butterfly pea flower is more than just a beautiful bloom: Dried flowers from the plant can be used to make blue teas or ground into a fine powder for use in eye-catching treats like blue lattes, smoothies and more. In terms of flavor, the antioxidant-rich powder and superfood is sometimes compared to green tea—hence its "blue matcha" nickname. (Unlike matcha, butterfly pea flower powder is naturally caffeine-free!)
And though we're big fans of the blue base tone, here's a fun food science tidbit: When combined with an acid, the blue pigment in butterfly pea powder (from its anthocyanin) transforms in color. For example, you can add lemon juice to your butterfly pea tea and watch it "magically" change color from blue to purple-pink.
We set out to incorporate blue butterfly pea flower powder into something as delicious as it is charming. Enter: butterfly pea pudding with pastel butterfly sprinkles—of course!—for an adorable finish, made beautifully blue with natural food coloring from the flower powder itself. Follow our tutorial for a treat that's simultaneously sweet and subtle with a hint of whimsy.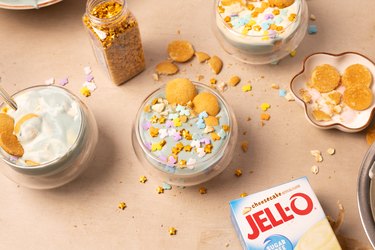 Now that you're up to speed on all things butterfly pea flower (and armed with a color-changing party trick to impress your foodie friends), let's flutter on to the recipe!
Video: Butterfly Pea Pudding with a Natural Blue Hue
Quick Recipe Overview
‌SERVING SIZE:‌ ‌4 pudding cups
‌PREP TIME‌: ‌10 minutes
‌DECORATING TIME: ‌5 minutes
‌TOTAL TIME:‌ ‌15 minutes‌
1. Make instant pudding mix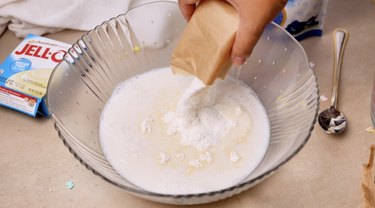 In a large bowl, add milk and instant pudding mix, following directions on box. Whisk until combined.
Tip
We used a cheesecake-flavored pudding mix, but feel free to use vanilla or another light -colored pudding. Stay away from flavors such as chocolate, pistachio or butterscotch because they will be difficult to color blue in the next step.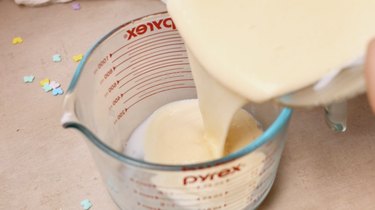 Divide pudding into two bowls.
3. Add butterfly pea flower powder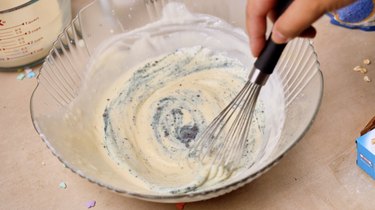 Add butterfly pea powder into one bowl, then whisk until combined. Let puddings sit out for about 5 minutes, or until thickened.
Tip
For a more vibrant blue, you can add blue food coloring. Adding more butterfly pea powder may overpower the pudding flavor and be too strong.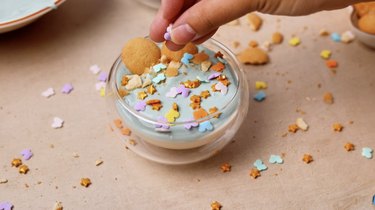 Add Nilla wafers (if desired) to serving cups, followed by blue and white puddings. Top with more wafers and sprinkles. Store leftover pudding in an airtight container in the fridge for up to a week. We recommend storing toppings separately so they don't get soggy over time.
With its abundance of tiny butterflies and delightful blue color, this dessert might just be the most charming recipe you've ever tried. We're enchanted!